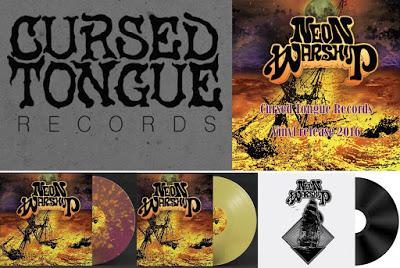 Newly established label Cursed Tongue Records are running a Kickstarter based crowdfunding campaign for their first release a limited vinyl-only release of Neon Warship's outstanding self-titled album slated for late 2016/early 2017.
Kickstarter campaign (LINK): https://www.kickstarter.com/projects/1729571734/neon-warship-vinyl-by-cursed-tongue-records 
The vinyl release of 'Neon Warship', which was initially released on digital in 2013, marks the launch of Cursed Tongue Records and they are inclined to give it the full red carpet treatment. There will be three different vinyl configurations and special bundles with extras exclusively to the preorder editions including different colored vinyl options, reworked and additional art.
Please go share Cursed Tongue Records crowdfunding campaign with your friends both offline and online. Also don't forget to like and share their Facebook site https://www.facebook.com/CursedTongueRecords/ and spread the word about this project within the heavy music community! Help us make this happen.
---+++Neon Warship bio and press+++---
Listen (Bandcamp LINK): https://neonwarship.bandcamp.com/
When the album 'Neon Warship' was launched in digital form on Bandcamp back in 2013 it immediately sat waves in motion. The release gathered wide attention and the band fast gained recognition within the stoner metal underground and global online community as a hard rocking stoner metal entity with format and ideas to take it far.
Originally formed as a trio, comprised of Kevin Schindel (vocals and guitar), Matthew Tackett (bass) and Jay Bird (Drums), Neon Warship has meanwhile expanded to a four piece and now include new guitar player, Scott Bodine.
They describe themselves as a classic metal-inspired band that nods to metal forefathers like Led Zeppelin, Black Sabbath, St. Vitus and newer heavy rockers like Clutch, Orange Goblin or The Sword. Here at Cursed Tongue Records we prefer to envision it as "a luminous battle ship packed with metal infused stoner rock, meaty hooks and surging waves of riffs floating above a dark, lashing sea of heavy rhythms".
The band has already brought their colossal sound to new fans around the region of Ohio and the travels included opportunities to share the stage with Enabler, Truckfighters, Vultures, Valley of the Sun, Before the Eyewall, and Lo-Pan as well as performances at Dudefest in Columbus, Ohio and HoliDayton, in their hometown.
A deal with Small Stone Records for a full-length album release has been acquired. They are about halfway through the writing process for a new LP that is set to be released early 2017 and the future is thus appearing bright for the four mariners.
Press clips from the time of the initial release of the CD in 2011:
"This power trio recreates the classic hard rock I grew up on in that slow midwestern industrial town. There is a post-punk, metal understanding present here, but the Sabbath meets Motorhead approach to the pace and sound of this heavy music is welcome to my ears." – DC Rock Live, "Record Reviews December 2012"
"Classic rock and metal inspired power trio Neon Warship made tsunami sized waves locally in 2011 with their bombastic EP debut and arena-ready stage show. Featuring members of Twelve Tribes, Waking Kills The Dream, Mouth of the Architect and Bringers of Disease, these Dayton dudes are no strangers to the stage or studio, and we're anticipating national attention and a record deal aren't far off the Warship's bow in 2012." – Dayton City Paper, "Bands To Watch 2012"
---+++Cursed Tongue Label bio+++---
Cursed Tongue Records is a newly established DIY vinyl record label situated in the Northern Europe, more precise Denmark. We are two brothers, family fathers, vinyl addicts and lovers of heavy music primarily rooted in the global underground scene. Our focus is on heavy and rocking music of all branches and genres but with a main emphasis on stoner, psych, blues, occult, doom, desert rock and metal.
Cursed Tongue Records specializes in turning bands material into collectable pieces of art. From carefully selected vinyl colours, highgrade pressing solutions, poly-lined inner sleeves, hand numbering to proper packing and shipping. Detail and quality is at the center of attention and with a keen eye on the aesthetics.
Cursed Tongue make vinyl for the fans and collectors based on our passion and own experiences from our lives as avid vinyl collectors. Cursed Tongue Records supply vinyl for the collectors made by collectors. There are no short cuts, or paved ways, only a dream of releasing music that deserves attention and glorification on the optimal music medium – vinyl.