PALMDALE – The City Council on Wednesday voted 5-0 to postpone the certification of its election results pending the outcome of the city's appeal of a Nov. 27 superior court ruling that ordered Palmdale to scrap its at-large elections in favor of districts.
Palmdale's Nov. 5 election resulted in the re-elections of Palmdale Mayor Jim Ledford, Councilman Tom Lackey, and new Councilman Frederick Thompson.
"As the City Council is aware, and likely most of the people in the audience out there, the city is engaged in litigation where a superior court judge has barred the City Council from certifying the Nov. 5th Mayor and City Council elections," Palmdale City Attorney Matthew Ditzhazy told the council.
Ditzhazy explained that certification would have been performed at Wednesday's meeting, which is the first regular council meeting following verification of the election results by the Los Angeles County Registrar-Recorder. A swearing-in and seating of both re-elected and new council members would have followed the certification, he said.
"As the judge's decision, barring certification, is unprecedented in the State of California, we believe this hold up is temporary," Ditzhazy said. "The city has filed an appeal with the Court of Appeals, and we are hoping for a decision prior to the next council meeting."
The council approved the staff's request to continue the resolution to certify the Nov. 5 election results at the next meeting on Jan. 8, 2014.
* * *
A FOND FAREWELL
Council members at Wednesday's meeting also recognized Nancy Cisneros, who is retiring from her position as Regional Public Affairs Manager of the League of California Cities on Dec. 30.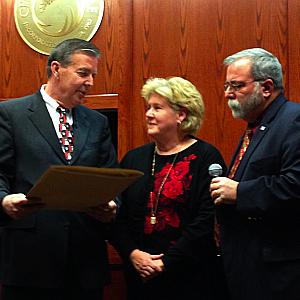 Mayor Jim Ledford (left) and Councilman Steven Hofbauer recognize retiring League of California Cities Regional Public Affairs Manager Nancy Cisneros for her service.
Serving the city for the last 12 years as regional director for the League's Desert Mountain Division, Cisneros has been instrumental in coordinating advocacy efforts to help strengthen the cities in her region, Councilman Steven Hofbauer told the public.
"Nancy has helped to coordinate and launch efforts to support legislation and ballot measures to bolster city governments as well as campaigns to thwart bills and measures that would usurp local control and take away local funding," Hofbauer said. "The City of Palmdale commends Nancy for her years of service and leadership and thanks you for your contributions to the community."
Cisneros has helped coordinate information and legislative action among Palmdale's neighboring cities that span as far as Big Bear and Yucca Valley.
"Local government is so easy to serve because I believe in it so passionately, and this is the one area of government where people really have a first hand ability to interact with their local elected officials," Cisneros said. "And Palmdale has been a joy to work with."
In addition, Laura Morales was introduced as the incoming Regional Public Affairs Manager for the League of California Cities .
* * *
SMALL SCALE WIND
The city also on Wednesday unanimously approved an ordinance that would permit Small Residential Wind Generator Systems as an accessory on property zoned for residential use.
The zoning ordinance amendment was continued from the council's Nov. 6 meeting due to concerns over a potential noise impact from wind turbines on neighbors.
Senior Planner Susan Koleda told the council that staff examined five different wind systems for residential use and found that "all of these do meet the current requirements under the noise element of our general plan."
Galen Heap, who requested an amendment to Palmdale's zoning ordinance to permit residential use of SRWGS on Feb 6, said during the public hearing that he had been working for about three years to get the ordinance approved.
"I didn't know that you had to go through so many public hearings, zone changes, and petitions and stuff like that," Heap told the council. "I was under the impression when I first started this that it was just a matter of getting a building permit. But here we are three years later still trying to get it done – so please vote yes."
Before the council approved the ordinance amendment, Councilman Hofbauer said he believed to hear back from neighbors on potential noise and visual impacts from the small wind generators.
"Again, I think we need to be moving in this direction, but I just think this is not the last time we are going to be hearing about this," Hofbauer said.
For further information on Palmdale's discussion regarding the residential use of wind turbines, visit the previous Civic Bee article at civicbee.com/2013/12/01.