The rare spade-toothed beaked whale (Mesoplodon traversii) has been seen for the first time on a New Zealand beach. The species was previously only known from bones from incomplete skulls that scientists had found over 140 year period, in 1872, 1950 and 1986. This new sighting occurred after a mother and her male calf were washed up and stranded on the beach.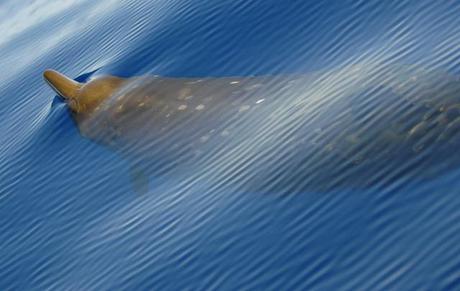 Image Courtesy of NOAA Photo Library

The whales were first identified as a common species – the Gray's beaked whale. However after DNA from the animals were examined it was found that they were one of the rarest living mammals - the spade-toothed beaked whale.
Although this unknown species died on Opape Beach, the finding still allows scientists to find out more about the animal and to know that they are still present in our oceans. The whale is over five metres in length and can be identified by its black beak and dark-coloured eye patch; however all of the beaked whale families are similar in appearance and DNA plays an important role in the correct identification of each individual species.
There are 21 different species of beaked whales but little is known about any of them. A new species was even discovered in 2002.
Some scientists who wrote about the findings in the Current Biology journal believe one reason so little is known about this large species is because they tend to live deep in the ocean where marine research has not been carried out. The beaked whales live in the South Pacific Ocean which is 85 million square kilometres and makes up 14% of the earth's surface.  New discoveries show how much more there still is to know about the world's oceans.