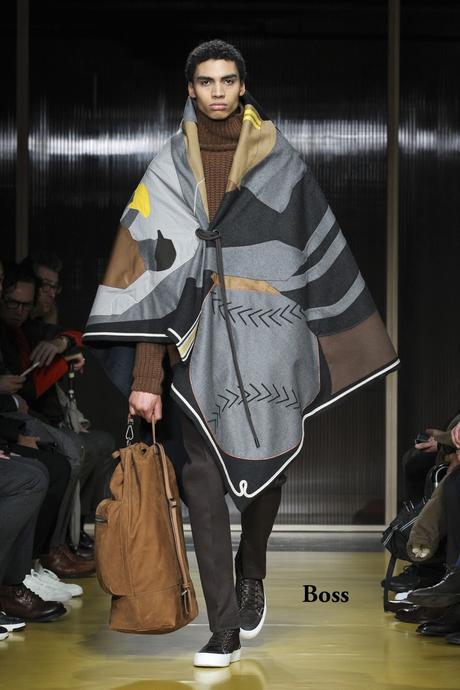 It all begins with the bolt.  Those pristinely wrapped, tightly bound, perfectly edged bundles of vicuna, chambray or jersey and possibly bedecked with herringbone, pinstripes or heat transfer print are the stuff that makes designers become inspired and men fall in love.  Kismet is met when that inspiration cajoles that male adoration and then a bond is formed that's created many a fashion empire and much of what speaks to a gent's personal style.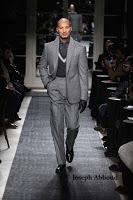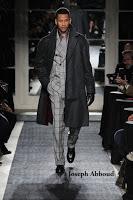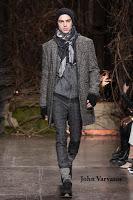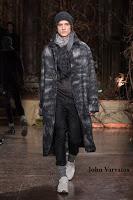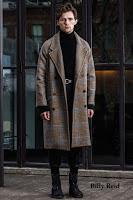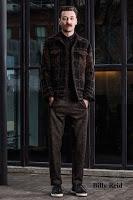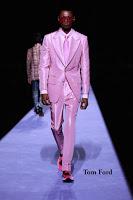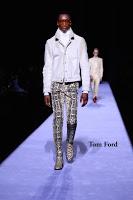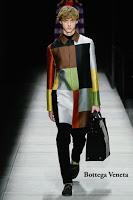 Just what that rapport between client and cut-master is could be deciphered by editor and merchandiser alike but, more often than not, is a communal understanding between designer and man.  As men have branched out mentally, socially and personally their fashionable tastes have posed designer queries that've moved past the usual "single or double breast", "hang left or hang right" towards declarations that aim to address wardrobe issues before they're even uttered.  Today's designers exist on the stage with tailors, even stylists, periodicals & spouses, that not only ask men what they want but also have to use their targeted core man's place in society together with their seasoned outlook for modern men in general to forecast what men will choose to achieve wardrobe satisfaction.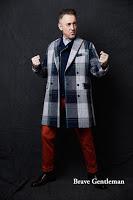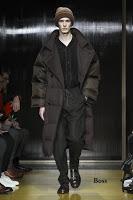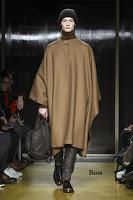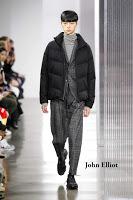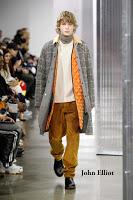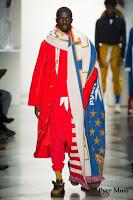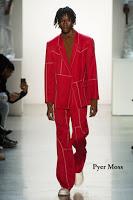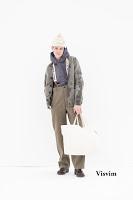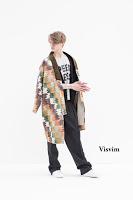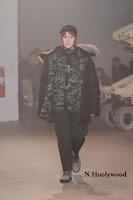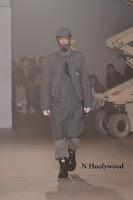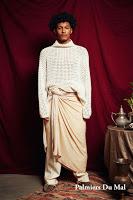 Just what that forecast is has always been a broad one, and understandably so.  Men today are quite diverse.  Empowered by opinion and freer than ever to either break or uphold the norm, today's man can systematically decide his own liberties at times with inky denim in the boardroom, sharkskin peak lapels at court side or jacquard slippers in the studio.  While the European show centers of London, Milan and Paris have always been bastions of style, New York has fought hard to remain a stateside power player in the realm of menswear's luxury, tailoring and the avant gard.  American menswear has always served up amazing mens sportswear.  However as the pace of fashion and the needs & mindsets of men change, more menswear connosuiers are seeking to mash together the avenues of luxury, sportswear, avant gard, tailoring and streetwear in more personal ways.  There was a reassuring evidence of this during the Mens Collections for Fall 2018 at New York Fashion Week last week.
The perspectives have broadened in menswear and those designers who showed in New York seemed aware of that.  There were your designers with a seasoned classic eye that gave nods to the classics with their collective spins on it.  Veterans Joseph Abboud and John Varvatos showed collections heavy on tailoring with a softness in cut and and fabrications that had harmonious color palettes akin to modern camouflage and a sumptuousness that made them seem livable and cozy.  Billy Reid presented a collection of great layers and outerwear in thick and hearty textiles proving once again why the brand's penchant for suave noble fabrics was always one to admire.  The ever-swanky Tom Ford  showed a vibrant collection that seemed to be an extension of himself in the jetset, luxury-laden modern dandy aesthetic while Tomas Maier presented a well crafted exuberant collection for Bottega Veneta that showcased his dandy as a more playful and slightly more youthful fellow who embraces color and eye-catching print.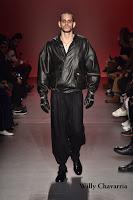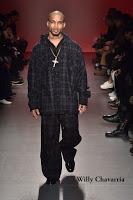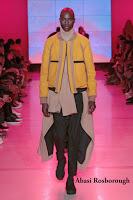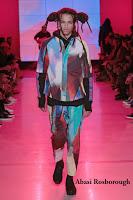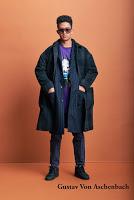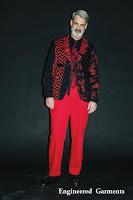 There were some designers whose take on sportswear was shown and styled with a refreshing modernity from the elegant & suave to the edgy & inspired.  Joshua Katcher at Brave Gentleman always makes sustainable clothing with a tailored crispness that makes relatable sense.  Boss showed a surprisingly fresh collection of clothing with a nice balance of wearable mature color on universal shapes with youthful cuts and John Elliot presented a collection a bit more mature in its execution by showing a fun lighthearted side of tailoring through color and relaxed fullness.  Pyer Moss excited his charged up collection channeling freedom with a fun popping take on tailoring and fuller swaddling shapes while Michael Bastien's Gustav Von Aschenbach presented tailored shapes with just enough exaggerated lengths and fullness to remain wearable with edge.  The idea of exploring shapes be they fuller, longer or non-western took hold in the collections of Visvim which explored a cheeky contemporary take on Eastern shapes and workwear and then more strong workwear vibes emerged through elongated shapes at N Hoolywood.  Palmiers Du Mal approached intriguing 3-D textures in knitwear and a slight Middle Eastern aesthetic.  Abasi Rosborough offered up modernity with nods to  Asian and continental African shapes with a low-key almost otherworldly approach achieved by full-draped styling and provocative printing.  Conjuring up a larger than life silhouettes was Willy Chavarria whose collection called to mind heightened forms of style-conscious Cali 'cholo' mashed with an trendy 80s to 90s urban gangster.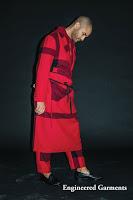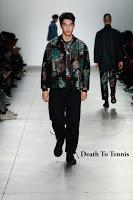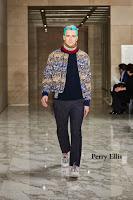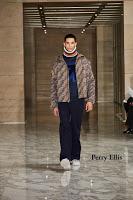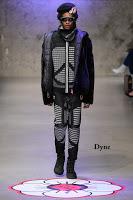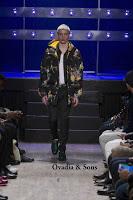 Textile treatments and hands during these collections made minimalist surfaces seem passé.  The American workwear meets tailored eclecticism verve from Engineered Garments on remixed quirky buffalo plaid inspired textiles made for a pretty interesting graphic walk.  The collections of Perry Ellis and Death To Tennis both offered up color-saturated fabrications that showcased lively textures through vibrant floral, optical or graphic prints on easy covetable sportswear shapes.  Ovadia & Sons put a characteristic spin on American sportswear nods like novelty knits, printed parkas and funky plaids while newcomer Kozaburo played with fluffy-handed textiles and sublimely-printed sportswear shapes that added an elegance to normal everyday outerwear.  The graphic handsome future-feeling knits from Dyne were great for the tech-riddled menswear movement while on the reverse, the down-home patched-up loveliness from Bode were nice eclectic balances of masculine/feminine forms and fabrications.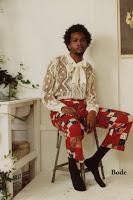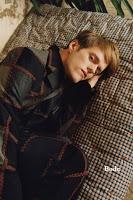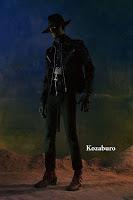 A bit of the avant within the realms and reason of American sportswear were also to be found in the Fall 2018 New York Mens Collections.  Gypsy Sport was a tad wild, provocative and androgynous while offering up a cool take on menswear from the cut & paste punky and to 80's billowy.  Feng Chen Wang was hyper, avant and askew with the twisted and explosive forms of familiar menswear staples & fabrications and overall it just looked refreshingly exciting for the New York Menswear scene.  Raf Simons and his youthquake sensibilities created a collection that showed his understanding of nudging menswear forward with a strong envisioned cadence based on challenging the forms men know with the perspectives on dress and culture that makes him a visionary.  The draped rib knits slung over tailored toppers or bare skin like an experiment gone handsomely and oddly wrong were striking and peppered with youth & rebellion but also confidence & maturity.  His Calvin Klein menswear seemed to examine breaking the morays of traditional form, function and cut with exaggerated shapes worn in unconventional ways that seemed to address those men who wish to style themselves as they feel and not as expected by the nature of their individual wardrobe pieces.  Styling was again key here as together with the clothing it was in a sense a way of pushing the odd beauty of the askew silhouette through fit, color, texture and purpose.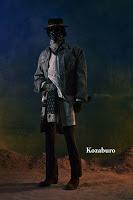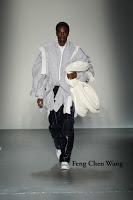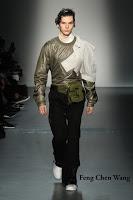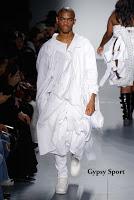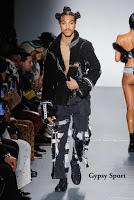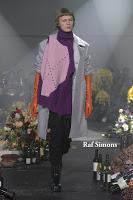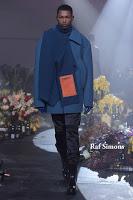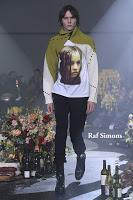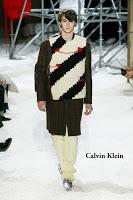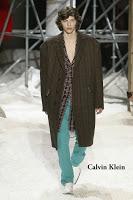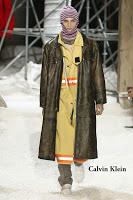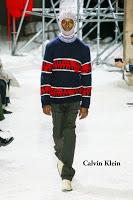 The collections reminded me of a mash-up of New Yorks, pre-Giuliani's clean-up, with nods to the hyped streetwear 90s, commanding presence of the 80s, lax trimness of the 70s and the passionate informed on-again off-again defiance of the current New York.  There was also a welcomed disenfranchised element to the way the shows didn't all scream the same voice but still came together to celebrate the liberty of the attuned modern man.  Perhaps on this track life will imitate art.