As he ended his shift on Tuesday at a gas station in Midtown Manhattan, Alderete Faustino, a New York City cabby for 25 years, squinted warily at the receipt that laid out his earnings for the day.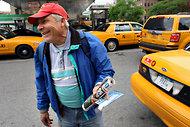 Alderete Faustino has been driving a cab in New York City for 25 years.
He had made $141 in cash fares, plus another $150 from credit cards, for a total of $291. Not bad for 12 hours of work.
The grand total: about $127, or $10.58 an hour, which Mr. Faustino deemed his average wage. "That's more or less what I do," he said, sounding a bit resigned.