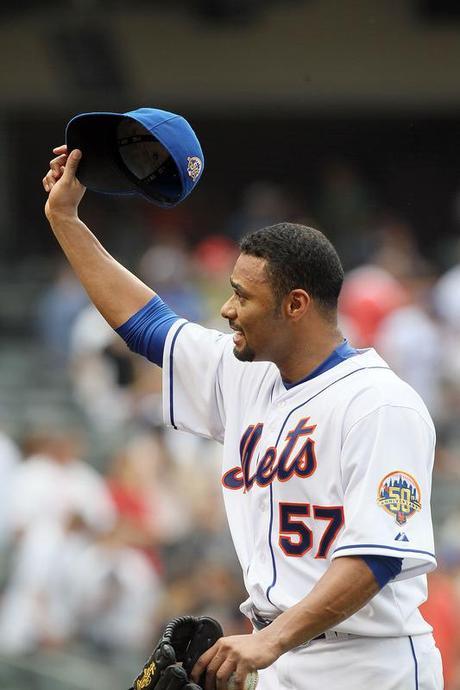 Photo: Getty Images - Jim McIsaac
- Adam Parker
I'll be honest, I haven't had a lot of time to sit down and watch many baseball games in their entirety so far this season, but when I am able to watch, I try to follow whom I consider to be the dominant pitchers of our era. You know, the Roy Halladays, Cliff Lees, Felix Hernandezs and Justin Verlanders of the world.
Needless to say, after Saturday's performance against the San Diego Padres that was nothing short of pure dominance, I think it's safe to add Mets' ace Johan Santana back into the mix when discussing the elite of the elite of Major League Baseball pitchers.
It was amazing to watch Santana pick apart the Padres -- fast-paced dominance would probably be the best way to describe it.
Like I said above, I normally don't have enough time to watch a baseball game from the first pitch to the last, but this Mets/Padres game was different. The game began and was over in a quick two hours and 18 minutes.
Santana needed a mere 96 pitches (74 strikes) to mow down an aggressive Padres squad that spent the majority of the game swinging and connecting -- with nothing but air.
Johan's four-hit complete game shutout of the Padres where he surrendered no walks and fanned seven, was nothing short of masterful. Leading into the game, Santana (2-2) had pitched fairly well, but had gone without a decision in his last three starts; all ultimately Mets losses, and had six no-decisions in his first nine.
This was Santana's first shutout since August 12, 2010, a 4-0 victory over the Colorado Rockies that came less than a month before shoulder surgery to repair a torn rotator cuff robbed him of the remainder of the 2010 season and all of 2011.
Thanks to Saturday's performance, I think it's safe for Mets fans to breathe a little easier when Santana is on the mound. No more just hoping that the 33-year-old can stay healthy, they can now hope for continued dominance -- and a return to form.
Everyone knows Santana's story by now.
Johan Santana spent eight seasons with the Minnesota Twins, in which time he became one of, if not the best pitcher in baseball over that span. From 2004 to 2006, Santana led the league in strikeouts in all three years and ERA twice en route to winning American League Cy Young honors in 2004 and 2006.
The veteran southpaw was then traded to the Mets where he would later sign a six-year, $137.5 million contract extension.
Johan has had some great moments in the Big Apple and Citi Field, but the majority of them have been either negated or completely forgotten because of Santana's struggles with injury.
But now, after a complete obliteration of the Padres, it appears there might finally be a light at the end of what once was an abyss-like tunnel.
Welcome back, Johan Santana. Hopefully this time, you're here to stay.
Be sure to follow Beard And Stache on Twitter 
@BeardAndStache
, 
and also Adam 
@Adam_Parker43
, Like our Facebook page 
HERE!