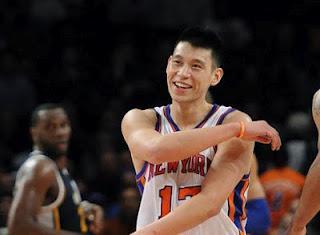 Photo: AP Images
- Adam Parker
He has been passed over in the NBA Draft, cut by two teams in one preseason and even demoted to the D-League.
Now, he's a trending topic on Twitter and the toast of the Big Apple.
Lin-sanity. That about sums up the New York Knicks' new point guard and head coach Mike D'Antoni's savior - Jeremy Lin.
And for the record, he's just as surprised as you are about his sudden jump from zero to hero.
"
I'm a little bit overwhelmed right now
," Lin said late last week.
And how could you blame the guy? On Saturday afternoon, Lin was another undrafted player seated on the end of an NBA bench. His main responsibility? Being the best cheerleader, 'beverage coordinator,' and concierge towel rack he could be.
But three games, 76 points, and 25 assists later, he's now the talk of the league.
"
I definitely couldn't have imagined this
," Lin said late Monday night after scoring a career-high 28 points and handing out dishing out eight helpers in his first NBA start.
Peter Diepenbrock, Lin's coach at Palo Alto High School, watched all of it unfold at home in California. He was excited, but not surprised, by Lin's breakout performance. Diepenbrock had been around Lin since middle school. He'd seen Lin develop into a star at Harvard despite receiving little interest from colleges coming out of high school. He'd watched as Lin worked tirelessly to latch onto an NBA roster after getting snubbed in the 2010 draft. He'd seen Lin persevere after being released twice in a 16-day period earlier this season.
"
That's what he's been doing his whole life
," Diepenbrock said by phone on Tuesday. "
He gets one opportunity, one shot on the big stage and the question is, 'Is he going to make the most of it?' and he does
."
"
That's really the story of his career
."
The funny thing is, Lin almost didn't get his chance with the Knicks.
D'Antoni said on Tuesday that he was "afraid" to play the 23-year-old guard because the Knicks had fallen seven games under .500 just six weeks into the season, and he didn't know what to expect from Lin.
D'Antoni had seen "bits and pieces" of what Lin was capable of during team scrimmages, "
but there were other things I questioned just because I didn't know. And I was afraid to do anything. We're already in a little bit of a crisis and I just couldn't be, you know, pulling straws
," the coach said.
The Knicks (11-15) were in a crisis in large part because of poor point guard play. Entering the season, they'd hoped Toney Douglas could run the show with Carmelo Anthony filling in as a part-time point forward. Clearly that didn't work. So the team and its fans were left holding their collective breath as veteran point guard and hopeful savior Baron Davis recovered from a herniated disk in his back. The result was one hot mess of an offense.
Before Lin's breakout Saturday night, the Knicks were 24th in offensive efficiency, 24th in field goal percentage and 25th in assist percentage. Not exactly the numbers you expect from a D'Antoni offense.
But Lin's ability to spread the floor, finish at the rim and run the pick-and-roll made those numbers seem like misprints.
"
The biggest thing is, he's got a point guard mentality
," D'Antoni said of Lin, who is the first player to have 28 points and eight assists in his first career start since Isiah Thomas did it in 1981.
Lin, whose $788,000 contract was guaranteed on Tuesday is no longer a novelty in the NBA. Sure, the first American-born player of Chinese or Taiwanese descent in NBA history still has his critics; most notably ESPN's Stephen A. Smith, who acknowledges that Lin "can ball" but hasn't hopped on the Lin-sanity hype train yet because his performances came against inferior opponents (Jazz, Nets, Wizards).
I for one disagree, as it's not Lin's fault about who he plays. He just has to play the games as they come up on the schedule just like everyone else. And honestly, if you're in the NBA, regardless of the 'quality' of team you're on, you can still say that you're one of the better 'ballers' in the world, and that's a fact.
You may think I've gone completely 'Linsane', but I don't care, because I'm enjoying every minute of watching Lin do his thing in MSG. Congrats are in order for Lin for having his lifelong dream of playing in the Association finally realized.
LINNING!
Be sure to follow Beard And Stache on Twitter 
@BeardAndStache
, 
and also Adam 
@Adam_Parker43
, Like our Facebook page 
HERE
!