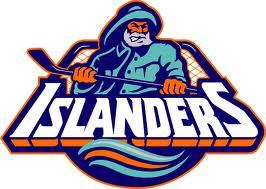 I love this old logo of the Islanders; however, it probably (note: definitely) won't be accompanying the team to Brooklyn in three years.
This has been hinted at for awhile for became official today: The NHL's New York Islanders announced that they will finish out their lease at Nassau Coliseum, which runs through the 2014-15 season, and then
move to the Barclays Center
for the 2015-16 season and then on for 25 years, the length of their new lease at the Barclays Center.
It's pretty far into the future and it's silly to put emphasis on the 2015-16 season when the 2012-13 season hasn't even started yet but the move of the Islanders could have a big impact on the Nets in a few years. Like with MSG, scheduling is going to get a lot more tighter with both a NBA and NHL team sharing the same arena and the exclusivity of the Barclays to just the Nets will erode away as any does when regarding one arena shared by multiple teams.
Regardless, I'm excited for the potential of a close connection between the Nets and Islanders but as a native Long Islander, am a little disappointed that the "Islanders" couldn't find a way to stay on Long Island, the very geographic entity the team name represents.