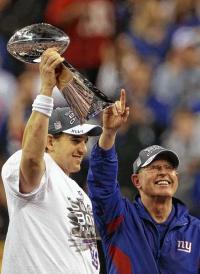 Photo: Win McNamee/Getty Images
- Adam Parker
Former Steelers head coach Bill Cowher walked away from the game on top as a Super Bowl champion after his Pittsburgh Steelers defeated the Seattle Seahawks in Super Bowl XL.
Giants head coach Tom Coughlin, on the other hand, has no intention of following in Cowher's footsteps and riding off into the sunset as coach of the world champs.
The 65-year-old coach is putting the 'legacy talk' on hold and said he definitely wants to return to coach the Giants next season and potentially beyond.
"
I certainly hope so
," Coughlin said when asked about his future as the Giants head coach. "
That is my intention. We have some ownership that has to give approval. I'm looking forward to it
."
Coughlin's current contract runs through the end of next season. He received a one-year extension last summer. Owner John Mara said he will sit down with the head coach in the coming days to discuss a possible extension.
"Well, we will sit down and talk about it in a couple of days," Mara said, smiling, when asked if ownership will approve of Coughlin returning. "Yea, I think it is safe to assume that he has (ownership's approval)."
Coughlin finished his 16th season with his second Super Bowl victory in four years. He became the oldest coach to lead a team to the peak of the NFL's summit but he joked that he feels 20 years younger.
When asked if he envisions himself coaching the Giants ten years from now, the 65-year-old Coughlin cracked, "Well, I am only 45. Maybe that can happen."
Coughlin told his team that he loved the Giants on the eve of the Super Bowl in a team meeting and he couldn't recollect if he had ever said the same thing about another team.
During his team's six-game winning streak on the way to hoisting the Lombardi Trophy, Coughlin had an extra spring in his step and often was in a joyous mood during press conferences.
"The word 'fun', I think I understand what it means in relation to our business," Coughlin said. "When it all comes together and you start to play well and we are all on the same page and there isn't any question about communicating and everyone has that look in your eye going to work and going to practice ... that is fun."
"When that took place, there wasn't any fatigue," he added. "It was all invigorating. A tremendous sense of wanting and the desire to keep going (in the playoffs)."
To hear Coughlin had 'fun' doing anything let alone his job is simply baffling considering the reputation he boasts as a hard-nosed, no nonsense taskmaster.
Winning this Super Bowl couldn't have come at a better time for Coughlin and the Giants, especially considering he seemed to find himself on the proverbial coaching 'hot seat' every other week.
Something tells me with two Super Bowl wins on his resume, his critics won't be questioning his 'method to madness' anytime soon.
Congratulations to the Super Bowl Champion New York Giants and to their hopefully long-tenured head coach - Tom Coughlin. You earned it.
Be sure to follow Beard And Stache on Twitter 
@BeardAndStache
, 
and also Adam 
@Adam_Parker43
, Like our Facebook page 
HERE
!