You WILL accept and comply.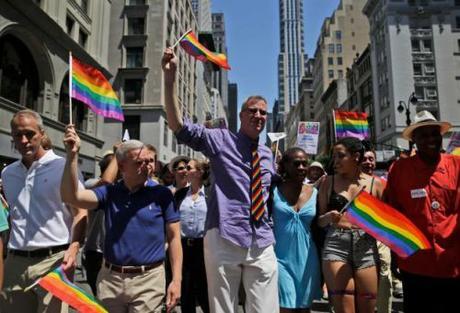 Via Daily Mail: A law in New York City will fine businesses and employers if they violate a person's human rights by not using their preferred 'gender pronoun.' 
Mayor Bill de Blasio's Commission on Human Rights appears to have updated the law on 'Discrimination on the Basis of Gender Identity or Expression' to include businesses, employees and landlords who fail to refer to transgender people as terms such as 'ze' and 'hir'.
They will be in violation of the New York City Human Rights Law (NYCHRL), that forces employers and 'converted entities to use an individual's preferred name, pronoun and title (e.g., Ms./Mrs.) regardless of the individual's sex assigned at birth, anatomy, gender, medical history, appearance, or the sex indicated on the individual's identification,' according to the guidance information on the city's website.
The Commission on Human Rights issued a 'legal enforcement guidance' for the law, and notes that some people would prefer non-gender-binary pronouns, including 'they/them/theirs or 'ze/hir.'
Several examples of violations that could result in businesses or employers paying fines are listed in the guidance that was released. 'Intentional and repeated refusal to use an individual's preferred name, pronoun or title,' the guidance reads.  'For example, repeatedly calling a transgender woman 'him' or 'Mr.' after she has made clear which pronouns and title she uses.'
Interestingly enough, the new guidance for the NYCHRL also suggests how businesses and employers can avoid violations by implementing a policy of 'asking everyone what their preferred gender pronoun is so that no individual is singled out for such questions.' It also adds that businesses and employers should update their systems to 'allow all individuals to self-identify their names and genders.'
Furthermore, the guideline states that if a business finds out that its employees or patrons 'refuse to use a transgender employee's preferred' pronoun, they should be kicked out or fired immediately from the position since they aren't complying with the NYCHRL.
If found in violation and depending on several factors of the situation, 'the Commission can impose civil penalties up to $125,000 for violations,.' For violations that are 'the result of willful, wanton, or malicious conduct' the fine could go up to $250,000.
Read the rest of the story here.
DCG