Don't Stop Living - Jonny Blair - a lifestyle of travel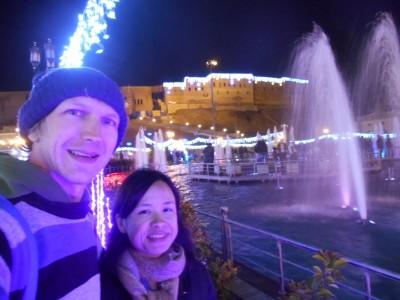 New Year's Eve 2013 in Erbil, Kurdistan, Iraq.
When 2013 came into view I was sat on a beach in the Philippines having a beer watching the fireworks. Way back then, I had no idea that my crazy ride for 2013 would take me through places like Ethiopia, North Korea, Palestine, Iran and Nagorno Karabakh. But it did. And then we ended up in Iraq for New Year's Eve. I totally didn't plan it that way – it's just the way things panned out.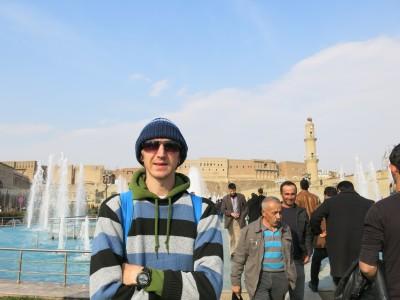 Enjoying the wonderful city of Erbil in Iraqi Kurdistan, where we enjoyed New Year's Eve.
On arrival in the city centre of Erbil in Iraq's Kurdistan region, we found a really cosy hotel called the Lord City. Not only did it have hot showers, clean rooms and wi-fi, but a view overlooking the Qaysari Bazaar market and main square in the city centre of Erbil. It wasn't yet dark so we headed round the city, grabbed some food and enjoyed the ambience. Everybody here was in a good mood.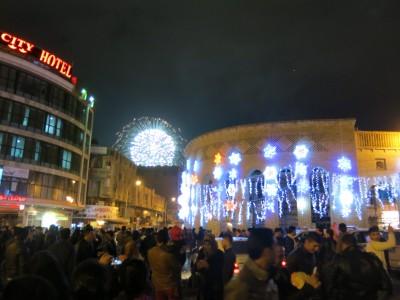 Fireworks in Erbil, Kurdistan, Iraq.
Being New Year's Eve, I hadn't actually expected Iraq and Kurdistan to throw up a big party and we had considered a quiet night watching the count down to 2014 in a German Bar in nearby Ainkawa. However the streets of Erbil became crazy by 8pm, so we knew we were watching the fireworks display and enjoying the party here.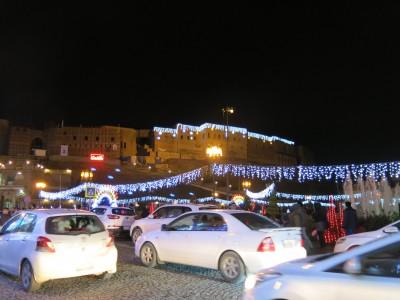 Erbil gets ready for New Year's Eve!
We watched in amazement from our window as firework after firework went off, constantly from 8 – 11pm. It was just crazy.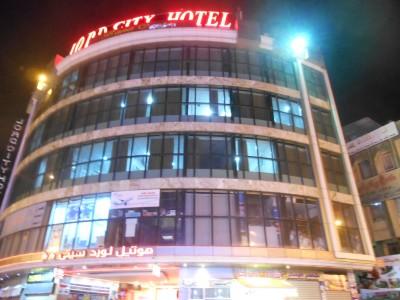 The Lord City Hotel where we stayed the first couple of nights in Erbil, Kurdistan, Iraq.
I even had time to Skype with my parents, watch some Iraqi TV which had BBC News with details of Australia, New Zealand and Hong Kong, who by now had already reached 2014.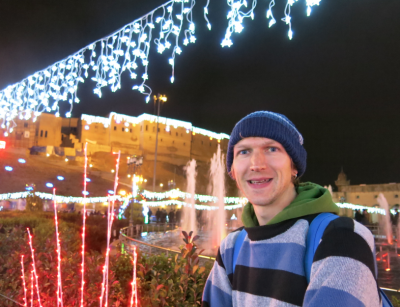 Loving New Year's Eve in Erbil, Iraq.
Instead of beer, I drank tea – the hotel kindly brought us a kettle. I bought a Kurdistan flag and we headed onto the street which was bumper to bumper with traffic. Horns were beeping everywhere. People were dressed up. It was totally crazy.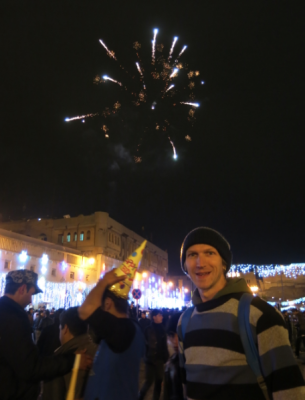 Firework display in Erbil, Kurdistan, Iraq.
For someone who has been in London, Sydney, Hong Kong, Bogota, Belfast etc. for New Year's Eve before, this one blew me away. It was crazier, happier and more enjoyable than any of the others put together. Plus – we were in Iraq!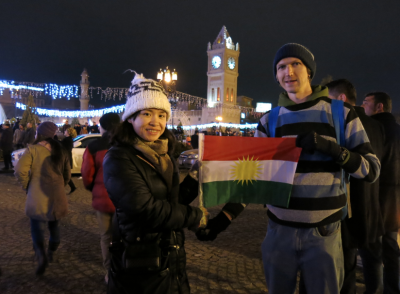 Holding up the Kurdistan flag in Erbil on NYE 2013.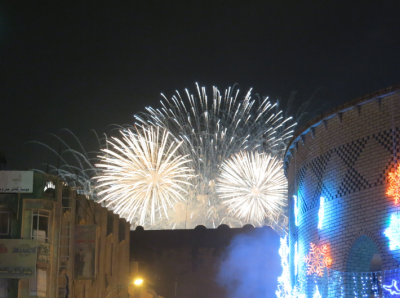 The incredible fireworks display in Erbil Kurdistan
The fireworks never seemed to end. They went on long into 2014, having started around 9pm. It was just madness and such a great place to see in 2014. Check out my videos of the madness of New Year's Eve in Iraq:
Original article: New Year's Eve in Iraq! Celebrating in Erbil, Kurdistan
©2014 Don't Stop Living. All Rights Reserved.