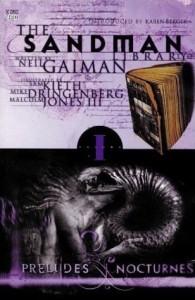 For quite a while my friends and colleagues have been telling me about graphic novels – urging me to dive in and see if this would be a genre that I could connect with as a classic literature reader. So I gave it a shot.
My boss, an avid graphic novel reader, lent me two different types of novels to begin with THE SANDMAN and LUCIFER. So far, I've made it through The Sandman: Preludes & Nocturnes (Volume 1) by Neil Gaiman.
To be honest, I loved it. The intricacies of the storyline, the nostalgic interactions with Dr. Destiny and Constantine along with Green Martian that we've all come to recognize from DC comics, and the thought process of how our subconscious world would be altered had our "dream-maker" been rendered helpless, seem to be never-ending.
The Basics of the Storyline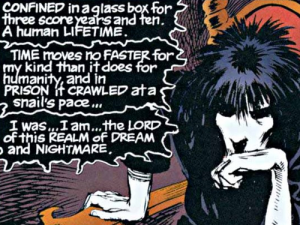 An old man who runs a secret organization has discovered a way to conjure and trap those who live in a parallel world to ours. In attempt to capture Death, they actually end up summoning Dream (or The Sandman), Death's little brother. The Sandman is imprisoned for over 30 years and is eventually freed inadvertently when a guard at watch falls asleep.
After 30 years a lot has changed. The Sandman's world has basically gone to shambles and those who dwell within it are acting unusual. Not only that, but Dream's tools that he uses to create and maintain his world have been stolen and scattered throughout the world.
In Volume 1, Sandman has to face three separate "quests" in order to gain his three tools back. He faces off with a dream world created in reality by the shell of a woman who uses his sand like heroine. He faces down a demon in Hell to gain back his helm. And finally, he faces a loony Dr. Destiny (not like he was ever really sane) who has altered his ruby to fit his own twisted needs.
What we discover is that this is only the beginning of the adventures that The Sandman is about to unleash. One quest down, one more in his back pocket and he hasn't even started to repair his own world yet.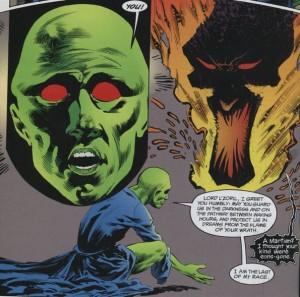 The Upside to relying on graphics
The one thing I really like about relying on graphics to fill in the text that we would normally see in a novel is that we are seeing the world that the author intended us to see. Every world that we read about can look different in different people's minds, but with a graphic novel, we get to see the same world. The destruction of the dream palace, the sassiness of sister Death, the ugliness of people who have been warped from the inside out are visually represented before us.
The illustrators of this particular group of stories are amazing. It's so unlike the heavy lining of the DC comics or the clean lines of other graphic novel series. It's a little gritty and far from simplistic. The artwork itself is absolutely beautiful.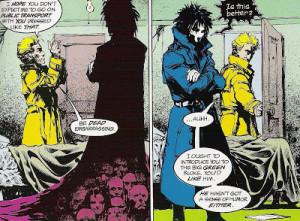 The Downside to Graphic Novels
So I am very near-sighted. Without the specs I see only shapes and colors further than 4 inches from my face. Graphic novels, while engaging, are small print and intricately designed. And since my reading time usually happens after I've finished about 8-10 hours of screen time at work, I can only read little chunks at a time before my eyes become very tired and a headache starts to arrive. I may however just invest in a good magnifying glass because I can't wait to borrow Volume 2 (you know how I love a series).
My Recommendation
If you've been thinking about checking out a graphic novel at your local library, I would recommend you give it a go. I highly recommend the Vertigo series by DC comics such as The Sandman, V for Vendetta or Fables to start.
Just keep in mind that these novels are not children's books. They are not Batman or Green Lantern, though we can hope for a cameo somewhere in the story. The primary audience for graphic novels are men in their mid 20's and early-to-mid 30's. Therefore, expect to see profanity, nudity and graphic acts of violence. I recommend you skim a few pages before you head to the checkout line.
Do you read graphic novels? Which is your favorite?
(Leave a comment below to start a new or keep the current conversation going)