Today HBO launches a controversial new 'VILF' website ahead of the May 23rd DVD and Blu-ray release of True Blood Season 3 in the United Kingdom.
Click on the image to go to the new VILF.UK web site: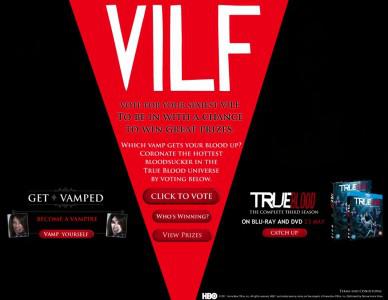 The website www.vilf.co.uk encourages fans to vote for their sexiest vampire character from the show whilst being in with a chance to win fangtastic prizes.
Inspiration for the site has been drawn from the sexiest and most addictive series' cast of characters who fans have dubbed VILFs (Vampire I'd Like to…), proving MILFs and DILFs are so 2010.
Fangbangers across the UK can now vote for their favourite blood-suckers, whether it's the smouldering stare and whispy voice of Bill Compton (Stephen Moyer), piercing blue eyes/blonde hair and sexy muscles of Eric Northman (Alexander Skarsgård), the fiery, unrestrained redhead Jessica Hamby (Deborah Ann Woll) or the alluring yet ruthless Pam De Beaufort (Kristin Bauer).
In addition to the poll, fans will be able to 'VILF themselves' with a 'Get Vamped' photo editing app and purchase exclusive sexy VILF clothing that will be available to buy on the HBOuk.com online shop.
source: www.thefancarpet.com