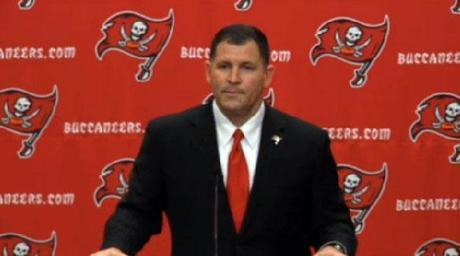 Photo: nj1015.com
- Adam Parker
New Tampa Bay Buccaneers coach has a message for starting running back LeGarrette Blount: protect the ball, or you won't see the field.
Schiano, speaking Wednesday morning at the NFL's owners meetings in Palm Beach, Fla., praised the running back's ability, but also made it known that he will not look kindly on lax ball security.
"I think LeGarrette has tons of ability,"
Schiano said.
"No one who touches the football will get touches if they don't protect the football. That is one of our core covenants -- the ball. It's so important they named the game after it. We make a big deal about it."
Schiano has had time to review film of last year's Bucs' and it's obvious one glaring thing stood out to him among the rest of the swashbucklers' abysmal offense last season -- Blount's lack of ball security.
The big, bruising Blount rushed for 781 yards and five touchdowns last season but also coughed up the ball five times and ultimately lost three of them. Those fumbles came at critical times and it's worth mentioning that not one of them occurred during Tampa Bay's 4-2 start.
No, they all came during a 10-game losing streak that led to Schiano landing the job after Raheem Morris got the boot.
In fact, you can trace Tampa Bay's epic collapse (of cream-sickle proportions -- sorry, couldn't resist) straight to Blount's fumbles. The Bucs' were on a five-game losing streak, but still played most opponents right down to the final whistle.
Then, they went to Tennessee on Nov. 27 and played well enough to win. They didn't. Instead, they lost 23-17, mainly because "butterfingers" Blount (I'm hoping the nickname catches on) coughed up the rock on two separate occasions.
After that, the Bucs barely played like they even belonged in the NFL anymore.
Schiano's mantra is that everyone gets a clean slate with him. That may be true in most cases, but the new coach obviously already formed an opinion of Blount. Don't forget that he didn't even discuss how Tampa Bay's previous staff felt the need to use other running backs in obvious passing situations because of Blount's brick hands.
All things considered, will Schiano and the Bucs' go out and draft Alabama running back Trent Richardson with the No. 5 overall pick? After all, Richardson fumbled only once in 614 career touches with the Crimson Tide. I don't see it happening, but it's not out of the realm of possibility. Schiano talked about how Ray Rice turned around his program at Rutgers. He also talked about liking to have a "bell-cow" back.
When asked if Richardson could be that guy, Schiano said:
"He could be. He's done it in what is arguably the toughest league in college football."
The more likely choice at this juncture is that the Bucs' will draft LSU cornerback Morris Claiborne in the first round -- a move that would make the most sense considering the questions surrounding the team's secondary.
As for Blount, he'll be on the roster, but there's no doubt the Bucs' will add a running back or two at some point in the draft or later in free agency.
Blount may still get an opportunity to be the workhorse in the offense, but Schiano's made it abundantly clear that he'll only stay in that role -- or take the field altogether -- if he shows he's solved his fumbling issues and won't become the running back version of San Francisco's Kyle Williams.
Be sure to follow Beard And Stache on Twitter 
@BeardAndStache
, 
and also Adam 
@Adam_Parker43
, Like our Facebook page 
HERE
!