We all knew this would eventually happen.
Disney chairman Robert Iger announced today that his company, The Walt Disney Company is buying Lucasfilm for approx $4.05 billion and is already planning "Star Wars: Episode VII", the first installment of a new trilogy, for release in 2015. The following two films will be released in 2017 and 2019 respectively.
This announcement is a few hours old and carries an atomic payload.
For the moment, despite The Avengers, I've got a bad feeling about this.
Here is the announcement:
And here Lucas talks about his retirement and Kathy receiving his lightsaber, briefly mentioning movies:
Maybe we can expect to see Grand Master Skywalker, Ben Skywalker, Mara Jade and Yuuzhan Vong.
Ford, Hamill and Fisher are perfect age for a New Jedi Order or Legacy trilogy.
"George Lucas is a visionary, an innovator and an epic storyteller – and he's built a company at the intersection of entertainment and technology to bring some of the world's most unforgettable characters and stories to screens across the galaxy.  He's entertained, inspired, and defined filmmaking for almost four decades and we're incredibly honored that he has entrusted the future of that legacy to Disney." Said Iger.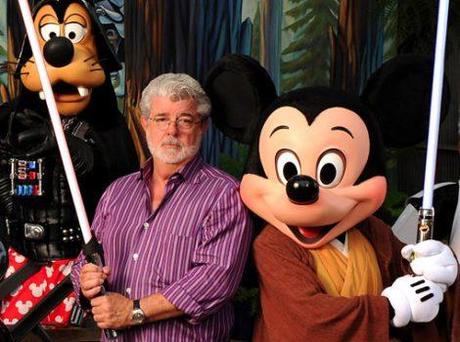 Image Credit: Todd Anderson/Disney via Getty Images
"For the past 35 years, one of my greatest pleasures has been to see Star Wars passed from one generation to the next," said Star Wars creator and Lucasfilm CEO George Lucas in a statement. "It's now time for me to pass Star Wars on to a new generation of filmmakers. I've always believed that Star Wars could live beyond me, and I thought it was important to set up the transition during my lifetime."
Lucasfilm current co-chairman and veteran producer Kathleen Kennedy will step up to become President of Lucasfilm and report directly to Disney Studios chairman Alan Horn with George serving as a creative consultant. Under the deal, Disney will acquire ownership of Lucasfilm and its operating businesses in live action film production, consumer products, animation, visual effects, and audio post production including LucasArts, Industrial Light & Magic, and Skywalker Sound.
So expect MORE TV shows, books and merchandise.
I guess, the force is strong in Mickey Mouse…
N.