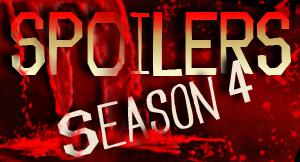 Who wants True Blood spoilers?! EOnline and TVLine and TV Guide have some spoilers for us about Season 4.  Could the maenad be coming back and what's this about Bill and a vigilante thing?  Read more below:
From EOnline:
Kaya_Kayita: I'll have some True Blood please.
Michelle Forbes' evil maenad Maryann is coming back to Bon Temps! Sort of. A set spy tells us that there is a statue of Maryann in the back room of the Moon Goddesses magic shop that features heavily in this season's witch storyline. Interesting, yes?
Usakid6977: It's my birthday, and I want some Weeds, Psych or True Blood scoop please.
Happy birthday! Well, would it be too obvious to say that a vampire has a dark secret? We don't want to give too much away too early, but True Blood season four depicts Vampire Bill doing a vigilante thing that's pretty hard-core, as vampire vigilante things so often are…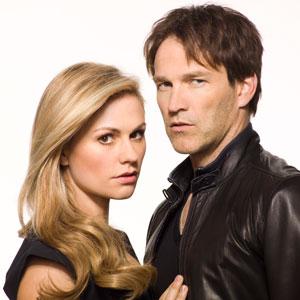 Our own Billsbabe, Sanna asked a question and got an answer, but unfortunately the answer wasn't about who she asked about:
sanna_o75: Got any spoilers for True Blood that does NOT include Eric and Sookie? Maybe something about Bill and Sookie?
OK, this is definitely not about Eric and Sookie, but it's not about Bill either. Can we interest you in a hunky, often shirtless werewolf? Joe Manganiello tells us all about the "new wolf pack in town," and that the fur is definitely going to fly. "Wherever werewolves go, they never get along, so you're going to see a lot of fighting," he tells us. "My character has moved since last season. He was living in Jackson, but all that bad stuff went down in Jackson, so all I can say is he moves very close to Sookie now." So, he moves closer to Sookie to possibly cause friction between her and the other men in her life, i.e. Bill? See, we managed to make this question about Bill and Sookie! You're welcome.
and from TV Line
Question: Thanks for all the True Blood scoop in AA last week — but what about Alcide? Got anything on my favorite werebeast? —Allison
Ausiello: He's doesn't actually show up until Episode 3 (airing July 10), when Sookie drops by his new suburban crib to ask a favor of him. She quickly discovers that his change of address is but one of two major surprises the big lug has in store for her.
and from TVGuide
Will there by any chance be a wedding on True Blood this season? — Mary Ellen
NATALIE: I just rid my DVR of the stench of MaryAnn's putrid meat man and already you want to have another wedding? Sheesh! I bet I know why you're asking though. You're one of those cheaters who read the books and is now pretending to be really intuitive about the TV show's upcoming plot points. Well, I've got news for you, cheater, your fancy book-learnin' won't help you here! For while Jason and Crystal take their already unorthodox relationship — she's a panther, he's an idiot — to a whole new level of weird this season, it's not the same weird as in the books. Her motivation, for example, is very different, perhaps inspired by recent headlines.