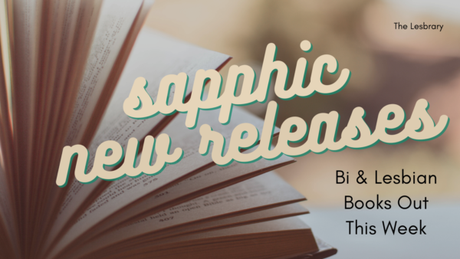 It looks like publishers really stacked their queer book releases to come out in the beginning of Pride month, so this week is a little bit quieter. We do have some much-anticipated sequels, as well as a selection of murder mysteries and horror comics/novels if you want to to read some books with a chill as the weather heats up. I'm currently halfway through Bad Things Happen Here and enjoying it-stay tuned for my review soon! (Content warnings for self-harm as well as murder, violence, and sexual assault.)
Mysteries and Thrillers
Harlem Sunset (Harlem Renaissance Mystery #2) by Nekesa Afia (Sapphic Historical Mystery)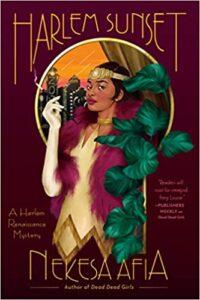 A riveting Harlem Renaissance Mystery featuring Louise Lloyd, a young Black woman working in a hot new speakeasy when she gets caught up in a murder that hits too close to home...
Harlem, 1927. Twenty-seven-year-old Louise Lloyd has found the perfect job! She is the new manager of the Dove, a club owned by her close friend Rafael Moreno. There Louise meets Nora Davies, one of the girls she was kidnapped with a decade ago. The two women-along with Rafael and his sister, Louise's girlfriend, Rosa Maria-spend the night at the Dove, drinking and talking. The next morning, Rosa Maria wakes up covered in blood, with no memory of the previous night. Nora is lying dead in the middle of the dance floor.
Louise knows Rosa Maria couldn't have killed Nora, but the police have a hard time believing that no one can remember anything at all about what happened. When Louise and Rosa Maria return to their apartment after being questioned by the police, they find the word GUILTY written across the living room wall in paint that looks a lot like blood. Someone has gone to great lengths to frame and terrify Rosa Maria, and Louise will stop at nothing to clear the woman she loves.
Horror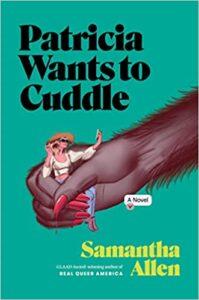 On this season of , contestants must compete for love. And their lives.
When the final four women in competition for an aloof, somewhat sleazy bachelor's heart arrive on a mysterious island in the Pacific Northwest, they prepare themselves for another week of extreme sleep deprivation, invasive interviews, and, of course, the salacious drama eager viewers nationwide tune in to devour. Each woman came on The Catch for her own reasons-brand sponsorships, followers, and, yes, even love-and they've all got their eyes steadfastly trained on their respective prizes.
Enter Patricia, a temperamental and woefully misunderstood local living alone in the dark, verdant woods, and desperate for connection. Through twists as unexpected as they are wildly entertaining, the self-absorbed cast and jaded crew each make her acquaintance atop the island's tallest and most desolate peak, finding themselves at the center of an action-packed thriller that is far from scripted-and only a few will make the final cut.
A whirlwind romp careening toward a last-girl-standing conclusion, and a scathing indictment of contemporary American media culture, Patricia Wants to Cuddle is also a love story: between star-crossed lesbians who rise above their intolerant town, a deeply ambivalent woman and her budding self-actualization, and a group of misfit islanders forging community against all odds.
Young Adult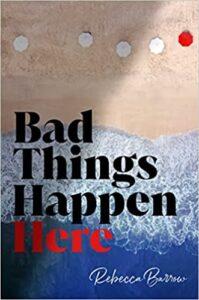 I Killed Zoe Spanos meets The Cheerleaders in this haunting mystery about an island town with a history of unsolved deaths-and a girl desperate to uncover the mystery behind it all.
Luca Laine Thomas lives on a cursed island. To the outside world, Parris is an exclusive, idyllic escape accessible only to the one percent. There's nothing idyllic about its history, though, scattered with the unsolved deaths of young women-deaths Parris society happily ignores to maintain its polished veneer. But Luca can't ignore them. Not when the curse that took them killed her best friend, Polly, three years ago. Not when she feels the curse lingering nearby, ready to take her next.
When Luca comes home to police cars outside her house, she knows the curse has visited once again. Except this time, it came for Whitney, her sister. Luca decides to take the investigation of Whitney's death into her own hands. But as a shocking betrayal rocks Luca's world, the identity Whitney's killer isn't the only truth Luca seeks. And by the time she finds what she's looking for, Luca will come face to face with the curse she's been running from her whole life.
Godslayers (Gearbreakers #2) by Zoe Hana Mikuta (Sapphic YA Sci Fi)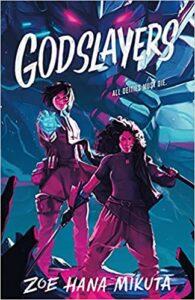 The only way to kill a god is from the inside...
The Gearbreakers struck a devastating blow against Godolia on Heavensday, but the cost of victory has been steep. Months later, the few rebels who've managed to escape the tyrannical empire's bloody retribution have fled to the mountains, hunted by the last Zenith―Godolia's only surviving leader.
Eris has been held prisoner since the attack on the capital city, which almost killed her. And she begins to wish it had when she discovers Sona―the girl she loves, the girl she would tear down cities for―also survived, only to be captured and corrupted by the Zenith. The cybernetic brainwashing that Sona has forcibly undergone now has her believing herself a loyal soldier for Godolia, and Eris' mortal enemy.
With the rebellion shattered and Godolia moving forward with an insidious plan to begin inducting Badlands children into a new Windup Pilot program, the odds have never been more stacked against the Gearbreakers. Their last hope for victory will depend on whether Eris and Sona can somehow find their way back to each other from opposite sides of a war...
Comics, Graphic Novels, and Manga
M Is for Monster by Talia Dutton (Queer SFF Graphic Novel)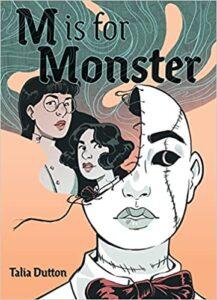 A scientist attempts to bring her younger sister back to life with unexpected results in this Frankenstein-inspired graphic novel about ghosts, identity, and family
When Doctor Frances Ai's younger sister Maura died in a tragic accident six months ago, Frances swore she would bring her back to life. However, the creature that rises from the slab is clearly not Maura. This girl, who chooses the name "M," doesn't remember anything about Maura's life and just wants to be her own person. However, Frances expects M to pursue the same path that Maura had been on-applying to college to become a scientist-and continue the plans she and Maura shared. Hoping to trigger Maura's memories, Frances surrounds M with the trappings of Maura's past, but M wants nothing to do with Frances' attempts to change her into something she's not.
[Note: I can't find in any review what kind of queer content this title has, just that is has queer content (and is by a queer creator). I'm assuming it's sapphic, but I could be wrong.]
In order to face the future, both Frances and M need to learn to listen and let go of Maura once and for all. Talia Dutton's debut graphic novel, M Is for Monster, takes a hard look at what it means to live up to other people's expectations-as well as our own.
Clementine: Book One by Tillie Walden (Bisexual Horror Comic)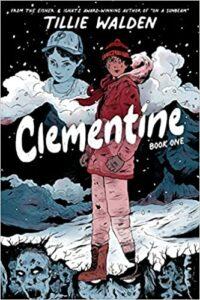 FROM THE WORLD OF ROBERT KIRKMAN'S THE WALKING DEAD...
...CLEMENTINE LIVES!
Clementine is back on the road, looking to put her traumatic past behind her and forge a new path all her own.
But when she comes across an Amish teenager named Amos with his head in the clouds, the unlikely pair journeys North to an abandoned ski resort in Vermont, where they meet up with a small group of teenagers attempting to build a new, walker-free settlement.
As friendship, rivalry, and romance begin to blossom amongst the group, the harsh winter soon reveals that the biggest threat to their survival...might be each other.
Check out more LGBTQ new releases by signing up for Our Queerest Shelves, my LGBTQ book newsletter at Book Riot!