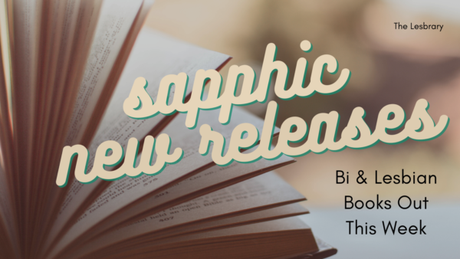 This week includes two of the fantasy releases I'm most excited to get my hands on: The Final Strife and Not Good for Maidens. I've heard only amazing things about The Final Strife, and it promises to be an epic fantasy trilogy with big stakes and a memorable world. Is it just me, or has sapphic epic fantasy really picked up in the last couple years? And then there's Not Good for Maidens, which is a sapphic YA horror retelling of "The Goblin Market." If you're not familiar with the poem, it's definitely worth a google to look into the queer subtext that's been read into it for a long time. Can't wait to see what a canonically queer take on it looks like!
Fiction
An uplifting, feminist coming-of-age love story about a young woman who dreams of becoming a tattoo artist, and living life on her own terms.
Introvert Gina Mulley is determined to become a tattoo artist, and to find somewhere she belongs in her conventional Long Island town. But this is 1985, when tattooing is still a gritty, male-dominated fringe culture, and Gina's funky flash is not exactly mainstream tattoo fare. The good news is that her older brother Dominic owns a tattoo shop, and he reluctantly agrees to train her.
Gina has a year to prove herself, but her world is turned upside down when a mysterious psychic and his striking assistant, Anna, arrive on the scene. With Anna's help, Gina recognizes that the only way she has a shot at becoming a professional tattoo artist is to embrace her quirkiness both in her art and her life. The tattoo shop is rocked by a crisis just as Gina finds herself falling in love with Anna. Dominic gives Gina an ultimatum, and she's faced with an impossible choice: Is the romance and newfound independence she's found worth sacrificing her dreams? Or can she find a way to have it all?
Nettleblack by Nat Reeve (Queer Historical Fiction) [UK Release]
1893. Henry Nettleblack has to act fast or she'll be married off by her elder sister. But leaving the safety of her wealthy life isn't as simple as she thought. Ambushed, robbed, and then saved by a mysterious organisation - part detective agency, part neighbourhood watch - a desperate Henry disguises herself and enlists. Sent out to investigate a string of crimes, she soon realises that she is living in a small rural town with surprisingly big problems.
When the net starts to close around Henry, and sinister forces threaten to expose her as the missing Nettleblack sister, the new people in her life seem to offer her a way out, and a way forward.
Is the world she's lost in also a place she can find herself?
Told through journal entries and letters, Nettleblack is a subversive and playful ride through the perils and joys of finding your place in the world, challenging myths about queerness - particularly transness - as a modern phenomenon, while exploring the practicalities of articulating queer perspectives when you're struggling for words.
Fantasy & Science Fiction
The Final Strife (The Final Strife Trilogy #1) by Saara El-Arifi
Red is the blood of the elite, of magic, of control.
Blue is the blood of the poor, of workers, of the resistance.
Clear is the blood of the slaves, of the crushed, of the invisible.
Sylah dreams of days growing up in the resistance, being told she would spark a revolution that would free the empire from the red-blooded ruling classes' tyranny. That spark was extinguished the day she watched her family murdered before her eyes.
Anoor has been told she's nothing, no one, a disappointment, by the only person who matters: her mother, the most powerful ruler in the empire. But when Sylah and Anoor meet, a fire burns between them that could consume the kingdom-and their hearts.
Hassa moves through the world unseen by upper classes, so she knows what it means to be invisible. But invisibility has its uses: It can hide the most dangerous of secrets, secrets that can reignite a revolution. And when she joins forces with Sylah and Anoor, together these grains of sand will become a storm.
As the empire begins a set of trials of combat and skill designed to find its new leaders, the stage is set for blood to flow, power to shift, and cities to burn.
Young Adult
Epically Earnest by Molly Horan (Sapphic YA Contemporary)
In this delightfully romantic LGBTQ+ comedy-of-errors inspired by Oscar Wilde's The Importance of Being Earnest, a high school senior works up the courage to ask her long-time crush to prom, all while deciding if she should look for her bio family.
Jane Worthing's claim to fame is that she was one first viral internet sensations, dubbed #bagbaby-discovered as a one-year-old in an oversized Gucci bag by her adopted father in a Poughkeepsie train station.
Now in her senior year of high school, Janey is questioning whether she wants to look for her bio family due to a loving, but deeply misguided push from her best friend Algie, while also navigating an all-consuming crush on his cousin, the beautiful, way-out-of-her-league Gwen Fairfax.
And while Janey's never thought of herself as the earnest type, she needs to be honest with her parents, Algie, Gwen, but mostly herself if she wants to make her life truly epic. With a wink toward Oscar Wilde's beloved play, Epically Earnest explores the complexity of identity, the many forms family can take, and the importance of being . . . yourself.
Not Good for Maidens by Tori Bovalino (Queer YA Horror/Fantasy Retelling)
They'll lure you in with fruit and gems and liquor and dancing, merriment to remember for the rest of your life. But that's an illusion. The market is death itself.

Beneath the streets of York, the goblin market calls to the Wickett women―the family of witches that tends to its victims. For generations, they have defended the old cobblestone streets with their magic. Knowing the dangers, they never entered the market―until May Wickett fell for a goblin girl, accepted her invitation, and became inextricably tied to the world her family tried to protect her from. The market learned her name, and even when she and her sister left York for Boston to escape it, the goblins remembered.
Seventeen years later, Lou, May's niece, knows nothing of her magical lineage or the twisted streets, sweet fruits, and incredible jewels of the goblin market. But just like her aunt, the market calls to her, an echo of a curse that won't release its hold on her family. And when her youngest aunt, Neela, is kidnapped by goblins, Lou discovers just how real and dangerous the market is.
To save her, both May and Lou will have to confront their family's past and what happened all those years ago. But everything―from the food and wares, to the goblins themselves―is a haunting temptation for any human who manages to find their way in. And if Lou isn't careful, she could end up losing herself to the market, too.
Nonfiction

"Instead of remaining silent, she chose to speak out ... That's the power of one person." ― Barack Obama
The inspiring story of Angeline Jackson, who stood up to Jamaica's oppression of queer youth to demand recognition and justice.
When Angeline Jackson was a child, she wondered if there was something wrong with her for wanting to kiss the other girls. But as her sexuality blossomed in her teens, she knew she wouldn't "grow out of it" and that her attraction to girls wasn't against God. In fact, she discovered that same-sex relationships were depicted in the Bible, which she read devoutly, even if the tight-knit evangelical Christian community she grew up in believed any sexual relationship outside of marriage between a man and woman was a sin, and her society, Jamaica, criminalized homosexual sex.
Angeline's story begins with her traumatic experience of "corrective rape" when she is lured by an online predator, then traces her childhood through her sexual and spiritual awakening as a teen ― falling in love, breaking up, coming out, and then being forced into conversion therapy.
Sometimes dark, always threadbare and honest, Funny Gyal chronicles how Angeline's faith deepens as a teenager, despite her parents' conservative values and the strict Christian Jamaican society in which she lives, giving her the courage to challenge gender violence, rape culture, and oppression.
Check out more LGBTQ new releases by signing up for Our Queerest Shelves, my LGBTQ book newsletter at Book Riot!