Scoop.it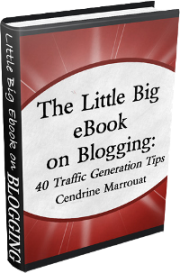 I am very excited to share this new review of my latest eBook.
"The Little Big eBook On Blogging, by Cendrine Marrouat saved hours of my time trying to sort out, how to be effective and use all of our social media avenues in the most productive manner. For the beginner blogger, it is packed with tremendous resources, useful tips and clearly written. For the more experienced blogger, it is an excellent reference book to have on your desk and refer to from time to time. Cendrine has managed to share her wealth of knowledge and expertise in just "40 traffic generating tips!" I especially enjoyed Cendrine's "List of Tools and Resources Mentioned in This eBook" from pages 31-36. I had purchased many books on blogging, before purchasing The Little Big eBook On Blogging and by far this was the best book!"
Krista Dunlop - President, Krista Dunlop & Associate Inc. (Consultants In Business Communications)
You can also find this review on Amazon.
Thank you so much Krista!
&locale;&layout;&action;&width;&height;&colorscheme;