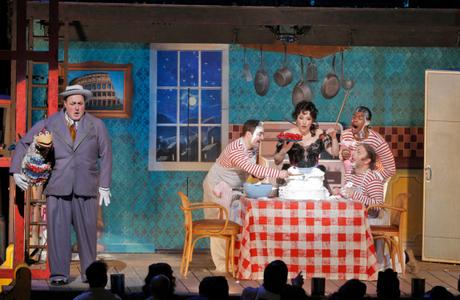 Leoncavallo's
Pagliacci
, Act II (Photo: Cory Weaver/Met Opera)
"Reality…What a Concept!"
Starting off a review of the Metropolitan Opera's last new production of the 2014-2015 season (of Mascagni's Cavalleria Rusticana and Leoncavallo's Pagliacci) with the title of a debut record by the late actor/comedian Robin Williams, who later recorded a comedy album called A Night at the Met — yes, dear readers, Mr. Williams appeared live at the Metropolitan Opera House back in 1986 — gets right to the heart of the matter.
When opera took a turn for the better, from the stately affairs of the Baroque and Classical periods to the resoundingly robust Romantic era, it brought with it a fresher, more vibrant concept to deal with. That concept was called verismo. Known widely by the term "realism," verismo (the Italian word for it) planted its seed in the arts, namely in painting and literature. Myriad works by the likes of Millet, Courbet, Degas, and others, in addition to novels by Zola, Daudet, and their ilk, flourished from the mid-nineteenth century on.
That verismo would eventually penetrate the hallowed halls of opera is not entirely a mystery to followers of the form. To be sure, it was inevitable that, while theatrical displays of passion and jealously were no strangers to opera, the fundamental core of verismo would concentrate these displays on the lives of everyday citizens — Reality TV before television and the term "Reality TV" were even in existence.
Years before, it was a given that portrayals of individuals such as kings and queens, princes and princesses, haughty knights and their ladies fair, as well as mythological gods and goddesses, would be deemed fitting subjects for stage depiction, along with their high-minded tales. However, beginning with Bizet's Carmen (1875), the sheer audacity of such personalities as a flirtatious gypsy woman, a homicidal soldier, a lusty toreador, and a pigtailed country girl, would bring "real life," such as it was, front and center to patrons of the art in ways rarely seen up to that point.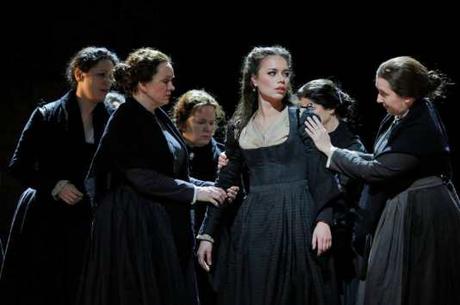 Eva-Maria Westbroek as Santuzza in
Cavalleria Rusticana
(Met Opera)
Extending the now-crowded field to other "character types," the one-act Cavalleria (1890) and the two-act Pagliacci (1892) concerned themselves with chronicles of simple village life and the folks that populated those villages. Only, they weren't as "simple" as one might have assumed. For these were people whose lifeblood depended on their standing and repute in the village. They lived and loved, fought and suffered to within an inch of their lives, and many times forfeited those same lives in unattainable pursuits.
What we've described is a dog-eat-dog world, i.e. survival of the fittest or, at the very least, of the most passionate. "All's fair in love and war," or so it's been said. That Cav and Pag, as they are affectionately known in the opera world, clearly exemplify this world in all its filth and grime has only made them more palatable to fans, this writer among them. These works share a common thread: they made their composers, Pietro Mascagni and Ruggero Leoncavallo, world-famous; they feature scorching scores with instantly recognizable tunes; they offer both male and female performers copious opportunities for display; and, despite their sometimes scandalous reputation for all-out emotional content, they've attracted scores of conductors of international repute. That's saying a lot!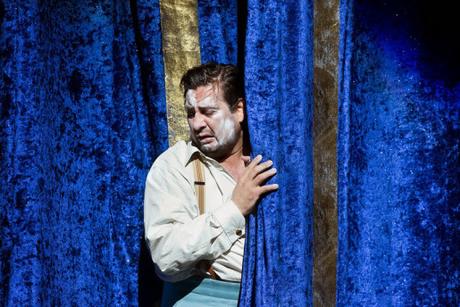 Marcelo Alvarez as Canio in
Pagliacci
(Met Opera)
And no matter how they've been mistreated by the press or by independent-minded producers and directors, Cavalleria and Pagliacci will continue to survive whatever "concept" has been foisted upon them. Their basic themes — love and hate, jealousy and betrayal, adultery and sorrow, and finally out-and-out murder — are all touched upon in the brief running time allotted to each work. Although the operas have always enjoyed success on their own, or paired with other works (most of them incompatible), once Cav and Pag teamed up with each other and became joined at the hip as the perennial "double bill," it's been impossible to break up their union — a storied "marriage" made in musical heaven lasting longer than any of its major characters.
Despite negative reaction, why have these works remained so beloved of opera-goers? Perhaps their very similarities have something to do with their durability. As indicated by the above, structurally both works evince a commonality of musical ideas, in that: both operas begin with a prelude; both preludes are "interrupted" by male voices (Turiddu intoning his Siciliana from backstage; Tonio in his pre-curtain Prologo); both operas favor extended choral numbers and set pieces; both employ Intermezzi between their two halves; and both end tragically with spoken dialog (the Peasant Woman's piercing shriek of "Hanno ammazatto compare Turiddu!" – "They've killed our friend Turiddu!" in Cav; and in Pag, the immortal line, "La commedia è finità" – "The comedy is ended," usually given to the tenor, which in actuality belongs to the baritone, Tonio).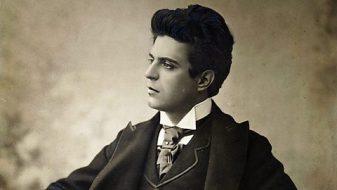 Pietro Mascagni as a young, struggling composer (www.bbc.co.uk)
In between, a variety of confrontations take place (some in duet form, most in solo arias), the gist of which, in Cavalleria, must be determined from the context: a peasant girl, Santuzza, has been ex-communicated from the church, after being impregnated and, we learn soon enough, abandoned by her ex-boyfriend Turiddu. The plot of Pagliacci is more easily discernible through the characters' utterances: Canio's cantabile, "Un tal gioco" – "Such a joke is not to be taken lightly," whereby he tells the villagers not to make fun of his situation; Nedda's Ballatella, "Stridono lassù," where she longs to be free and fly away, like the birds; Tonio's "So ben che difforme" – "I know I am deformed," an admission of his own repulsiveness; and so on. Are we not moved by these confessions? Indeed, we are!
Audiences coming to both Cav and Pag for the first time, especially if they are non-Catholics, may have a tougher time in figuring out what all the ballyhoo and religious pageantry are about. To be clear, the holiday alluded to in Cavalleria is Easter, a time of rebirth and reaffirmation of one's station in life. In Pagliacci, it's the Feast of the Assumption, or the elevation of the Blessed Virgin Mary's body and soul into heaven. Religious rituals were extremely important to Italian villages and cities at the turn of the last century. And they remain so today, however reduced their influence has been of late.
The point here, then, is the contrast between what is happening with the characters in the midst of and beside these religious events; and, from a dramatic point of the view, the utter lack of morality and common decency in their relationships to each other. These simple folks are anything but sanctimonious, as displayed, for one, in Santuzza's inability to enter her fellow villagers' homes (her "sin" will follow her wherever she goes).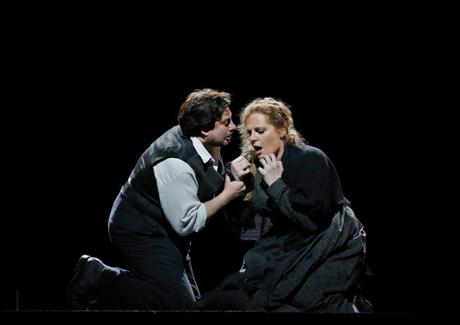 Turiddu (Marcelo Alvarez) & Santuzza (Eva-Maria Westbroek) in
Cavalleria Rusticana
This is powerful stuff, red meat for the masses! Of the two works, Cavalleria tends to be the more heartless in its disregard for women's feelings. For instance, Lola, the current object of lover-boy Turiddu's ardor, is a floozy, in the parlance of the time, the promiscuous, unhappily married spouse of the seemingly respectable but dull Alfio, a teamster by profession. In most productions, Alfio is made to play the bad guy (albeit unfairly), while Turiddu gets off with the best aria in the score, his sorrowful farewell to Mamma Lucia, "Voi dovrete fare," ("Do this for me"), pleading with his mother to take care of Santuzza should he not return (that is, from his one-sided fight with Alfio, who is only trying to defend his honor).
They may smack of soap-opera conventions, however these unprocessed emotions hit fairly close to home for most audiences. Cavalleria Rusticana proved to be a sensation at its premiere, making Mascagni rich and renowned beyond his wildest imagination. The story, based on a play by Giovanni Verga (a writer who also attracted the attention of an up-and-coming fellow musician named Giacomo Puccini), inspired the 26-year-old Mascagni to heights he never again achieved.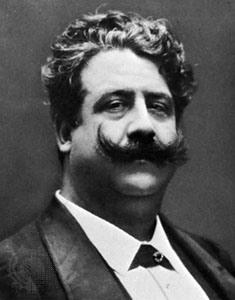 Ruggero Leoncavallo (Britannica.com)
In the same breadth, Leoncavallo, five years older than Signor Mascagni, had written two unperformed pieces prior to hitting it big with Pagliacci. Much like his hero Wagner, the portly Signor Leoncavallo (whom Puccini unflatteringly referred to as Signor "Leon-assino, "or "Lion-Ass") wrote both music and text for many of his subsequent works, to include Pagliacci.
The opera itself is said to have been based on a real-life court case. The magistrate in charge of the case, who just happened to be Leoncavallo's dad, presided over a trial in which an actor killed his wife out of jealousy over her love affair with another man.
There have been many variations of this story, including assorted cinematic depictions and the like. Some historians have even questioned the veracity of this incident outright, and Leoncavallo's recollection of same. Be that as it may, it makes for a whale of a tale. And, as another saying goes (this one, an Old Italian adage), "Si non è vero, è ben trovato" — in other words, "If it isn't true, it's well-founded."
(End of Part One)
(To be continued…)
Copyright © 2015 by Josmar F. Lopes