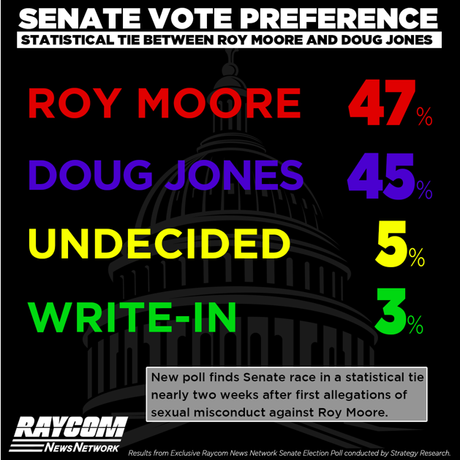 The chart above is from the new Raycom News Network / Strategy Research Poll -- done on November 20th of a random sample of 3,000 likely Alabama voters, with a 2 point margin of error.
It shows Republican Roy Moore clinging to a 2 point lead over Democrat Doug Jones, with 5% still undecided. The poll was done well after Alabamans knew about the accusations against Moore of sexual harassment and abuse against teenage girls (some as young as 14). With the margin of error at 2 points, this means the poll has the race as a dead heat right now.
I think it's probably not that close. I think some voters are embarrassed to say they'll vote for a child molester, but will do exactly that when alone in the voting booth. I hope I'm wrong, but I think Alabama is going to send a child molester to the Senate, and probably by a significant margin.