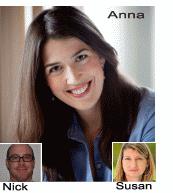 I recently had the pleasure of participating in a discussion with Anna Post. She is the great-great-granddaughter of Emily Post and co-author of Emily Post's Etiquette, 18th edition. Also present for the discussion was Nicholas Provenzano, a high-school English teacher who is passionate about integrating technology into the classroom.
About the show:
Remember manners and etiquette? Apparently, many teens didn't get the memo that these social graces are still important. Yes, some of the old rules are outdated, but the basics still apply. Learn how to help your teen develop a keen sense of appropriate behavior.
CLICK HERE to listen to this 12-minute podcast!