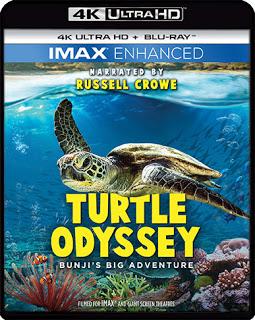 Living in South Florida, our family has learned a lot about sea turtles over the years since the turtles often nest on our beaches. Therefore, we were really excited to learn about a new movie that follows the life of an Australian sea turtle, Bunji! Read on to learn more about this movie, as well as a review!
About Turtle Odyssey: Bunji's Big Adventure

On December 3, journey through tropical oceans with one of the sea's most intriguing creatures, a sea turtle. Russell Crowe narrates Turtle Odyssey: Bunji's Big Adventure, which will be available on 4K Ultra UHD & Blu-ray®, as well as on DVD, this December from Shout! Factory. The film utilizes the new IMAX Enhanced technology, which offers an expanded aspect ratio and immersive sound for an incredible home viewing experience.
Sea turtles are some of the most majestic and ancient creatures on Earth. For over 100 million years, they have traversed the seas, surviving multiple mass extinctions and playing critical roles in maintaining a healthy, marine food chain. Not only do these friendly animals captivate us as they peacefully glide through the ocean, but their personal journeys of survival are equally fascinating.
Turtle Odyssey explores the unique lifecycle of an Australian Sea Turtle named Bunji and her incredible journey across the ocean. The film follows Bunji from a hatchling into adulthood as she swims thousands of miles, meeting incredible creatures and having some truly wild encounters.
Review by D.T.
Bunji will melt your heart in her movie, Turtle Odyssey. The adventure follows this Green Sea Turtle from the time she hatches until she lays eggs in her nest. Along her path, she has to learn to take care of herself, avoid sea predators, and face the relatively new threat of human intervention. Through all the twists and turns of her life, her instinct and intellect serve her well, and she finds her way back to the beach where she was born to lay a nest of her own.
Although short, this movie will teach you quite a bit about the daily life of a sea turtle. As documentaries go, it keeps the excitement and fascination going throughout the film. Russell Crowe narrates it perfectly, with soft curiosity and a few surprises. The camera work is also fantastic, always keeping a good eye on Bunji wherever she goes. This movie is available in Blu-ray and 4K, with all of the details to make you feel as if you are swimming at Bunji's side. It is a beautiful film about a beautiful creature and will give you a greater appreciation for sea turtles.

Disclosure: A complimentary product sample was provided to facilitate this review. This post contains my Amazon affiliate link, and I will receive a small commission on purchases made through this link.