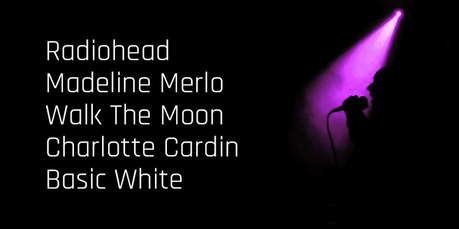 New Music From Radiohead, Madeline Merlo, Walk The Moon, Charlotte Cardin, and Basic White
We're back with another edition of the New Music Spotlight, and we hope you're ready for it!
This week we've got tracks from the rock, pop, and country music worlds, all solid and all lined up for your listening pleasure.
Hit play on each one of these new releases and leave a comment telling us which songs you'll be adding to your playlists.
Ready? Let's Go!
Artist: Radiohead
Hometown: Oxford, UK
Genre: Alternative
Related: Blur, Pixies, Interpol
Song: Ill Wind
Notes: Radiohead does Radiohead things on Ill Wind, and that should make Radiohead fans happy. The track was included as a bonus on the 2016 CD, A Moon Shaped Pool, but now it stands alone and available for streaming wherever you listen to Radiohead.
Artist: Madeline Merlo
Hometown: Maple Ridge, BC
Genre: Country
Related: Jess Moskaluke, Meghan Patrick, Lindsay Ell
Song: Unraveling
Notes: Country music fans in Canada may already feel like they know Unraveling, having heard Madeline Merlo play it live in her set and its recent radio release. But now they can really dive in with her sweet voice, genuine feeling, and inarguable talent. We're thankful that this song is going to get the shot it deserves to be heard and loved widely.
Artist: Walk The Moon
Hometown: Cincinnati, OH
Genre: Pop
Related: Young The Giant, Neon Trees, Atlas Genius
Song: Timebomb
Notes: Walk The Moon has the really fun pop thing on lock, and Timebomb is just another example of the Ohio band releasing songs that we can't help but dance to. Hit play and turn it up.
Artist: Charlotte Cardin
Hometown: Montreal, QC
Genre: Pop
Related: Hubert Lenoir, Safia Nolin, Beyries
Song: Drive
Notes: This emerging Canadian talent has our attention again with Drive. Charlotte Cardin's voice mixes with deep beats and flows from start to finish on her new single. Don't be surprised if this is the start of a very big year for Cardin!
Artist: Basic White
Hometown: London, ON
Genre: Indie Rock
Related: Arkells, Hollerado, The Glorious Sons
Song: Time To Leave
Notes: Time To Leave is the debut single from the London rocker's upcoming album, The Second Half. And if the rest of this album is as fun to listen to as this track is, we're all in!