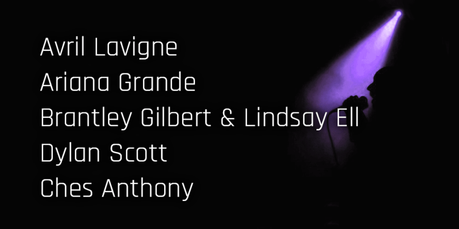 New Music from Avril Lavigne, Ariana Grande, Brantley Gilbert & Lindsay Ell, Dylan Scott, and Ches Anthony
We're back with another edition of the New Music Spotlight, featuring five tracks that we think you should be listening to right now!
This week we're bringing you songs from both the pop and country music worlds, including the continued comeback of a Canadian pop princess, a cross-border country duet, and the debut solo single from an emerging Prairie talent.
Hit play, check them all out, and tell us which of these five new songs are making their way onto your playlists!
Let's Go!
Artist: Avril Lavigne
Hometown: Napanee, ON
Genre: Pop
Related: Kelly Clarkson, Michelle Branch, Katy Perry
Song: Tell Me It's Over
Notes: Tell Me It's Over is the next step in the new chapter from Avril Lavigne, and we're here for it! The grown-up pop star shows off a more mature sound and style on her new single as we all prepared for the release of her new album, Head Above Water on February 15, 2019.
Artist: Ariana Grande
Hometown: Boca Raton, FL
Genre: Pop
Related: Camila Cabello, Selena Gomez, Dua Lipa
Song: imagine
Notes: Ariana Grande has done it again. imagine is smooth and sweet with the pop beats and undeniable talented voice that we've come to know and expect from the powerhouse pop singer.
Artist: Brantley Gilbert & Lindsay Ell
Hometowns: Jefferson, GA // Calgary, AB
Genre: Country
Related: Randy Houser, Chris Young, Carrie Underwood, Meghan Patrick
Song: What Happens In A Small Town
Notes: Gilbert and Ell combine for a duet that we didn't know we were waiting for. The gruff Georgia boy is a great fit with the guitar-slinging Canadian singer, and What Happens In A Small Town just works. This tribute to smalltown heartbreak and lost love is going to get a lot of plays.
Artist: Dylan Scott
Hometown:
Genre: Country
Related: Michael Ray, Seth Ennis, Ryan Hurd
Song: Eastside
Notes: It's a benny blanco // Halsey // Khalid cover, but I couldn't help but include it. We've been high on Dylan Scott since we first learned his name, and as he continues to grow and play with the pop side of country music, singles like Eastside pair perfectly with his own tracks like Hooked.
Artist: Ches Anthony
Hometown: Saskatoon, SK
Genre: Country
Related: Andrew Hyatt, David James, Shawn Austin
Song: Written In Stone
Notes: The debut solo single from Ches Anthony feels like the start of something special from a dude that has cut his teeth as a songwriter, frontman, and session musician in country music. Written In Stone is the introduction of a new path for Anthony, and if we get more like this in the near future, we'll be happy about it.