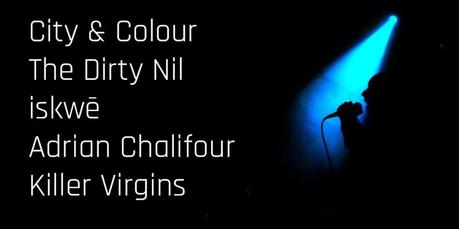 New Music from City & Colour, The Dirty Nil, iskwē, Adrian Chalifour, and Killer Virgins
I've got an all Canadian New Music Spotlight for you today!
It's not often that we're able to bring a full CanCon New Music Spotlight. I'm excited to offer up lots of rock, some pop, and some alternative-electronic.
Let's do this.
Artist: City and Colour
Hometown: St. Catharines, ON
Genre: Alternative Rock
Related: Arkells, Matthew Good, Alexisonfire
Song: Astronaut
Notes: Take a deserted classic movie theatre, moody lights and silhouettes. Add in a moon and an astronaut. Intermingle it with the haunting song and you've got the latest video release from City and Colour. It's simple, but it reaches inside and touches that part of you. I got goosebumps the first time through. Dallas Green does it again. His new album, A Pill for Loneliness comes out October 4th, and he heads out on a Canadian coast-to-coast arena tour on November 8th. Can't wait? Head to the U.S. where he'll be doing special two-night performances in Nashville, San Francisco, Los Angeles, Boston, and New York starting October 9th.
Artist: The Dirty Nil
Hometown: Dundas, ON
Genre: Rock
Related: PUP, Direct Hit!, The Flatliners
Song: Idiot Victory
Notes: I am loving this video. The Dirty Nil has tapped into my weak spot for choreographed dancing, and I can't stop seeing their dancing in my head. The video for Idiot Victory arrives along with the band's deluxe version of the album Master Volume. Available to stream now via Dine Alone Records, on all platforms.
"To be honest, the song is about smashing your partner's cell phone in a desperate bid for attention." - Luke Bentham
Artist: iskwē
Hometown: Winnipeg, MB (now living in Hamilton, ON via LA, NYC, and TO)
Genre: Alternative-Electronic
Related: Quantam Tangle, Kelly Fraser, Frank Waln
Song: Sweet Tuesday
Notes: The video is a simple treatment that allows us to focus on the song and the artist. It's heartbreaking and a must-see.
"I wrote this song for my dear friend, a kindred spirit who ventured back to the sky world after a long and courageous battle with cancer. This song and its visuals are a commemoration of our last visit together, during which we embraced our mutual fears for the road ahead as much as we celebrated the beauty and mystery life offers. My hope is to convey the importance of not getting stuck in the despair of loss through celebrating those who have transitioned on and honouring every facet of life's journey from birth to death. Sweet Tuesday is my contribution to the ethos of healing and embracing every emotion along the way."
This is the third single from her upcoming album acākosīk (pronounced acha-ko-suk), which will be released later this year.
Artist: Adrian Chalifour
Hometown: Victoria, BC
Genre: Indie
Related: Jesse Roper, Vince Vaccaro, Shred Kelly
Song: The Collapse
Notes: My only, non-video entry in today's New Music Spotlight is from Adrian Chalifour. The former Tower and Trees frontman, CTV's The Launch competitor, and recent first-place winner (Adult Alternative Album) of the Unsigned Only Competition, hit us today with his brand new single, The Collapse. It's a side of Adrian that I'm not used to. But I like it. The song is vulnerable and raw, and it's the opposite of his usual upbeat entries. It's a message that needs to be heard.
" The Collapse is a song about loss and the helplessness that precedes it. That might mean a lot of different things to different people, and even means different things to me depending when and in what context I listen to it. But I can tell you when I first wrote it, it was about the loss of life. My community has lost a lot of good men this past year. Men I grew up with. Men my age: fathers, husbands and business owners with lives and legacies; men we didn't expect to lose. I thought about what those last moments must have been like, when you realize there's no coming back. I thought about what their last words might have been - what my last words might be - were there a chance to share them. This song helps me remember who they were and what they left behind." - Adrian Chalifour
His highly anticipated debut album JOY, set for release October 4th, the video for the new track will premiere September 24th on Popdust. He'll be hitting the road so check his website for dates and ticket info. You can pre-order Adrian's upcoming album JOY here.
Artist: Killer Virgins
Hometown: Toronto, ON
Genre: Rock
Related: Attica Riots, The Treble, Poor Young Things
Song: Karate Girl
Notes: Killer Virgins released their EP Reboot today. We're celebrating by bringing you their lyric video for Karate Girl here on the New Music Spotlight. The video has a fun cartoon feel and is a great match for the song. The music is adventurous, and if you're a fan of high energy indie rock with a serving of punk, this might be the song for you. Killer Virgins are Sam Weinstein on lead vocals and guitar, Gabriele Corindia on drums, and Nathan Price on bass.