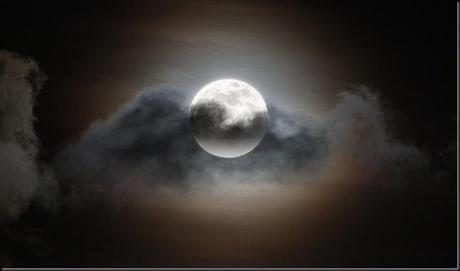 A new Moon for a new year, that's appropriate, isn't it? Well as we end 2013 and enter 2014 we do start with a brand shiny new Moon and wow, this is a beauty!! This new Moon lays down a marker for 2014, and if you felt that last year was a miserable one, and many of us know this to be true, then the planetary formation here on offer to ring in the New Year can give you a lift and a potential to kick start to get your life back into action. If this is the way that you mean to go on in 2014, then strap in, buckle up and get ready to turn the keys to start the engine.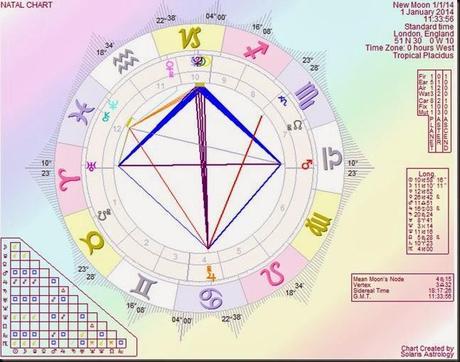 Here is the chart for the new Moon in London on the 1st January, a conjunction of Sun and Moon in a very close conjunction to Pluto and Mercury as part of a wider, expansive and dynamic cardinal cross. This stellium of planets makes the cross with Uranus, Mars and Jupiter lighting up the cardinal angles of this chart, indeed 8 of the planets here are in cardinal signs. This is a "put your foot on the gas pedal and release the brake" kind of chart.
A new Moon in Capricorn is normally one where you you will set your stall out to start making slow steady progress, you lay the foundations brick by brick, slowly but surely, patiently, ambitiously, taking your time but this time around this new Moon is conjoined to Pluto, the planet of transformation and change. Yes change, this is a powerhouse conjunction fueled by a desire for sweeping away the deadwood and rejuvenating what is left. So, what is being changed here? The sign Capricorn gives the key to all this, the structure in our lives. The New Moon is the catalyst for this change, Capricorn shows where it will happen, Mercury sends out the message that change is coming and Pluto brings in wrecking crew to enforce and direct it. Wherever you find the sign Capricorn in your chart, this is where all this will start to take place.Now Pluto may be the conductor of the orchestra, but there are some other serious musicians accompanying the lord of darkness in this melody. By this I mean the other planets dotted around the heavens, including three connected to the new Moon, Pluto and Mercury through the rest of the cardinal t-square that is formed on this day.
Jupiter opposes this new Moon stellium and this defines the how the change will manifest itself. When Pluto and Jupiter oppose we literally get the force of optimism and expansion and the search for faith and knowledge coming up against a force that will strip anything which is superfluous down to the bone. For all our big plans and ideas going on inside our head (Jupiter is retrograde and internalised), this new Moon conjunct to Pluto boils down the truth that we seek, the justice that we want, the knowledge or the person that we desire can be reduced in size to a single definable point or issue, so that we will in in no doubt of the task that lies in front of us. The truth that comes out now at the start of year will arrive with an almighty bang.
Everything that you discover in this process may cause a lot of friction, anger and force of effort. It may not be the kind of truth that others may want to hear and it may unsettle them; there is unpredictability in the cardinal formation above us on this day, the 1st of January. Uranus in Aries square to the Jupiter new Moon stellium sees to this, and because of what occurs now and early in the new year, you may take up a fresh new challenge or decide to go in a brand new direction, one that others may disapprove of, but one that you will be determined to follow and they may be powerless to stop.
Mars in Libra brings energy and drive, lots and lots of it; a direct and powerful force accompanying the change that is arriving. The ambition and assertive nature of this t-square is formidable if used in the right manner; this is a formation of great potential but it can be one of great evil and destruction too. All the elements here if used for ill rather than for good intensions can cause devastation and anger on a huge scale. In short, you can get to the heart of any matter, go off in a tangent if you so want to, take a huge risk or chance in sewing the seeds for growth and prosperity to come, or really upset the apple cart and in the process cause a lot of trouble. The choice is yours, but whatever you set in motion now will be set in the hardest stone imaginable, and you will not be able to deviate from the path that you decide to follow; you will reap the consequences further along the way, be they positive or negative in nature.
Saturn moving in Scorpio on this chart is strangely detached from the action going on elsewhere and the only aspect it makes is a useful and workmanlike trine to Jupiter, hopefully stabilizing our desires and keeping a lid on the optimism that we want to express. This aspect brings a cool head, decent judgment and hopefully it can allow us to make the correct decision in the maelstrom that is flying around our heads as the new year begins.
Chiron is quite active on this chart and Mars makes a very tricky and difficult inconjunct aspect to the wounded healer. This is not an easy connection to deal with and it suggests hurting and wounding through one's actions that leads to separations, adjustments and enforced change. I think with Mars in the sign of Libra, the possibility of people being hurt through relationship issues at the start of this new year is strong. Remember that Venus is still retrograde at the time of the New Moon and any relationships begun are unlikely to go smoothly and according to the plans that you set out. In looking at this Mars aspect to Chiron, a similar story can be said for the fight for justice and equality and there could be casualties along the road that you are travelling, indeed one of them could be you if you make the wrong decisions now. Remember the new Moon conjunct Pluto is not about equality, it is a straight choice of black or white that is on offer now, something that is totally alien to the Libran principle of fairness. Think carefully before venting your anger over an argument that you cannot possibly win or by trying to sit on the fence when really you should be choosing one side of an issue or the other.
There are multiple sextiles from the new Moon stellium into Chiron now indicating an opportunity is opening up for you to heal or to wound someone or yourself through the decisions that you make now. Choose carefully. In a positive note, Jupiter makes a trine to Chiron and this open up an avenue to learn about talents that you didn't know existed within you or you may discover through faith or on your travels that you can gain wisdom and knowledge and/or find a love that you thought was out of reach.
The chart that forms now is eerily similar to the chart that takes hold on 23rd April later on in the year. That one has an even closer cardinal t-square involving the planets Pluto, Mars, Jupiter and Uranus, so remember what goes on now is in preparation for what is to come. The important degrees that are really affected this time around are 10- 12 degrees of cardinal signs (Aries, Cancer, Libra and Capricorn) and if you have any planets or angles on your chart on these degree points then you will feel the real force of this t-square affecting you. My advice is to be energized by it, to consider your options and to make a positive statement as 2014 begins. Don't try to ignore or go against the flow of the energy here as it is asking you to act, to be bold, to take control and to distil all of your ideas and desires into the melting pot so that you can come out with a plan of action that will set you of racing into the new year with renewed optimism and faith in yourself.