'Si può?' — 'If I may?'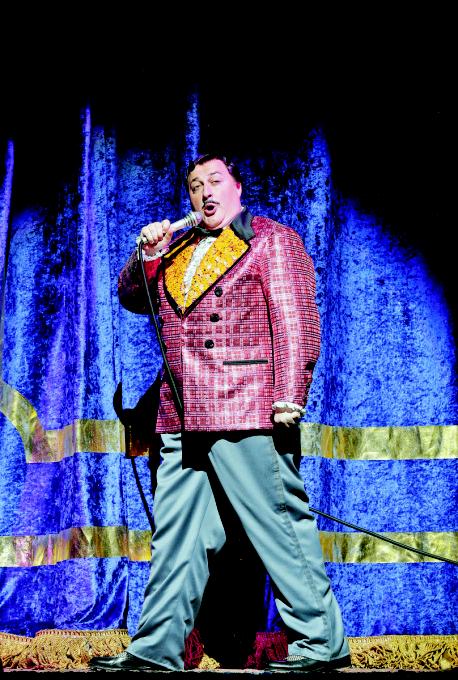 George Gagnidze as Tonio in the Prologue to
Pagliacci
(Photo: Met Opera)
Returning to the topic at hand, verismo (or "realism," in the operatic sense) concerns itself with simple truths; that is, a "slice of life" portrait — "Uno squarcio di vita," as Tonio explains to audience members in the Prologue to Pagliacci — of its harshness and brutality, its lost hopes and unfulfilled dreams, its bitter disappointments and its utter failures. Why, it's the essence of opera itself, in many people's view.
In that regard, it pains me that a book such as the Opera Lover's Companion, put out by the Metropolitan Opera Guild back in 1948 — specifically, the section devoted to Cavalleria and Pagliacci — would condone such purple patches of "insight" as those that claim Mascagni's magnum opus as being "cruder and less sophisticated" than Leoncavallo's; that the opening "peasant folk ensemble" in Cav has "little to do … with the actual business of the piece"; and that Nedda's poetic Ballatella in Pag is sung "over pretty instrumentation, but in itself filling no dramatic purpose whatever." What nonsense!
Instinctively, a smart director will know how to make these moments work in each opera's favor. It's apparent from the cutting remarks above that neither Cav nor Pag were held in high esteem, despite the fact that both operas at the time of the Opera Lover's Companion's release had already become permanent fixtures of the standard repertoire — indeed, since their debut not sixty or so years prior to the book's publication.
Such disparaging comments have gone unchallenged for much too long. It was not until the publication, in 1958, of Mosco Carner's masterful critical biography of Giacomo Puccini that scholars and musicologists, along with the public at hand, began to take verismo seriously and, ergo, look upon it with keener eyes at what the period produced.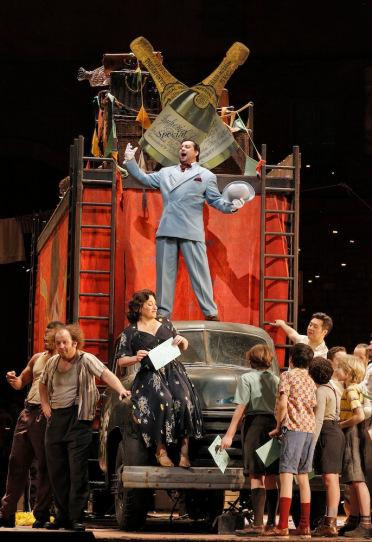 Pagliacci
at the Met: Marcelo Alvarez as Canio & Patricia Racette as Nedda, "Un grande spetaculo a ventitre ore!"
Over two generations later, Cav and Pag stand firm as ground-breakers of a sort, the high-water mark for verismo that eventually spawned such varied endeavors as Puccini's La Bohème, Tosca, Madama Butterfly and Il Tabarro, Francesco Cilèa's L'Arlesiana, Umberto Giordano's Andrea Chénier, Gustave Charpentier's Louise, Jules Massenet's La Navarraise, Eugene d'Albert's Tiefland, Ermanno Wolf-Ferrari's The Jewels of the Madonna, and quite a few others.
When Mascagni and Leoncavallo both failed to fulfill their early promise by not writing other equally potent barnburners; and long after Puccini passed on into opera legend with his bombastic swan-song Turandot, the postwar revival of Italian cinema gave rise to renewed efforts to cast verismo — now called neo-realism — in an entirely different light, i.e., in the light of the silver screen.
The advent of film directors Vittorio de Sica, Roberto Rossellini, Federico Fellini (whose 1954 effort, La Strada, is a modern-day reworking of Pagliacci), Luchino Visconti, and Michelangelo Antonioni brought added prestige to what was considered a lost art. Neo-realism went on to make a huge impact internationally, influencing not only the French Nouvelle Vague and Brazilian Cinema Novo movements, but the earlier film noir school of American-made movies.
The place where opera once originated — Italy — and the very idea of opera underwent a miraculous transmogrification: it replaced verismo and the passion that was initially poured into the genre with another art form. In the process, it reemerged as a stronger, if not exactly better, realization of its original aims.
To be fair, both Leoncavallo and Mascagni wrote a number of stage works that, in many critics' estimation, are ripe for reevaluation. For example, Mascagni's delightful L'Amico Fritz is a perfectly respectable and, in many places, thoroughly charming pastoral comedy (I'm thinking of the popular concert piece, the Intermezzo, as well as the much-recorded "Cherry Duet" from Act III). Leoncavallo's Zazà (with its own theatrically-based theme) and his version of the La Bohème story also merit attention.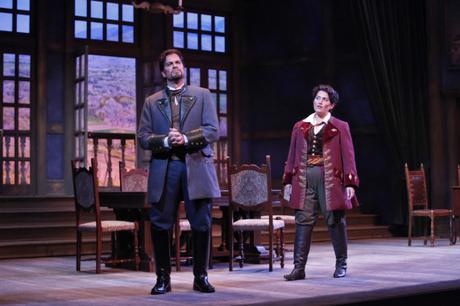 Scene from Mascagni's
L'Amico Fritz
at Sarasota Opera (Photo: Richard Termine)
Still, if Messrs. Mascagni and Leoncavallo are principally known for Cavalleria and Pagliacci (an unfair assessment of their total output) one can at least appreciate what made the above masterpieces the hands-down favorite of artists and conductors the world over. I'll take a hefty "slice" of their pie anytime, anywhere!
Fabulous Fabio!
This brings us to David McVicar's new production, which separates the two works by a half-century in time. As it were, they are thematically linked by a unit set which, in Cavalleria Rusticana, represents the inside of a church; in Pagliacci, it's the remnants of a makeshift theater where the age-old Commedia del Arte (or, as we know it in the States, the old "Punch and Judy" show) is routinely performed. The Saturday matinee broadcast of April 25, on which this post is based, was part of the Met's Live in HD series.
As the company's principal conductor, Genovese-born Fabio Luisi had a field day on the podium. I have not heard such marvelous violin playing in Cavalleria since Herbert von Karajan led the La Scala Opera forces in a 1965 recording of the work. From the opening statement, with its translucent string section on down to the last agitated blast of the full orchestra, Luisi lived and breathed the score, making every bar count for all it was worth. Prior to him, any number of conductors has taken up the baton in defense of Cavalleria. I remember Leonard Bernstein's erratic downbeat and exaggerated tempi when the Franco Zeffirelli production first premiered in 1969. Why, even Mascagni himself took up the challenge, in a leisurely reading he committed to disc on the HMV/RCA Victor label as far ago as 1940. Many have tried, but few have succeeded in negotiating this score's tricky time-signature changes and stop-and-go episodes. Fabio Luisi, stand and be noticed!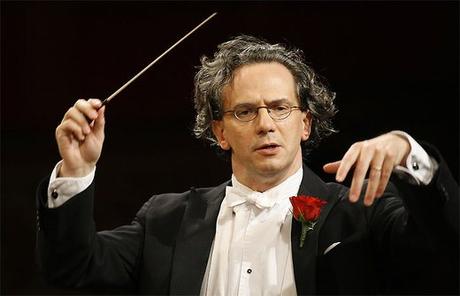 Fabio Luisi, the Met's principal conductor
I have praised maestro Luisi's assignments in the past, principally his classically inspired sculpting of Berlioz's massive score for Les Troyens, but not so much for Wagner's Ring, which I found a work in progress. But here, the violins soared, punctuating the air with aching urgency in Cavalleria's prelude. Even better, the famous Intermezzo, that sea of calm amid an ocean of torrent, was an ideal harmonic counterpoint to the "somber, tortured phrases" that followed Santuzza's entrance (repeated at the opera's close). The Intermezzo divides Cavalleria at its halfway point. While some conductors tend to give it short shrift, Luisi turned this luxuriously scored piece (based on the Regina Coeli, or "Queen of Heaven" hymn heard prior, with organ accompaniment) into a tone poem of repose in preparation for the tragedy to come.
Most unexpectedly, this was the first time in my radio-listening and opera-going experience that both portions of the double bill were presented absolutely complete. On long-play records, this was not an issue, but in the opera house it was a long time coming. As with most works — especially Verdi's Rigoletto and Donizetti's Lucia di Lammermoor, two standard repertory items that have been shredded beyond all recognition at the Met in years gone by — Cavalleria and Pagliacci sound fuller and more meaningful, dramatically as well as musically, when every note and word of their compact scoring is heard.
In particular, Pagliacci has suffered many such indignities, one of which (a grave disfigurement of its original intent) in the languorous duet between Canio's disenchanted wife Nedda and her clandestine lover, Silvio. Repeats and additional pages of music (for Nedda, most of all) fill in the gaps, in addition to providing a consistent explanation for her illicit involvement with a much younger man. If not, the substance and force of Canio's celebrated lament, "Vesti la giubba" ("On with the makeup") and its introductory passage, "Recitar, mentre preso dal delirio," ("To act, though one's heart is breaking"), lose their meaning.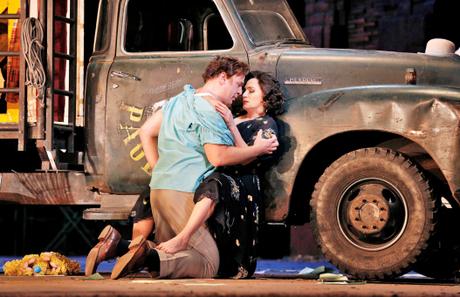 Lucas Meachem as Silvio & Patricia Racette as Nedda in
Pagliacci
(Photo: Cory Weaver/Met Opera)
Maestro Luisi and, it can be presumed, director McVicar deserve high praise for restoring this previously missing music, along with snippets of dialog and choral chatter normally cut from both the beginning of Acts I and II of Pagliacci (for one) and the supplementary line or two for chorus in Alfio's entrance song, "Il cavallo scalpità," in Cavalleria (for another). Both operas shone brightly as a result of this practice. May it continue unabated for the foreseeable future.
"Laugh, Clown, Laugh!"
The late and much lamented Sicilian tenor Salvatore Licitra was the last singer of substance at the Metropolitan Opera to have tackled the lead roles of Turiddu and Canio together. This was back in early 2007, the broadcast of which I heard and, quite frankly, enjoyed. His friend and colleague, Argentine tenor Marcelo Álvarez, also did double duty in the same parts for the Met's most recent radio transmission.
Álvarez has been stretching his naturally reserved sound for several seasons now, taking on such major tasks as the poet Andrea Chénier and the painter Mario Cavaradossi in Tosca. Neither poet nor painter, Turiddu is more of a womanizer and wayward idler, while his counterpart, Canio, is a strolling player by profession. Licitra, in the old Zeffirelli production indicated above, lent a heart-on-sleeve approach to both parts, which worked well within the confines of that director's vision.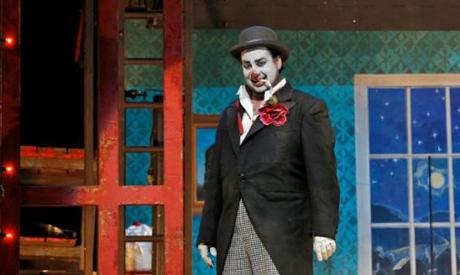 Marcelo Alvarez as Pagliaccio (Met Opera)
In contrast, tenor Álvarez's solution was in conserving his energy and limiting his outbursts to selected portions of the drama. In that, he proved adept at conveying the clown's rage more than the lover-boy's ardor. As a result, his Canio was the more riveting of the two, with open-throated emoting at "Vesti la giubba," and firm control of the vocal line for the play-within-a-play (a most convincing "No, Pagliaccio non son!"). Turiddu, however, was another matter. I found his interpretation too laid-back for my taste, with "Voi dovrete fare," his tear-filled farewell to Mamma Lucia, eliciting little audience empathy and no match for some of the role's finest interpreters (among them, Gigli, Del Monaco, Bergonzi, Corelli, Tucker, even Mario Lanza in the movies).
The problem for me became Álvarez's relative coolness in the early going of Cavalleria, in comparison with Licitra's more blatant outpouring. Marcelo has a habit of cutting off his high notes a shade too early — this was previously noted in his appearance as Gustavo in Un Ballo in Maschera a few seasons back, as well as the cavalier manner with which he sang Cavaradossi. This pattern can leave audiences begging for more. Here, it became obvious he was attempting to pace himself in Cavalleria for the rigors of Pagliacci later on, even though neither part is of marathon proportions.
As an example, the knock-'em-down, drag-'em-out tongue-lashing bout with Santuzza (a stunningly beautiful Eva-Maria Westbroek, dressed all in black) should have shaken the Met's rafters (it did not). What could have been a red-hot moment for the pair stayed stubbornly earthbound.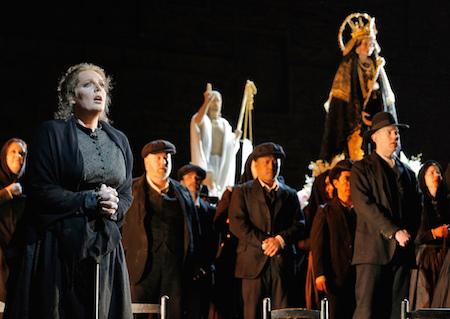 Eva-Maria Westbroek as Santuzza in
Cavalleria Rusticana
(Met Opera)
Westbroek, the talented Dutch soprano who has taken on any number of assignments of late (from Francesca in Zandonai's Francesca da Rimini and Maddalena in Andrea Chénier, to Sieglinde in Die Walküre, along with recent forays as Katerina Ismailova in Shostakovich's Lady Macbeth of Mtsensk and the notorious Anna Nicole Smith in the opera, Anna Nicole), has the refined, filigreed timbre essential for the lyric repertoire. But as far as verismo passion goes, her Santuzza remained as cool as cucumber.
What's needed is a singer of raw, overpowering earthiness — the operatic equivalent of Anna Magnani or Sophia Loren. In their heyday, Renata Tebaldi, Giulietta Simionato (a mezzo), and Maria Callas were naturals in this category. Although she never sang Santuzza or Nedda on the stage, Callas' 1953 recording of Cavalleria (with erstwhile partner Giuseppe Di Stefano, and conductor Tullio Serafin presiding) illustrates her particular gifts. Her brief exchange with Mamma Lucia (Ebe Ticozzi), and especially that shattering cry of "Non posso entrar in casa vostra. Sono scomunicata!" ("I cannot enter your home. I've been excommunicated!"), tear one's heart out with pity for this woman.
On the other hand, Westbroek made a fair stab at the line, but left out the all-important emotional content. It may have been a simple question of portamento. Yet again, to be honest how many singers have Callas' innate feel for this music or, more precisely, her unerring way with the text?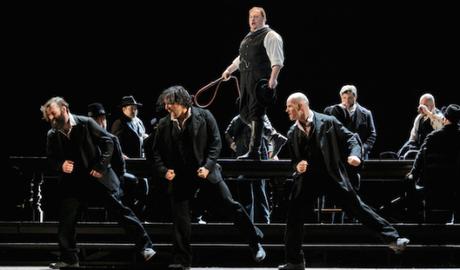 George Gagnidze as Alfio in
Cavalleria
As Alfio, burly George Gagnidze applied his nasally produced, thick-toned baritone to decent effect in his scene with Santuzza (their fiery duet closes out the first part of Cavalleria) and his final encounter with Turiddu. Gagnidze seemed more at home with this character's aggressive personality than with the equally brutish Tonio in Pagliacci. Looking like a cross between stand-up comics Henny Youngman and Rodney Dangerfield in a mustache, Gagnidze came out before the curtain with mike in hand to do what he could with the shtick handed to him via McVicar's "concept" of Pagliacci as a troupe of washed-up actors playing to a crowd of ignorant peasants (in this, the director borrowed liberally from the aforementioned La Strada; he also utilized the services of consultant Emil Wolk for the vaudeville sequences).
This approach may have turned up the flame on Leoncavallo's work, and it was certainly a valid one for his opera; but the shabby treatment allotted Cavalleria was inexcusable. If Santuzza is supposed to be excommunicated, as she so poignantly admits, why then does she participate in the church's holiday ritual? The sets were all of a dark gray color, as if the Sunday Easter service were being held at night.
Getting back to Pagliacci, Patricia Racette's Nedda needed little in the way of guidance. This terrific performer always gives 100 percent of herself in everything she does. Hers was a deeply felt, richly acted, and heartbreakingly poignant portrayal, despite a frayed top and a tendency to approximate any note above the staff. Still, Racette was absolutely riveting throughout, not only in the tragic finale but in the long love duet with Lucas Meacham's strongly sung and substantially realized Silvio. Both artists disappeared into their roles. Consequently, their impassioned duet can be considered one of the finest realizations of this key scene in many a year.
In minor roles, contralto Jane Bunnell's Mamma Lucia exuded empathy for Santuzza and Turiddu's plight in Cavalleria, and mezzo Ginger Costa-Jackson was the light-hearted Lola. In Pagliacci, Andrew Stenson's Beppe was solidly delivered, as were the brief turns by Daniel Peretto and Jeremy Little as the Villagers.
But the real hero of this newest Cav and Pag was Luisi, whose command and knowledge of the verismo idiom is without question. As an interpreter of the Italian and French wing at the Met, Luisi's future is secure. Perhaps with the next run of the Ring cycle (in the Robert Lepage/Carl Filion production) we may yet get a chance to hear him at his best. For now, this is as close as we've gotten. Bravo, maestro!
Copyright © 2015 by Josmar F. Lopes