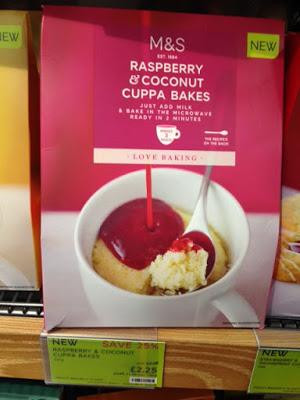 A couple of new finds from Marks & Spencer. A big thank you to Fran T. for the first two photos!
M&S Raspberry & Coconut Cuppa Bakes (above): M&S has launched a new range of microwaveable mug cakes, although since this is M&S they're not 'mug cakes' but Cuppa Bakes. The range is available in three flavours; Raspberry & Coconut, Salted Caramel & Chocolate and Lemon & Poppyseed. £2.25p at Marks & Spencer.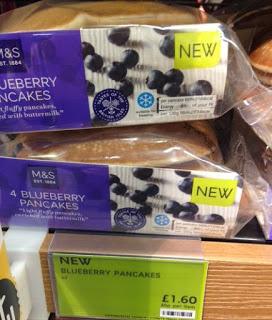 M&S Blueberry Pancakes: A new blueberry flavor in the M&S pancake range. Last year they released the Strawberry & Dorset Clotted Cream pancakes. I wonder if that flavor will stick around? £1.60p at Marks & Spencer.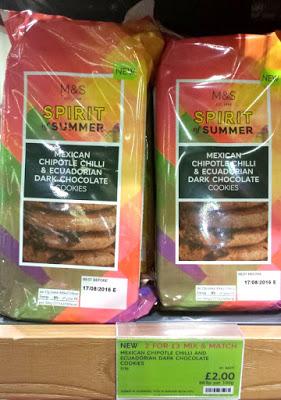 M&S Mexican Chipotle Chilli & Ecuadorian Dark Chocolate Cookies: These cookies are part of the new Spirit of Summer range at M&S. I haven't been able to take many photos of this new range but you won't be able to miss the bright, vibrant packaging and new flavours. £2.00p at Marks & Spencer.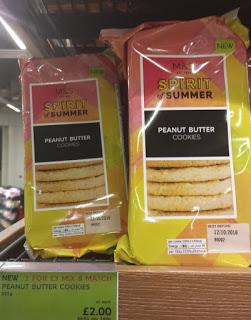 M&S Spirit of Summer Peanut Butter Cookies: I love peanut butter so these cookies are certainly very tempting! If you've tried this new range then I'd love to hear from you in the comments below. I'll try to update here when I take some more photos. £2.00p at Marks & Spencer. 
Many thanks again to Fran for the great finds (especially the new Cuppa Bakes!). 

If you spot anything new instore and fancy sending me a photo then let me know via email: 

[email protected]

 or Twitter: 

@grocerygems