A new kid on the block, the block that's soon going to be the talk of Gurgaon- Birdie Num Num opens in Global Foyer on Golf Course Road. With modern and regional Indian cuisine as the basis of their food menu, and quite an elaborate and quirky drinks menu, the place offers a lot of out-of-the-box things. The name Birdie Num Num comes from something the owner, Yuvna Damani Panwar, relates with her childhood and the memories she created back then. A lot of things on the menu with their names tell you how the restaurant's theme has been incorporated in the dishes' names and their presentation as well. It's all very visually depictive.
Spread across two floors, a ground floor and a mezzanine floor, the attraction of the restaurant is their huge shiny bar that cuts across the two floors. Warm lighting dominating the ambience, and a combination of different kinds of seating between chairs and sofas, and music that blends well with conversations is what they have to offer.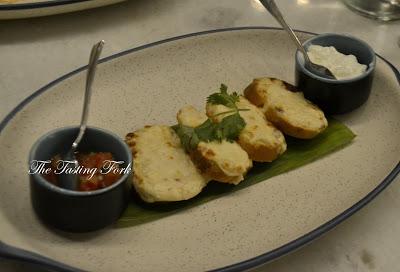 Gave quite a few dishes a try here and here's my two cents about them. The food and drinks have a lot of theatrics involved in their presentation. With dry ice and liquid nitrogen creating a buzz, it's sure a photo op when you come to Birdie Num Num.
Bhoot Jholokiya Chilli Cheese Melt
is a superb appetizer to order if you love chilli. On your first bite, this garlic bread with bhoot jholokiya chilli won't feel like it has any chilli at all, but the spice kicks in after a minute or two and you realize they weren't fooling you when they said order this only if you like chilli. Damn delicious though. Melting cheese with chilli on a crisp piece of bread, served with a sweet yoghurt dip to balance the spiciness. The
Telangana Chilli Chicken
and
Ramu's Dahi Toast
is a must order. Good old delicious chilli chicken with a peanut sauce, so the color isn't red-orange, but more on the brown-grey side. Ramu's Dahi Toast is basically dahi kebab but in toasted bread. The hung curd mix inside the toast is finger-licking good! And the crunchy toast simply seals the deal. Something you must try making at home too, because of the delicious comfort food that it is.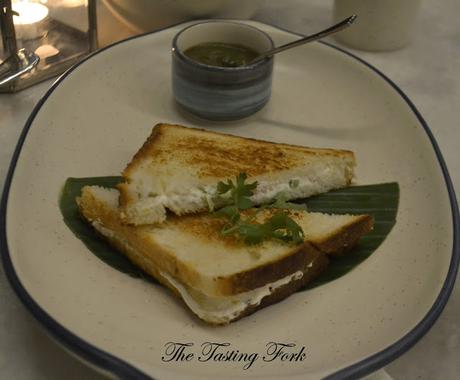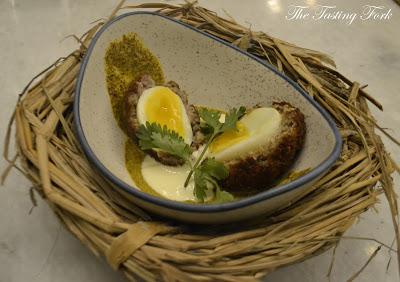 Mutton Kasundi Scotch Eggs is a lovely take on the fusion of Indian and modern cuisine. Yumm scotch eggs with an exterior of a flavor mix of minced mutton, perfectly spiced. The most amazing ingredient in the dish is the kasundi that's pungent but not overpowering, but what really brings the dish together. Love kasundi so lathered each bite with excessive doses of it. However, the Stuffed Snacke Gourd with potato mash was a really sad dish. The flavours weren't anything wow, I could only taste the texture of snakegourd and potatoes without any seasoning in it. Cornmeal Nest with Corn too wasn't something I would order again. The fried idiyappam lacked seasoning, but the masala corn was good. Overall as a dish, it didn't come together though. 

They have a concept of plated mains which is an excellent thing to do by a restaurant because of how the plated meal needs nothing more to be ordered with it. It's self-sufficient and you don't need to waste time in deciding dishes paired with sides. Tried the Royal Kolhapuri Boneless Mutton with Malabar Paratha and I was completely bowled over by this dish. What fantastic flavours! The gravy was with a medium thick consistency and the chilli kick in it was marvelous. The malabar paratha brought the yumminess of the dish out even more. Wiped off my plate within no time. A must must order here!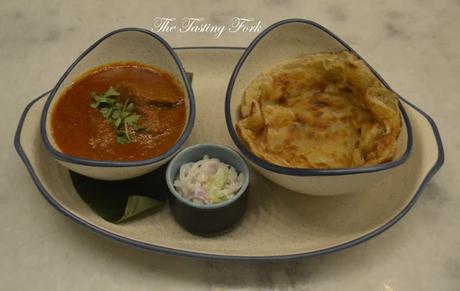 The Kerala Ishtew with Appam was too sweet for my liking. It was still good because the appams were fantastic and somewhat balanced the sweeteness of the stew to some extent. They have better options in their main course but- would prefer choosing from the rest of them.

Madras Masala Boneless Chicken was another great dish with which I chose Steamed Rice. A thick onion based masala with a soft and juicy chicken, mildy flavoured with coconut and so good in taste. The portions of main courses are good to be shared among two people if you order more sides.

The dessert is something that was unfortunately really upsetting. Deconstructed Rose Tea Cake. The cake was fantastic, had it been served by itself. Very gooey, very moist. Even the accompanying fresh cream would have gone so well with it. But the presence of dried rose petals is what brought the dessert crashing down for me. Excessive rose petals, overpowering the sense of smell and taste both. Either the content of the rose petals should be reduced by manifolds or they should consider keeping just the cake with the fresh cream. That would have made my meal end on such a good note.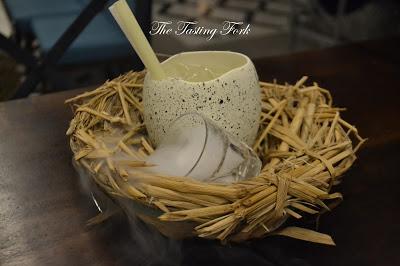 Birdie Num Num does a better job at their cocktails than they do at the food. Some of their dishes are great great in taste, but some fail to have that effect. But the drinks are all amazing.
The Nest
had hay infused vodka with lime and roasted barley syrup topped with soda. A drink that would be loved by all. Not too sweet and just very delicious. And as the name suggests, this one came in a nest with dry ice around it poured with liquid nitrogen on top for the smoke. Quite a theater this drink creates!
The Golden Year
was a gin based drink where the gin was infused with saffron. It had egg white and lime juice, shaken well with a flavor of rose. A very different drink and not too overpowering with the sweetness too.
Sun & Sand
was a vodka based drink which has banana infused in the vodka, and the drink has a strong flavor of tender coconut. Coconut lovers are going to love this one, but I didn't, because of my aversion to coconut in my drinks. One of the bestsellers at Birdie is the
Magic Egg
which is a whiskey based cocktail with a flavor of roasted almond in it. Againa  drink that will be loved by all, with a very unique twist to it because of the presence of very little banana flavoured syrup. The cocktail menu is curated by mixologist
Nitin Tewari
, a widely known name in the industry for his incredible cocktail creations. The food menu is curated by the owner herself.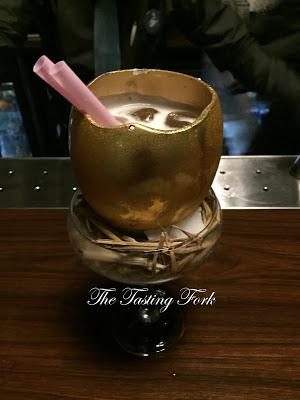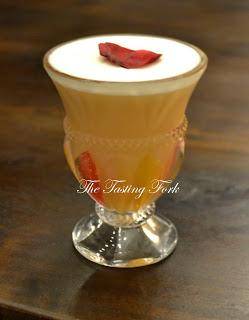 Birdie Num Num has some excellent options in food and some not-so-good ones too. But the food overall is really good. Dishes that have bangs of flavor. The only issue with the menu is the pricing that's on a higher side. Like the Dahi Toast is priced at 380++ and the Kolhapuri mutton at 600++, that's quite steep. The drinks are priced fine though. The place is designed really well and it's a good place to go chill at and grab some food.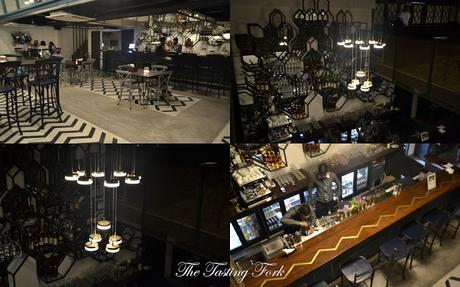 Address: Ground Floor, Global Foyer, Golf Course Road, Sector-43, Gurgaon 122002Contact: 011 30806524
Timings: 12Noon to 11PM

Disclaimer: The review was done on an invitation from the restaurant. All views expressed are unbiased in nature but readers are advised to exercise their own discretion.
Connect with me on:
Twitter: @sahibagursahane
Instagram: 
@thetastingfork
Facebook: 

www.facebook.com/thetastingfork
Snapchat: @thetastingfork
Roposo: www.roposo.com/@thetastingfork