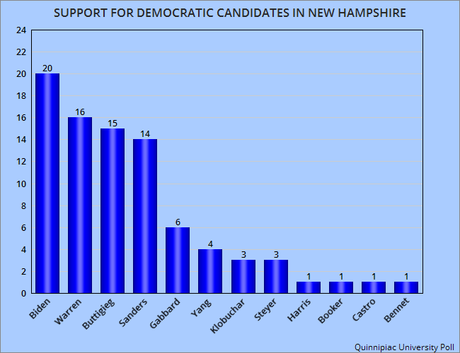 The chart above reflects the results of the new Quinnipiac University Poll in New Hampshire. They questioned 1,134 likely Democratic primary voters in New Hampshire between November 6th and 10th. The margin of error is 3.8 points.
Previous polls have shown both Biden and Warren with significant leads in New Hampshire. But the race is evidently still very fluid -- with voters still considering who they will finally vote for. This most recent poll shows a four person race between Biden, Warren, Buttigieg, and Sanders. There is only a 6-point gap between Biden (leading) and Sanders (in fourth).
While the polling was being done, the news that Bloomberg might run was broken in the media. This poll then asked 636 Democratic voters if they would vote for Bloomberg. The results are in the chart below (with a 5 point margin of error).
These are not good numbers for Bloomberg. He would have a lot of work to do to become viable in New Hampshire.