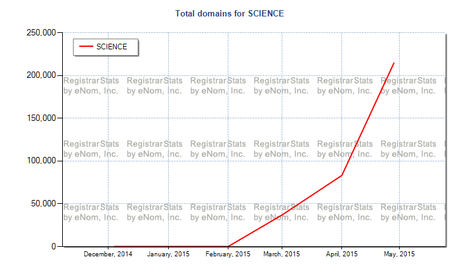 The new gTLD .Science has now blown by the 220K domain name registration mark hitting 223,159 according to ntldstats.com becoming the 2nd most registered new gTLD passing .club
It was just 11 days ago we wrote about .Science hitting the 120K domain registration mark and questioning the type of registrations the extension was getting.
.Science has picked up over 100,000 domain name registrations in those 11 days.
.Science is operated by Famous Four Media.
The domain name registrar AlpNames.com which initially gave away around 50,000 free .Science domain and has been selling .Science domain names for $.49 since, has over an 87% market share at the registrar level for .Science with almost 195,000 domains and .Science represents over 95% of all of AlpNames.com new gTLD registrations.
The second highest selling new gTLD for AlpNames.com is .trade (another FFM Registry extension) which has just 3,300 domain names.
Actually the only new gTLD domain name extensions that AlpNames.com has registered are Famous Four Media strings according to ntldstats.com (with the exception of 1 .space):
new gTLD Domains % Share

1. GA .science 194,254 95.59 %

2. GA .trade 3,301 1.62 %

3. GA .webcam 2,846 1.40 %

4. GA .party 2,800 1.38 %

5. GA .bid 11 0.01 %

6. GA .events 10 0.00 %

7. GA .space 1 0.00 %

8. GA .cricket 1 0.00 %

AlpNames.com address as listed on its site is in Gibraltar.

Famous Four Media is also headquartered in Gibraltar.

The domain name AlpNames.com is registered at Godaddy under privacy since 2013.

We reached out to Alpnames.com for comment on its connection to Famous Four Media and we received this response from Borut Bezjak of AlpNames Limited:

""In answer to your questions, I can confirm that AlpNames is a specialist registrar, based in Gibraltar, focusing on the nTLDs. We are delighted with the growth in our client base which has proven the success of our outreach projects especially in light of the slow general take up achieved from other registrars. The details of which are of course proprietary but we anticipate further growth going forward.

We have a strong relationship with Famous Four Media, as you have identified. This has been helped by our geographic proximity, the strength of their TLDs and their incentive programmes. As you will notice from our website www.alpnames.com we offer a wide range of products across the nTLD landscape.""

 




Back to Featured Articles on

About the author

Worldwide 154792 shares View profile
View Blog