Is it a Pluot?  Is it an Apricot?  If you can't tell, it may very well be their cross-bred relative: the Pluot.
Pluots are a creation of 20th century cross-breeding, a hybrid of plums and apricots. As the result of a 50/50 hybridization, Pluots display traits of both "parents" although they tend to show more plum (approx. 70%) than apricot characteristics (30%). But percentages do fluctuate with each individual cross-breeding.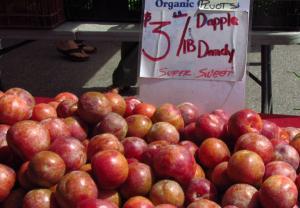 Dapple Dandy Pluots
Due to fluctuations in cross-breeding, the shape of the pluot may also vary a great deal. They may be shaped like a plum but then also have the fuzzy type skin of an apricot . . . and various options in between.
There are many types of Pluots (which is a registered trademark of Zaiger's Genetics).  According to Wikipedia there are 22 varieties:
Dapple Dandy: large size with mottled pale green to yellow, red-spotted skin, red or pink juicy flesh, firm flesh, moderately late ripening. ('Dinosaur egg' is a trademarked name for Dapple Dandy variety.)
Early Dapple: good flavor, medium-sized, mottled green over red skin with pink flesh, early ripening
Emerald Drop: medium to large size, green skin and yellow-orange flesh, moderately late ripening
Flavor Delight: medium-sized, fuchsia-honey colored skin with pink flesh, early ripening
Flavor Fall: large size, average flavor, red skin with yellow flesh, late ripening
Flavor Finale: medium to large size, purple-red skin with amber-red flesh, exceptional complex flavor, late ripening
Flavor Grenade: large size, oblong shape with red blush on green background, yellow juicy flesh, moderately late ripening
Flavor Heart: very large, black with a heart shape, and yellow flesh
Flavor Jewel: sweet flavor, heart-shaped, red over yellow skin with yellow flesh
Flavor King: Fruit punch flavor, medium size, with burgundy skin and red super sweet juicy flesh, moderately late ripening, flesh is hard until fully ripe
Flavor Prince: large round and purple, with red flesh
Flavor Penguin: medium size, early ripening grown in a humid climate
Flavor Queen: medium to large size, very juicy flesh, very sweet, golden-yellow when fully ripe, midseason
Flavor Rich: medium-sweet, large black round fruit with orange flesh
Flavor Royal: very sweet, medium-sized, dark purple with crimson flesh, very early ripening
Flavor Supreme: medium or large, greenish purple skin, juicy red flesh
Flavorich: large size, dark purple skin and firm, sweet, yellow-orange flesh, moderately late ripening
Flavorosa: very sweet, medium-sized, flat, round, dark-purple fruit with red flesh, very early ripening
Geo Pride: medium size, red-skin and yellow flesh, balanced acid-sugar, predominately sweet with unique plum/apricot flavor, moderately late ripening
Raspberry Jewel: medium, dark red skin, brilliant red, honey-sweet flesh
Red Ray: medium, bright red with dense, sweet orange flesh
Splash: small to medium red-orange fruit, with very sweet orange flesh, midseason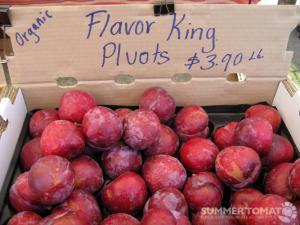 Flavor King Pluots
They have very high sugar levels, and are therefore extremely sweet. But they are also very nutritious and low in fat. They are sodium and cholesterol free, and often full of vitamins A and C. Despite its sweetness, on average the pluot has only about 40-60 calories. A great addition to any healthy diet.
Ideal on their own as a snack, they also make an excellent addition to many baked goods, jams, salads or salsas. Chop them up and serve over ice cream along with your regular toppings or mixed in with your favorite yogurt. Pluots are also great grilled as an accompaniment to savory dishes. Don't forget to add them to your favorite smoothie . . .with or without alcohol. They also help make a kick-ass sangria.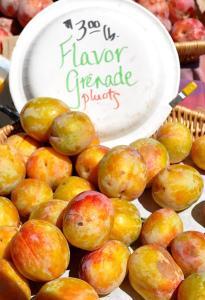 Flavor Grenade Pluots
While I have not yet had the chance to taste fresh pluots (as of now, only the dried), here are some really unique and delicious sounding recipes using fresh and/or dried pluots. Many of these recipes go well with pluots, plums or apricots. Mix and match!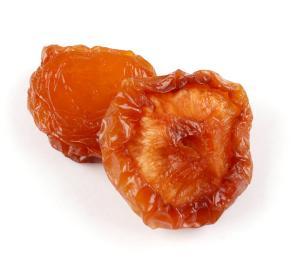 Dried Pluots
Pluot Crostini with Goat Cheese, courtesy of Kingsburg Orchards.
Grilled Gruyere Cheese Sandwiches with Caramelized Onions & Dried Plums and Chicken Breast with Curried Fruit, both courtesy of the California Dried Plums Org.
Oatmeal Cookies with Dried Apricots and White Chocolate, courtesy of Martha Stewart.
Ginger Jeweled Salad Recipe, from 101cookbooks.com.
FYI. . . Pluots may also be referred to as apriums and plumcots.  Who knew!!  Whatever you call them, you can get dried ones at Shami's Gourmet.