We love hearing about new fragrances, especially if it gets us to singing that awesome Donna Summer song that just gets you in the mood and plus the fact that Valentine's Day is just around the corner. If you're looking for new Valentine's Day gift ideas, consider adding these seductive fragrances to your list. The feminine and flirty

LOVE2LOVE Fragrance Collection

features four fragrances, each containing two perfectly paired scents, inspired by "a spectrum of colors that express a woman's joy and sheer happiness".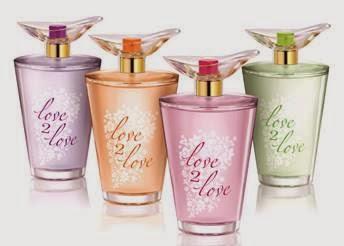 The paired fragrances (seen above) come in

Fresh Rose + Peach

,

Jasmine + Sparkling Mimosa

,

Freesia + Violet Petals

, and

Orange Blossom + White Musk

.
The

LOVE2LOVE Fragrance Collection

is enclosed in feminine and sophisticated bottles with its colored "juice" is tinted in soft shades of pink, green, lavender and orange. The cluster of white flowers on the front of the cartons and bottles capture the spirit of the unique floral notes in each scent.
The colorful packaging is designed to appeal to every woman's inner romantic. Each 3.4 fl. oz EDT, which launches early February, will retail for $9.98 each and the accompanying 8.0 fl. oz Body Mist will retail for $6.98  at Walmart stores and Walmart.com.