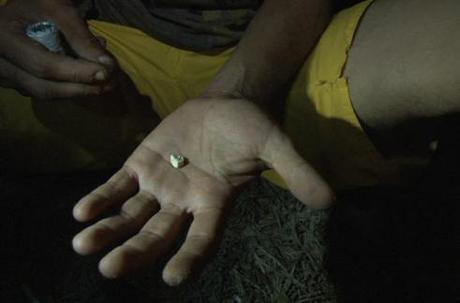 Oxi, oxidado or 'rust' is the latest narcotic to hit South American drug scene. The powerful hallucinogen is wreaking havoc across the Amazon region enslaving a generation of addicts. The drug is a mix of cocaine paste, gasoline, kerosene and calcium oxide, it is reported to be twice as strong as crack and sells for a fifth of the price.
Alvaro Mendes, an outreach worker from the Acre's Harm Reduction Association, the NGO that discovered the first signs of abuse describes what they are dealing with:
"It is terrifying…The majority of first-time users become addicted on their first contact with the drug. Most of them go seven to ten days without sleeping, without eating. They start to go into a process of degeneration. After months of use…they go into a state where they look like zombies, wandering in search of pleasure."
"The difference between cocaine and oxi is like the difference between beer and pure alcohol" said a federal policeman on the Peru-Brazil border. Oxi sells for about 75 pence a rock and has been described as the successor to crack. The delivery method is much the same as addicts improvise pipes from cans, piping and taps.
Users suffer from paranoia, vomiting and uncontrollable bouts of diarrhoea. Tooth loss can happen within months and many have died inside a year of becoming addicted.
'Rust' emerged in the 1980's from the border regions of Brazil, Bolivia and Peru and was originally used by a number of drug enthusiasts who came to experiment with ayahuasca, a plant with hallucinogenic properties native to the Amazon rainforest.
With drug seizures occurring in Sao Paulo, Brasilia and Rio though, it would appear that Oxi has come out of the rainforest and hit the national headlines. Health workers and politicians fear of a catastrophe if the narcotic spreads further.
"The Brazillian state is unprepared to face this threat and to help its victims" said José Serra, the former governor of Sao Paulo.
If you want to get involved with social outreach programs on your gap year. Why not get in touch and see how you can make a difference to lives overseas.