0 Flares
0 Flares
×
New to little Indiana? Subscribe for free to my RSS feed. Thanks for stopping by!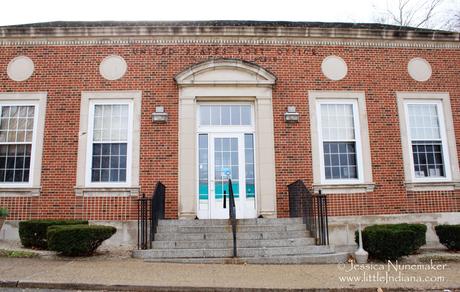 Attica, Indiana Post Office
You can find more than stamps at your local, small town Post Office like Attica, Indiana–you may find a Depression-era mural!
Look up and prepare to be amazed.
New Deal WPA Works in Attica, Indiana
The mural found inside the lovely Attica, Indiana Post Office is Trek of the Covered Wagon to Indiana.
I love the colors used in this one! The expression of the woman carrying the baby, well, any mother out there knows just how she feels.
It's so soft and yet strong all at the same time. Maybe you will be as surprised to learn that the artist, Reva Jackman, was a woman!
Indiana Post Office Murals
Reva Jackman, according to the Illinois Artists Project website, was born in 1892 in Kansas. Apparently she studied in Paris and exhibited her works of art there as well as a gallery or two in Chicago and New York.
The Attica, Indiana Post Office mural wasn't her only one–she painted another oil on canvas in Bushnell, Illinois.
She was also an art teacher.
Go There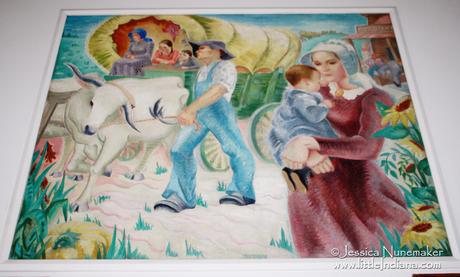 Attica, Indiana New Deal WPA Works Mural
I've heard that these Post Office murals receiving funding by something other than the WPA. Some sort of Treasury department program. Either way, I love it!
Isn't it amazing all the neat things you can find in a small Indiana town?
If you found this article interesting, please "like" it and share it with your friends! Have you noticed the WPA murals in a Post Office near you? Which one is your favorite? Let me know in the comments below!
Find pictures in Indiana on my Flickr photostream or on the new little Indiana Tumblr blog.
Just don't forget to tell 'em that  little Indiana sent you!
Don't miss a moment. Subscribe to little Indiana and receive instant updates to stay on top of everything "little."
little Indiana: Where to Stay, Play, and Eat in Small Towns in Indiana. Discovering Indiana's best small towns! Now get little Indiana on your Kindle.
Targeted. Relevant. Affordable! little Indiana advertising.