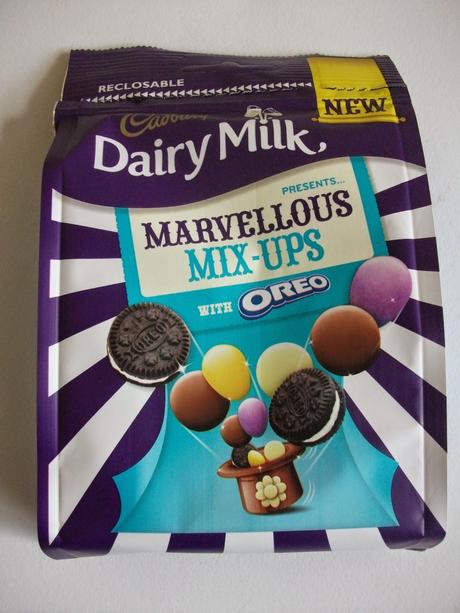 As well as the new Marvellous Creations Banana Caramel Crisp bar, Cadbury's have also launched these new "Marvellous Mix-Ups" and the idea is that they're a "mix up" of different chocolates and sweets made by Cadbury. As someone who remembers penny "mix-ups" as a kid I was quite excited to see how the combinations would work, and if they could rival Revels for flavour-combining!
Today's review is for the Oreo variety (there's also a Maynards jellies variety - review due soon!) When I first read the description for these I was a little skeptical as it seems like a sneaky way to re-package existing products. The "mix-up" features Giant Dairy Milk Buttons, Dairy Milk Pebbles, Mini Oreos and White Chocolate Buttons. All delicious products in their own right...but what matters is whether or not they all work together, and luckily they do!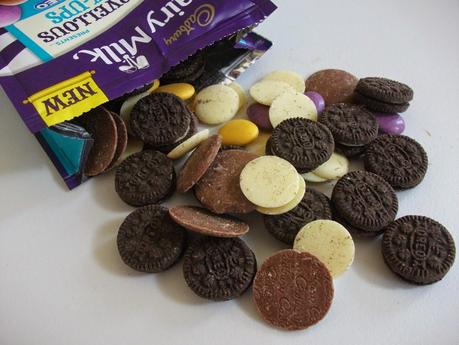 Opening the bag there was a nice amount of each product, with plenty of white chocolate buttons in particular and lots of mini Oreos.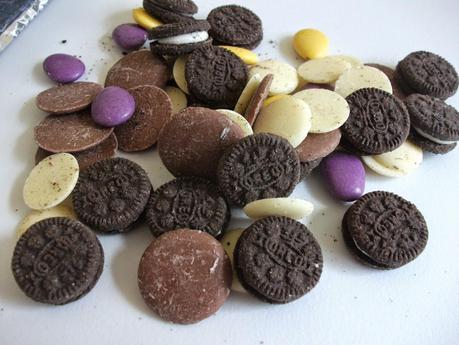 Munching on a handful of them all together I have to say they worked perfectly - there's the crunchiness from the Oreos, the comforting taste of Dairy Milk from the Giant Buttons, a creamier and milkier edge from the white buttons and then a nice sugary crunch from the Pebbles.
Overall, this bag is a nice combination of creamy, crunchy and chocolatey elements mixed together and you'll definitely be reaching for more. My only gripe is that there seemed to be such a small amount in the bag - you certainly won't want to share them with anyone!


RATING: 8 out of 10. 


Price: £1 at Asda (introductory offer), £2 at Tesco.
Suitable for vegetarians?: Yes.
Allergy Information: Contains wheat, milk, soya. May contain nuts.
Nutrition (per 100g): 505 Calories, 24.5g Fat, 64.5g Carbs, 51g Sugar.