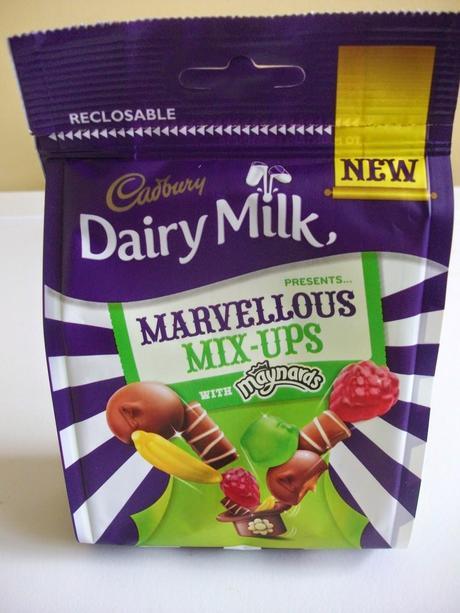 Hot on the heels of Marvellous Mix-Ups with Oreo, today I'm reviewing Marvellous Mix-Ups with Maynards. Unlike the Oreo version this is more unusual in that it contains jelly sweets...with chocolate! Marvellous Creations are known for their jelly and chocolate combinations, of course; (Jelly Popping Candy and Cola Pretzel Honeycomb) so this comes as no surprise. In a way I suppose you're getting the best of both worlds with a product like this - it saves the bother of deciding between jellies or chocolate when you need a snacks fix! (we've all had that dilemma, right?)
The bag contains Dairy Milk Caramel Nibbles, Fudge Dreams and Maynards jellies. I'm not sure which jellies specifically as they aren't Wine Gums or Jelly Babies...just different fruit-flavoured jellies in fruit shapes. The Fudge Dreams are the same as those found in Cadbury's Milk Tray, although this isn't highlighted on the pack.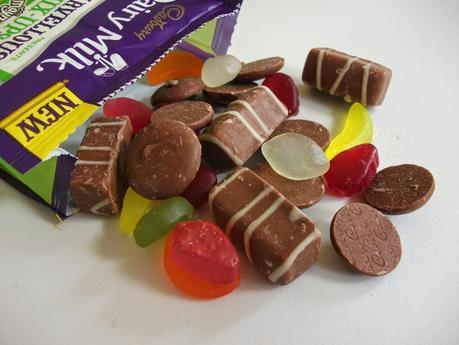 Opening the bag I was a little sad at the small amount in front of me. There was no way I was going to share them!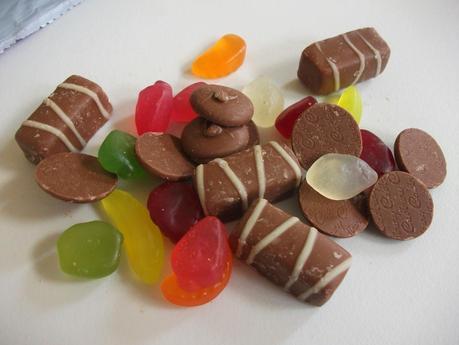 They were a little awkward to eat by the handful as the fudge pieces are rather chunky, but I did manage to eat some of them all together and they were very tasty indeed. The fudge was buttery and smooth, with the Caramel Nibbles adding further buttery caramel elements and then...the jellies added a burst of fruitiness. They were a bit odd combined with the caramel and fudge flavours but somehow it worked. It's not the perfect synergy of flavours like Marvellous Mix Ups with Oreo, but it's certainly very tasty.
The addition of the Fudge Dreams is the real highlight, as it's not often you get a chocolate from a box like Milk Tray in bagged form. In fact it makes me think they should launch a bagged version of Milk Tray... or even the Milk Tray Bar from the 80's! (here's a pic:)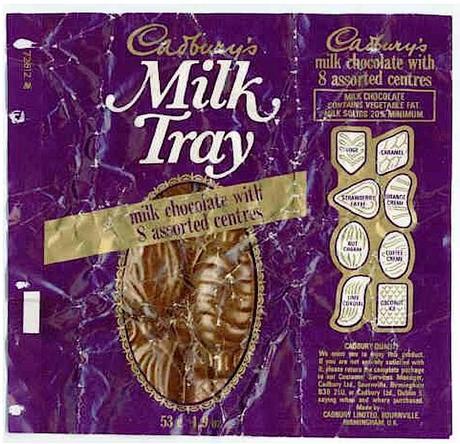 Back on topic, overall I thought this was an interesting "mix-up" of sweets although I do think many people will find the inclusion of jellies a bit odd. To be honest though the bag is worth buying just for the Fudge Dreams!


RATING: 8 out of 10. 



Price: £1 at Asda (introductory offer), £2 at Tesco.
Suitable for vegetarians?: Yes - including the Maynards jellies as they contain pectin.
Allergy Information: Contains milk & soya. May contain nuts & wheat.
Nutrition (per 100g): 430 Calories, 14g Fat, 72g Carbs, 56.5g Sugars.