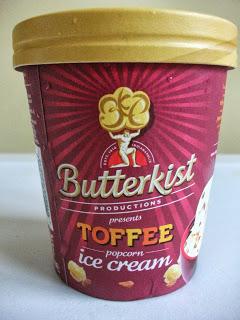 I was really excited to find this new Butterkist Toffee Popcorn flavor ice cream in Tesco recently. I've never tried a popcorn flavoured ice cream before, despite always being curious about the Heston Blumenthal Salted Caramel Popcorn ice cream from Waitrose.
The description on the tub reads "

Butterkist Productions are proud to present to you our delicious toffee popcorn flavor ice cream, made using our safely guarded popcorn recipe combined with soft ice cream, smooth toffee sauce and crunchy toffee pieces.
" It cost £3 - I'm not sure if this is an introductory price or the regular price, but I would recommend grabbing some ASAP regardless, because this is a fantastic ice cream flavor and just as good as anything from Ben and Jerry's or Haagen Daz! 
The Butterkist logo really intrigued me - it says Butterkist Productions Estd 1914 Indianpolis. A little research (
thanks, wikipedia!
) revealed that the Butterkist name originates from a Kentucky-based popcorn machine business which started in 1914. The machines made their way into the UK via an unknown route and the brand went on to become established as the UK's most popular popcorn.
Interesting huh? Ok, history lesson over...onto the ice cream!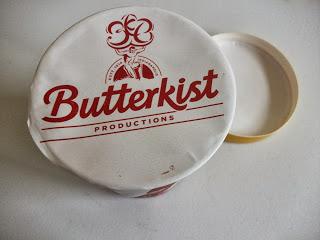 Opening the tub revealed a beige-coloured ice cream with some toffee sauce on one side: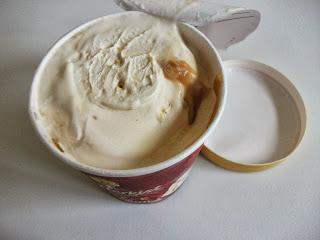 Scooping some into a bowl revealed pieces of popcorn and toffee chips immersed in the icecream, as well as several swirls of toffee sauce. It was a bit melted from my trip home from Tesco but this didn't bother me, in fact I prefer icecream slightly melted as the flavor is better plus it avoids the horrible "
brain freeze
" phenomenom!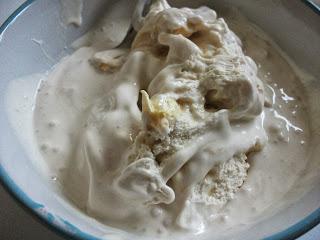 The ice cream tasted fantastic; it was very creamy and had a realistic buttery popcorn flavor. This surprised me because I wouldn't have imagined popcorn working as an ice cream flavouring, but Butterkist have recreated the flavor fantastically. It gave me all the warm happy feelings of cinema popcorn but with the added bonus of creamy ice cream. It's the best of both worlds really, and I certainly wouldn't hesitate to take a tub of this to the cinema instead of real popcorn!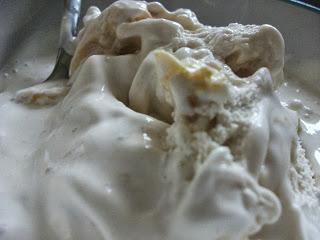 The actual popcorn pieces were nice, although there weren't many of them and they were a bit soft, which I guess is inevitable since they're mixed with ice cream. The toffee pieces added a nice crunch which went well with the other components. The toffee sauce was sweet and buttery but there wasn't nearly enough of it for my liking...just a few swirls which kind of got lost in the ice cream.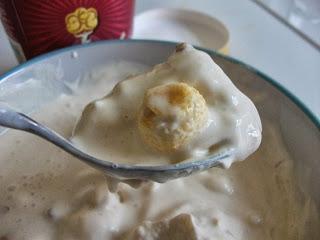 A whole piece of popcorn!
Overall
Minor complaints aside, I thought this was a delicious ice cream that recreates the flavor of toffee popcorn surprisngly well. It brings you the best of both worlds - the comforting flavor of cinema popcorn combined with the creaminess of icecream. It does make me wonder though what Butterkist's "secret" recipe is if they can use their popcorn as a legitimate flavouring. Maybe we'll see a whole array of popcorn-flavoured goodies from them in the future? I certainly hope so!
RATING: 8.5 out of 10.
Other Butterkist reviews:
Butterkist Toffee Apple Flavour Popcorn (Limited Edition)
.
Price:
£3 per 480ml tub at Tesco.
Suitable for vegeterians?:
Yes.
Allergy Information:
Contains milk, soya. May contain nuts.
Nutrition Information (per 100ml):
177 Calories, 8g Fat.
Made by:
Fredericks Dairies under license from Butterkist.