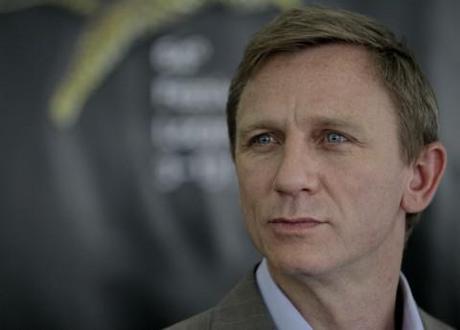 Daniel Craig is back as Bond; the fan world rejoices! Photo credit: Massimo Pedrazzini, Image.net
It's official: Bond is back. After months of speculation and even a dark, desperate time when it seemed the new Bond movie wouldn't be made at all, Bond actor Daniel Craig and the film's director, Sam Mendes, confirmed the joyous news at a press conference on Thursday.
The new film is, as Internetters thought, titled Skyfall, and it goes into production on November 7 of this year, aiming for a release date of October 26, 2012 in the UK and Ireland and North American on November 6, 2012. According to a press release from Eon Productions – the company responsible for the 22 "official" Bond films – in Skyfall, Bond's loyalty to M, again played by the matchless Dame Judi Dench, is tested when "her past comes back to haunt her" (it always does). MI6 comes under attack and 007 "must track down and destroy the threat, no matter how personal the cost". The film also stars Javier Bardem as the villian, and Ralph Fiennes and Albert Finney, though in exactly what capacity remains unclear; chatter is already suggesting that Fiennes, who makes a mean villain (Voldemort, anyone?), could be a resurrected Blofeld.
Periscope, for fan-ish reasons of its own, has been all over the new Bond film like an expensive tux on Daniel Craig. Here's what we dug up in recent months about the movies:

It's going to be called Skyfall – and more
Product placement abounds in new Bond film?
So, what do we know now?
The girls. One of the most important casting decisions in any Bond film is, of course, the Bond girl or, more often, girls. Skyfall will star French actress Bérénice Marlohe as a glamourous (of course) and enigmatic (really of course) character called Severine, and Naomie Harris as a field agent called Eve whose character eventually becomes "Bond's foil", The Daily Mail reported, Miss Moneypenny. Reported The Mail, in a long write up on the first black actress to play Moneypenny, "The Daily Mail has learned that her portrayal of the character is likely to be very different from those of predecessors Samantha Bond, Caroline Bliss and Lois Maxwell. It has not been disclosed how Eve becomes Moneypenny." The paper also revealed that the beautiful Harris was raised by a single mother and bullied at school, and "did not have the most auspicious start in life."
A more serious Bond? Rumours abounded last week that with director Sam Mendes at the helm, the film would likely eschew big-time action in favour of "characterful performances" that would put the film in the running for the Oscars, The Express reported on October 23. Mendes has stocked the film with a stable of Oscar winners, including Bardem, Fiennes, and Dench, and, according to the paper's "insiders", action sequences in India have been scrapped. The source told The Express, "This could be a disaster in terms of sales at box office. Given that this 007 needs to make at least £300million to break even, it may be a very high price to pay for an Oscar nomination."
Film blog FlickeringMyth also picked up the story, noting, "An Oscar contender would surely need to be a different kind of film altogether to the usual romp packed with sexy women, car chases and fight scenes? The real danger is that by aiming to be something it's not, Bond 23 could end up being both a bad film and a bad Bond film, lacking both depth and excitement." Still, the blog contended, it's a possibility – after all, Bardem and Fiennes, married to a "deeper plot", could pull off at least a few nominations, without even sacrificing all the classic Bondian elements, such as naked ladies and car chases. "But could a film called Skyfall ever conceivably win an Oscar?"
During Thursday's press conference, director Mendes tried to reassure fans that the films would still hew to the twin Bondian pillars of action and ladies; but given that his most famous films have been the very non-action American Beauty and Revolutionary Road, as well as the quietly delicate indie film, Away We Go, fans are perhaps right to be worried.
Critics are getting excited. Whatever happens – or doesn't happen – critics are already chomping at the bit to get a look at the new Bond. Peter Bradshaw, writing at The Guardian, claimed that despite the rather terrible name, he still can't help being excited about Skyfall, and added that the movie "has a lot going for it": "There's a classy, cerebral director in the form of Sam Mendes and a fascinating choice of sexy baddie in Javier Bardem. … Then of course there's 007 himself. Daniel Craig was always inspired casting: tough, rugged in the old-fashioned, Connery-ish sense, with a tiny touch of cruelty." The franchise is ripe for re-invention; it's their game to lose, now.
Roger Moore might not be a fan. Yes, the man who presided over perhaps the campiest era of Bond on film – remember Moonraker? – made headlines this week when he called the last Bond outing, Craig's Quantum of Solace, "a long, disjointed commercial". Moore, who was the longest-serving Bond, starring in seven films between 1973 and 1985, told a reporter from Cambridge University's Varsity newspaper that though he liked Craig as Bond, he wasn't a fan of the last film; Moore also added that though Sean Connery, his predecessor in the role, was a good actor, Moore couldn't understand what he was saying.