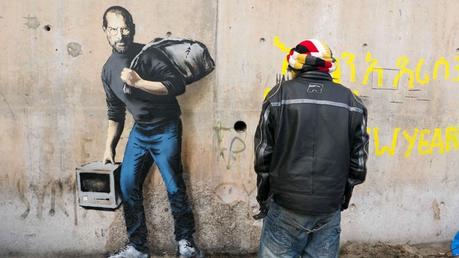 New Banksy pieces have appeared in France, with this Steve Jobs stencil in Calais, putting the refugee crisis at the front and centre. The above features the late Steve Jobs carrying an early Apple Mac and a big bag.
The new works point out that the Apple co-founder's biological father, Abdulfattah 'John' Jandali, was from Syria:
"Apple is the world's most profitable company, it pays over $7b a year in taxes - and it only exists because they allowed in a young man from Homs (Syria)."
Jobs was given up for adoption soon after his birth to Mr Jandali and his American girlfriend Joanne Carole Schieble. He never met his biological father and was raised by Californian couple Paul and Clara Jobs.
The artist also popped up a take on Theodore Gericault's Raft of the Medusa, an icon of French Romanticism. The version of the painting, features a luxury yacht and the Banksy website captions it with: "We're not all in the same boat."