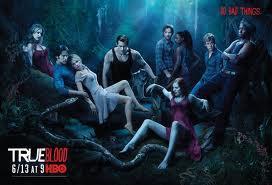 True Blood fans who are also fans of the Southern Vampire Novels by Charlaine Harris have deemed actor Neil Hopkins too old in appearance for the role of Claude the fairy. Neil only played Claude for one episode in Season 4, but HBO seems to be listening to their audience and has recast the role.
Giles Matthey will fill the fairy wings, even though he is a relatively new actor, having only appeared on The Good Wife last year. The role of Claude is not considered a series regular yet, but will be involved in a multi- episode arc.
Make sure you check out Matthey's IMDb page here, to get a sneak peek at the new Claude.
So, let us know what you think of this change. And do you think the character will be as unlikable in the TV series as in the books?
Source: TVGuide.com – Keck's Exclusives: True Blood Recasts Cousin Claude
IMDb.com – Giles Matthey