Hi friends everywhere,  

:-h

  I am now submitting a review for a facial cleanser suitable for acne prone skin, sent to me by Platinum Media & Communications, to trial and write about on my blog.  I didn't pay for this product, but my thoughts and opinions, which are expressed in this post, are solely based on my own test drive experience and are not influenced by anyone else.
Whilst I don't suffer from Acne myself, I do struggle with hormonal spots, blackheads and infrequent breakouts, besides constantly doing battle to gain control over my often excessively oily skin.  ~X(  The Neutrogena Oil-Free Acne Wash Pink Grapefruit Facial Cleanser, is a maximum strength face wash, infused with grapefruit extract and vitamin C, along with Salicylic Acid, a powerful pimple fighting ingredient to help treat and prevent breakouts, including blackheads, whilst dissolving oil and dirt.  Featuring MicroClear® technology to boost the delivery of acne treatments and clear congested pores, after washing with this cleanser, skin is left feeling totally clean and refreshed.  :D
Available at most pharmacies everywhere, the Neutrogena Oil-Free Acne Wash Pink Grapefruit Facial Cleanser, a fellow member of Johnson & Johnson companies, is just shy of $15 for a 175gm pack.  The cleanser is presented in a clear, plastic bottle with a handy pump-action dispenser and the signature Neutrogenalabelling.  The consistency of the translucent pink, gel-like formula is runny like a liquid and has a very pungent fragrance that smells super sweet and somewhat synthetic.  :-"  It is citrus-based, obviously in honor of the grapefruit; however it's definitely an artificial fruity scent and due to its rich, sweetness, may appeal to a younger audience or those who are fond of highly perfumed skin care.  ;)
One pump expels a pea-sized amount of cleanser into my palm, which I gently massage on my already wet face for about a minute, working it into a gentle, lightweight, foamy lather that rinses away all residues easily with warm water.  Once I washed it off, I noticed immediately that my skin was slightly taught, but also extremely clean.  I liked how the washing process was really refreshing and gave my skin an instant recharge.  =D>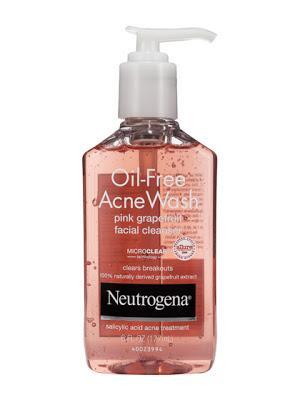 After using this face wash for about a month, I can vouch that it is effective at clearing up existing spots, while preventing further breakouts and blackheads.  :x  The invigorating, deep-pore cleanse draws out congestion, removes dirt, oil and bacteria, to improve my skin's texture and overall appearance.  ;;)  Sadly, despite the positive effects, the potent formulation seems to be a bit harsh for my fragile skin on a long-term basis, stripping too much moisture and making it unusually dry, tight and even a bit irritable.  :-O   I was able to counteract the dryness and any discomfort with a nourishing moisturiser,  #:-S  but when suddenly my skin started producing excess oil, which was getting worse with time and ended up triggering an onslaught of breakouts, I made the decision allow my skin a break from this product.  :-w
Considering I was pleased with the initial developments, I needed a tolerable way my fussy skin could advantage from the proven benefits I had achieved.  #-o   I've concluded that through my own experience, even though this cleanser isn't personally suitable to use as a daily face wash for my skin, it's ideal for occasional use that offers a '

quick-fix

' for problem skin, especially around '

that time of the month

' when hormonal zits make themselves right at home, as well as stress related breakouts, or just a general bout of congestion.  :)>-
I've come to appreciate that when used in moderation, the Neutrogena Oil-Free Acne Wash Pink Grapefruit Facial Cleanser is a powerful arsenal in the fight against pimples and blackheads.  \:D/  It thoroughly cleans skin, deep down into the pores for a complexion that is cleaner, clearer and promptly energised.  I wouldn't recommend it for anyone with dry or sensitive skin, but for all others, particularly anyone with oily and acne prone skin, this affordable, almighty cleanser delivers superior clear skin results.  <:-P
Tip –   (*)  Try not to get any of this cleanser in your eyes, because it does sting!  :-S
Do you suffer from acne prone skin, hormonal spots or blackheads?  :-? What cleanser would you recommend to target these concerns?  :-/  Have you tried this particular product and if so what are your thoughts?  Please comment below :-)
The image in this post is generic.