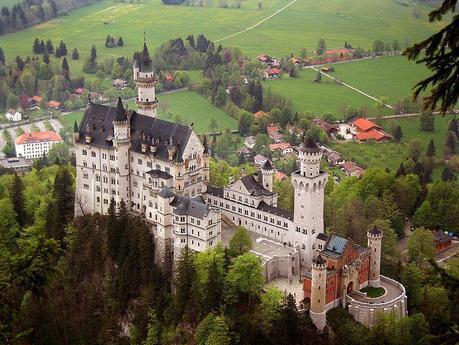 Photo courtesy of:http://www.flickr.com/photos/jeffwilcox/95436233/. Licensed under CC BY 2.0 via Wikimedia Commons
King Ludwig II was…creative…eccentric…some would even say mad, but more on that later! You'll get a glimpse inside of how his unusual mind worked when you tour the castle.  It's designed in a mix of Roman, Gothic, and Byzantine styles all randomly blended together.  It's highly stylistic, and pays homage to the German composer Richard Wagner.  I find it over-the-top and incredibly unique! You'll never see another castle quite like Schloss Neuschwanstein (Note: Schloss is German for castle)!
But his taste didn't come cheap, and with just 15 of the 200 rooms complete, King Ludwig II found himself 14 million German marks (~$8 million U.S.) in debt. He was deemed incapacitated to rule and died under mysterious circumstances in the shallow waters of Lake Starnberg – despite being an excellent swimmer.  You can read more on that HERE.
But I digress.  Here's where it gets ironic. While Neuschwanstein Castle was a financial burden to King Ludwig, it was opened to visitors just 7 weeks after his death and became an incredibly lucrative source of income for the  House of Wittelsbach rulers. Also ironic, is that it was meant to be a private retreat for the king. Today it's visited by 1.3 million people each year!
It's popularity, is in part makes Schloss Neuschwanstein one of my least favorite castles in Germany.  But having said that, you're probably going to still want to go and I completely understand that.  Much to my now-German husband's protests, it was one of the first castles I visited in Germany.
Follow these tips to get the most from your visit to the famed Cinderella Castle: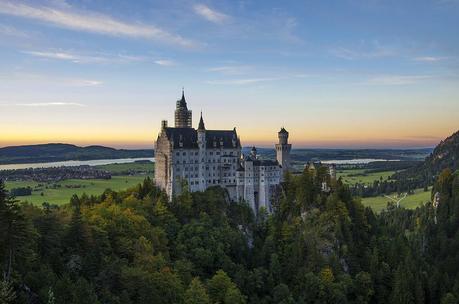 Photo:Tamcgath [CC BY-SA 3.0 (http://creativecommons.org/licenses/by-sa/3.0)], via Wikimedia Commons
Where to Get the Best Views of Schloss Neuschwanstein:
The best views of the castle can be found not at the castle itself, but from Marienbrucke, Mary's Bridge in English.  The bridge crosses the Pollät gorge and offers fantastic views of Neuschwanstein! It's about a 30 minute uphill walk from Hohenschwangau.  For an ever better view, climb up just past the bridge for a different perspective.
Visit Schloss Neuschwanstein Alone or with a Tour Group?
The castle itself, you can only visit with a guide.  The tour lasts between 30 – 35 minutes.  You may find yourself feeling rushed and stuffed into each room with the other 60 or so other visitors on the tour, but that's your only option. Tickets cost €12.  It's also worth noting that you aren't allowed to take photographs once inside.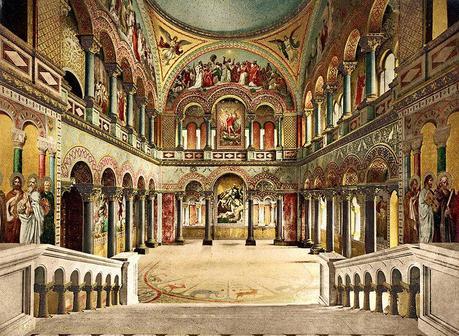 Photo: Joseph Albert [Public domain or Public domain], via Wikimedia Commons
Why I Recommend Visiting Schloss Neuschwanstein on a Guided Tour
I actually recommend going with a guide for the reason being that Neuschwanstein can receive up to 6000 visitors a day in peak season!  In other words, it's a mad house and a lot to navigate if you don't know where you're going.  You also need to be organized and reserve tickets in advance, otherwise you risk waiting several hours, as I did. And that was in off-peak season! The other downside of purchasing your tickets in advance is that they're only good for a particular time, so you need to calculate enough time to get there, climb up to Neuschwanstein, about a 30 minute walk or so from Hohenschwangau.  It takes a lot of planning to avoid waiting around for hours.  I personally tend to avoid things that require too much planning when I'm on vacation and want to relax!
Should you decide to visit Neuschanstein the easy way, I would recommend the Neuschwanstein Castle Luxury Bus and Bike Tour . It  allows time for cycling through the gorgeous region and gives you the option for additional activities like swimming in a lake, taking a ride down an alpine slide (Sommerrodelbahn, in German), which I think is a blast, paragliding or just having some free time to enjoy the Allgäu Alps! Note: I haven't done this tour, but my friends Meg and Tom at Five Dollar Traveller highly recommended it.
The other tour that I would recommend is the day trip to Neuschwanstein and Linderhof Castles. Schloss Linderhof is another King Ludwig II castle, and while it is small, for what it lacks in size, it makes up for in grandeur!  The grounds are also beautiful! But my favorite part about Schloss Linderhof is the Venus Grotto, an illuminated artificial cave made especially to  illustrate the first act of Richard Wagner's Tannhaüser! I've never seen anything like it! Note:  I haven't done this tour, but being part of an organized tour would be the easiest way to visit both castles in one day, unless you were driving.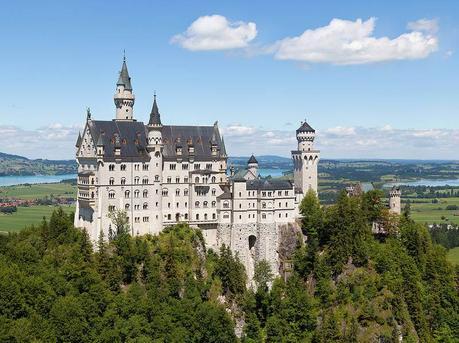 Photo:Anisha sreddy – Own work. Licensed under CC BY-SA 3.0 via Wikimedia Commons
How to Get to Schloss Neuschwanstein by Train from Munich
Perhaps you have decided you do want to do it on your own.  Your first (recommended, but not necessary) step is to purchase your ticket in advance, which can be purchased here. Note:  At the time of writing there was an additional fee of €1.80 for each ticket for all tickets purchased in advance.
You catch your train  at the München Hauptbahnhof, Munich's main train station. The entire journey will take between 2:23 and 2:45, depending on which train and bus you catch. Your journey will be in two parts.  First, a train from Munich to Füssen, and then a bus from Füssen to Hohenschwangau, followed by a 30 minute walk up to the castle itself.  The train leaves every 1:20 minutes or so.  Check the Deutsche Bahn train schedule to reduce your wait time. There's no need to make a reservation.  You can buy your tickets at the ticket machine, which is cheaper than buying them at the counter, which costs an additional €2.  Don't worry, the ticket machines have an English, and multiple other language options.
What Train Ticket to Purchase
You'll want to purchase a Bayern Ticket, which allows you to travel the whole day anywhere in Bavaria for €23 a person and €5 extra for each additional person to a maximum of 5 people.  So if you are traveling as a group of 2, you would pay €28 for the entire day. The ticket is also valid for your return ticket if you come back the same day! Note:  the Bayern Ticket is only valid after 9:00 am, so make sure your train is scheduled to depart after 9:00 am.  If you board a train that departs at 8:55, you will likely end up having to pay full fare on board, and that's in addition to the Bayern Ticket you purchased!
While the train is comfortable enough to sleep, you definitely won't want to. The route is a picturesque journey of mountain peaks and cows grazing in green meadows as you enter the Allgäu Alps.  I'm convinced this region home to some of the happiest cows on the planet!
Once you've reached the Füssen train station, you have two options for buses. Take the one that comes first. Ride line RVA/OVG 73 in the direction of Steingaden / Garmisch-Partenkirchen or line RVA/OVG 78 in the direction of Schwangau. You'll get off at the Hohenschwangau / Alpseestraße stop for either bus. Once you reach the village of Hohenschwangau, it's about a 30-minute walk to the castle. If you're traveling with your bags, there is luggage storage at Füssen station.
Getting from Hohenschwangau to Neuschwanstein Castle
It's worth noting that if you need to buy your ticket, buy it before you start heading up to the castle! Tickets are only available at the Ticket Centre in Hohenscchwangau, and not at the castle itself.
If you plan to make the 30 minute trek (we did it in 20, but I'm an avid hiker), you'll want to wear comfortable clothing.  The path is steep in places, but paved.  I saw people pushing baby carriages up it, although it did look like a lot of work, and they must be left outside at your own risk while you do the castle tour! If you didn't want to walk up you could go by horse and buggy for a cost of €6 per person uphill and €3 per per person downhill.  Note:  You still have to walk up 300 meters if you take this option. Your other option is to go  by shuttle bus (which doesn't run in snowy conditions e) for  €1.80 per person uphill, €1 per person for downhill or €2.60 for a return trip. Here is map that shows you exactly how to get from Hohenschwangau to Neuschwanstein.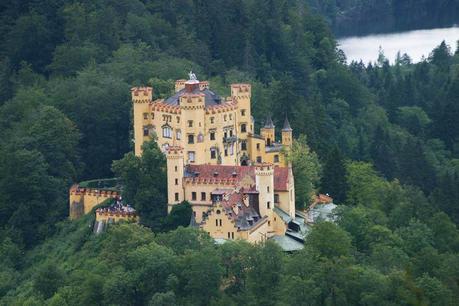 Photo:Softeis – งานของตัว. Licensed under CC BY 3.0 via Wikimedia Commons
Is it Worth Visiting Schloss Hohenschwangau As Well?
Admittedly, I did not visit this castle, when I visited Neuschwanstein, but I have plenty of friends that have who recommend it.  First, you're right there, and second, it has a completely different feel when compared to Neuschwanstein (as most castles do).
Travel tip: Visit Schloss Hohenschwangau before  visiting Neuschwanstein. If you visit it afterwards, it will pale in comparison.  I plan to go back one day just to visit Schloss Hohenschwagau and regret not visiting it when I was there. If you decide to visit it, you can purchase a combination ticket.
One final travel tip: When you're in the village of Schwangau, stop and pick up some Bergkäse (mountain cheese).  The cheese from the Allgäu is legendary.  The aforementioned happy cows make incredible cheese!
It is my hope that you truly enjoy your visit to Schloss Neuschwanstein and I hope these tips will make your visit a fairytale one!
Check out these tours for an easy and relaxing way to visit Neuschwanstein:
these hotels