NEUD Carrot Seed Hair Oil for healthy hair
Many of us start experiencing hair fall issues as we don't have a dedicated hair care routine. Although there are several other products available in the market that promise to address this issue, not all products can be trusted. This is when I came across NEUD Carrot seed hair oil for both men and women and which is one of the best hair oil with no paraben, sulfate, phthalate, fragrance, and other chemicals. I have already tried and loved many other products from NEUD and I was looking forward to trying this one too.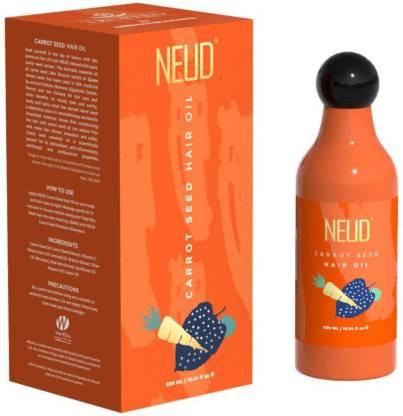 Features:
This oil stimulates growth, enhances tensile strength, and volumizes your hair.
Carrot seed is its main ingredient that has been used in ancient times by Indians, French, Romans, Greeks, Egyptians, and Chinese for hair care and skincare.
This hair oil is suitable for all hair types in men and women
This hair oil is naturally pH-balanced and contains no harmful chemicals
Carrot seeds are rich in Vitamin A & E, Linalool, Pinene, limonene, Luteolin, Carotol, Oleic acid, etc.
Ingredients:
Sesame Oil, Castor Oil, Sunflower Oil, Aloe Vera Extract, Bhringraj, Olive Oil, Almond Oil, Brahmi extract, Wheat germ oil, Vitamin E, Carrot seed oil, and Carrot seed extract.
My experience: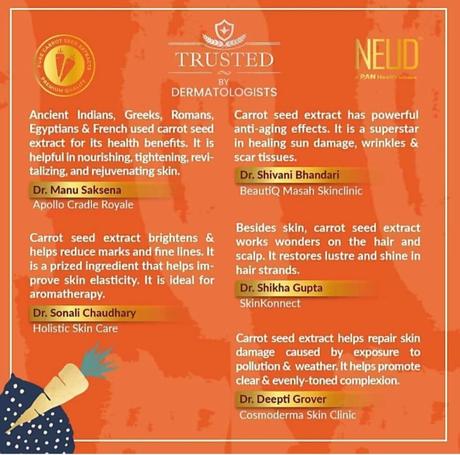 I tried NEUD Carrot seed hair oil on my hair and all the hair fall and frizziness were gone. My hair was free from tangles and this oil has worked for me. This oil comes in a simple bottle and it has a mild and natural smell. It does not feel heavy on the hair and has no strong smell, so you can apply it at night and wash your hair the next day. There is no sticky feeling or extracts that stain your pillowcase. After using this hair oil, my massive hair fall had stopped and my hair looks more voluminous and nourished. My scalp is free of all issues like dandruff, scaling, etc. I use this oil twice a week and my hair has started becoming healthier and shinier. I am quite satisfied with the hair oil and I will continue to use it.
NEUD Hair Oil for healthy and shiny hair:
NEUD Carrot Seed Hair Oil helps you get free-flowing and shiny hair as they are infused with natural carrot seeds, which is a secret ingredient for soft and healthy hair. This hair oil provides solid and nourished hair that look glamorous and fabulous. You will get rid of dandruff, hairfall and other problems easily. This product is a unique blend of nature and science and it helps your hair becomes manageable. This hair oil stimulates hair growth and nourishes the scalp also. NEUD Hair oil is free of all chemicals and is suitable for all kinds of hair from curly, frizzy to straight. This Carrot Seed Hair oil is unisex so it is ideal for both men and women.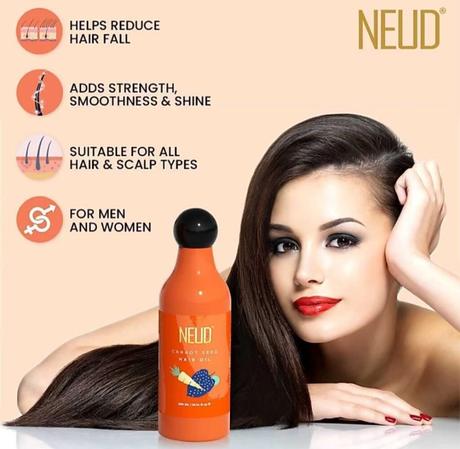 Pros:
Adds Volume to hair
Makes hair sticky or greasy
Hair does not feel heavy
Fights hair fall
It is chemical-free, Paraben-free, phthalate-free, fragrance-free and harmful chemicals-free
It is reasonably priced
Smells pleasant
Cons:
If you are suffering from constant hair problems, then do try NEUD Carrot Seed Premium Hair oil that will address all the problems with great ease. I simply loved the product and will buy it again.