Sometimes when I crave for something Spicy, crispy and yet healthy, my mind's rapid thought would end with this nethili fish fry only. This is a droolicious recipe, with number of health benefits of the fish.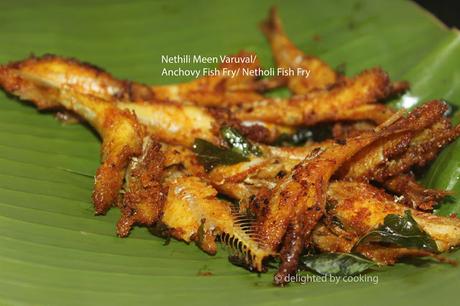 Anchovy has a lot of omega 3 fatty acids. In benefits with rich source iron and calcium and hence aids in strong bones and teeth. Good for heart health also.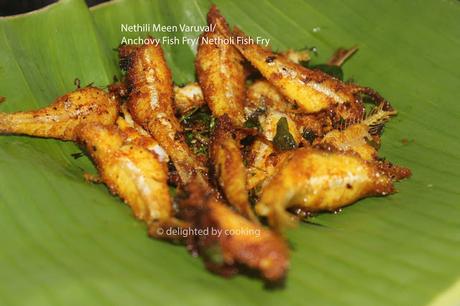 Prep Time
 10-15 minutes (including marinating time)
Cooking Time
 10-15 
minutes
 (changes depending on quantity)
Ingredients
1/4 kg
 Anchovies Fish  
1 tbsp
 Sesame Oil
1/2 tbsp
 Red Chilly Powder
1/4 tsp
 Turmeric Powder
1/2 tbsp
 Ginger-Garlic Paste
3 Springs
 Springs of Curry Leaves
1/2 tbsp
 Coriander leaves (Chopped)
1/2 tbsp
 Lemon Juice (optional)
For shallow frying
 Cooking Oil
As per Taste
 Salt
Procedure
1) Wash the fish and let the water to drain off. I usually wash fish using salt and turmeric powder added (see note for procedure). Take the ingredients needed for making the fry.
2) Mix  chilly powder, turmeric powder, ginger garlic paste, leaves and salt using sesame oil. Now marinate the fish in the mixture.
3) Let it marinate for 10- 15 minutes. 
4) Shallow fry the fish and enjoy.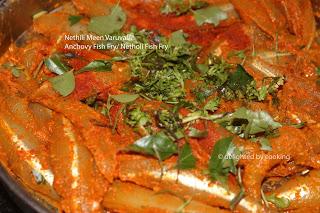 Procedure to wash the fish
I usually wash any type of fish adding salt and turmeric powder. When washing with salt and turmeric they both act as an antiseptic. Hence improved health benefit.

First I wash normally in running water for two times to remove impurities.

Then by adding salt and wash again. I prefer crystallized salt.

And finally with turmeric powder. Hence clean fish.