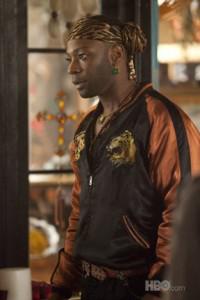 Nelsan Ellis is a difficult actor to place. People have been telling him this his entire  career: "I just don't know how to sell you". That problem has ended with his portrayal of Lafayette, as the Julliard graduate has shown the world exactly where he belongs — in Bon Temps. Ellis differs from his True Blood character- he is straight and (obviously) doesn't prostitute himself or sell vamp blood. Ellis describes where in his life he draws inspiration for Lafayette:
"He comes out of my anger, my pain, the femininity that's in me from watching my mother, and my masculinity. He comes out of me. That's hopefully how I make him human."
Ellis did such an astounding job of playing Lafayette that it quickly became obvious to Alan Ball that he had to modify Lafayette's original fate set out in the Charlaine Harris series — death. When asked Alan Ball admits:
"I knew the first day of working with him that Lafayette couldn't die, because Nelsan is such an extraordinary actor and presence… I wasn't going to let that go."
Nelsan Ellis reveals that Lafayette will discover a new power this season and that Jesus (Kevin Alejandro) will have to help him deal with this 'gift'. When pressed for more details Ellis would only respond: "Exploring new territory is fun". He has more to say, however, about True Blood fans. Though he is grateful to them for their support of the show, Ellis is often overwhelmed by the 'freakiest' of fans. Ellis says he feels indebted to the fans,
"But I don't want to sign boobs, you know? Or be propositioned."
Not everyone in Ellis' life is an enthusiastic fan of True Blood. The actor says his father, a Christian deacon and conservative, will "support me in his own way". He turns on the show to give Ellis the ratings, but won't watch. Ellis explains:
"This type of material – the violence, profanity, nudity, sexuality – was never allowed in his house."
Ellis discusses the difficulties in playing an openly gay African American and as such, was especially honored to receive a nomination earlier this year for an NAACP Image Award. Nelsan Ellis said about this award:
"Traditionally, homosexuality is something the African-American community doesn't deal with well…It [NAACP Image Award] made me happy because I thought maybe they did this on the merit of the work, you know what I mean?"
Nelsan Ellis is also very passionate about domestic violence. When he was a student at Juilliard his sister was murdered by her husband. He has used this trauma in his acting and also in writing a play, "Ugly" which he has adapted into a screenplay and now hopes that HBO will do stating: "Domestic violence is an epidemic in this country."
What questions would you like to ask Lafayette? Are you inspired by Nelsan Ellis' story? Leave your comments and questions in the section below!
Source – NY Post: Rise of Lafayette 
(Photo credit: HBO, Inc.)