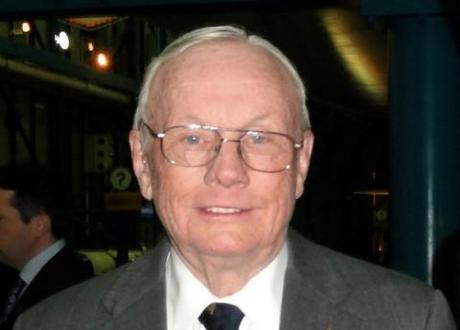 Neil Armstrong, the first man on the moon, gives rare interview. photo: airwaves1
The background
Neil Armstrong, the first man to step foot on the Moon as part of America's Apollo 11 lunar mission in July 1969, gave a rare interview speaking about his experiences – to an Australian accountant.
The 82-year-old astronaut, who WA Today say became "notoriously reclusive" after his moon mission, opened up to the most unlikely of interviewers, the head of Certified Practicing Accountants in Australia, Alex Malley. The resulting hour-long interview has been edited into a series of four videos, and can be viewed via the CPA's website. The scoop came as a great shock to many in the media, as Armstrong is famous for passing up interviews and staying out of the limelight since his days at NASA.
How did an accountant get this unprecedented scoop?
The Huffington Post report that the interview was to be part of a "video series on leadership, the fear of risk and bold frontiers" for the CPA's use. Convincing Armstrong to do the interview reportedly took "three hours over a quiet lunch in Ohio, a little emotional manipulation", and it looks like guilt – Malley told Artmstrong that "his role as a world-motivating leader came with the responsibility of sharing his story". The Guardian also state that Malley used some insider information to persuade a reticent Armstrong: "I know something not a lot of people know about Neil Armstrong – his dad was an auditor," said Malley.
Malley on interviewing Armstrong
Malley said, of his experiences talking to Armstrong, according to The Telegraph, "[T]he most compelling thing I felt about him was his humility – his commitment to his team, his deference to everyone except himself, his respect for the Russians – I found that quite extraordinary."
Armstrong speaks: On conspiracy theories, danger, and taking care of business
Armstrong gave a very candid accounting of his experiences, The Huffington Post noted, opening up "conspiracy theories, his 78 missions to Korea during the war, the notion of leadership and chasing and facing risk". He also put paid to those who question the credibility of the lunar landing, laughing and telling Malley there's no way the 800,000 NASA staff working on the project could have kept a secret. Said Armstrong, "People love conspiracy theories, they're very attractive. But they were never a concern to me, because I know someone is going to fly back up there and pick up the camera I left there." Armstrong was also clear about the dangers the missions posed, saying, "I thought we had a 90 percent chance of getting back safely to Earth on that flight but only a 50-50 chance of making a landing on that first attempt." And on his short time on the surface of the Moon, "We weren't there to meditate, we were there to get things done." 
Sad future for NASA, says Armstrong
One of the main issues that came out of the interview was Armstrong's sadness about the future of space exploration. The Guardian noted Armstrong said, "I'm substantially concerned about the policy directions of the space agency, which are directed by the administration… We have a situation in the states where the White House and the Congress are at odds over what the future direction should be and they're playing a game and Nasa is the shuttlecock they're hitting back and forth as both sides try to get NASA on the proper path." The Huffington Post picked up on the same issue, quoting Armstrong's unhappiness that young people will not inspired to adventure as he was a young boy: "It is sad that we are turning [NASA] in a direction where it will reduce the amount of motivation and stimulation that it will provide to young people".