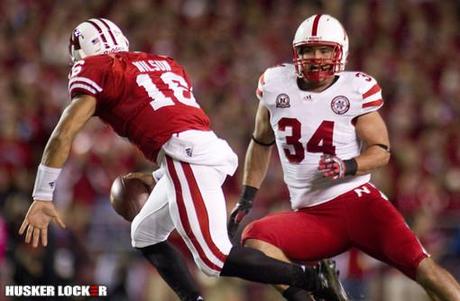 By Erin Sorensen
Last Saturday night's game at Camp Randall didn't go exactly as the Huskers had planned. The team, coaches, and fans were all disappointed in what resulted in a 48-17 loss for Nebraska. In a game that had started positively for the Cornhuskers, the final score reflected something vastly different. What did fans see against Wisconsin?
1.) A Lack of a Dominant Defense
Who would have thought that Bo Pelini's defense would be the biggest area of concern at this point in the season? By week five, it's crystal clear that they are struggling to find sure footing. Appearing sluggish, the defense allowed Wisconsin to take advantage early. It was a slippery slope from there.
Most noticeable was Nebraska's secondary which spent the night getting burned to a crisp. The cornerbacks didn't turn around. The safeties didn't play for the ball. The secondary was exposed for what it is – weak. Wisconsin quarterback Russell Wilson and wide receiver Nick Toon took full advantage of Nebraska's secondary woes, throwing as often as possible. More impressively, Wilson often threw into coverage, allowing Nebraska's secondary an opportunity to shift momentum, only to have a Badger receiver yank the ball away and run to pay dirt.
Overall, the defense is talented. It is filled with young men who are extremely good at what they do. However, Nebraska showed that it is lacking in leadership and direction last Saturday night. The growth of the team is slower this year, and the attitude has changed. Uncertainty has clouded a once-dominant defense.
2.) Poor Decision-Making by Taylor Martinez
Before pointing too many fingers at Martinez, it is important to note that a number of his struggles had to do with offensive coordinator Tim Beck. A running quarterback at his core, Martinez was asked to pass much more often than he should have.
Having struggled with the passing game in the first half, Beck had twenty minutes to correct his offensive game plan and get his quarterback on track. Oddly enough, the first play of the second quarter was yet another pass play. Beck has often called himself stubborn, but Saturday's display took that statement to another level.
Martinez tried to be the superhero from the second he was presented with adversity. A sophomore quarterback that had started the season calm and collected began to regress. He panicked, threw three interceptions, and kept the ball in his hands more than giving others a chance to shine. The fundamentals are there for Martinez. The amount of hatred he has received is unfair and the sophomore needs to stop listening to the media.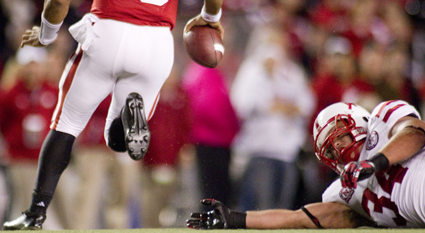 3.) Loss of Team Composure
Coming in to Saturday's game, the Huskers appeared to not be rattled by the media hype. Statements of near-apathy were common in interviews, and the team seemed rather relaxed. While Nebraska was downplaying the game, Wisconsin was doing the exact opposite. The Badgers made the game a big deal before coming out and playing like it was. As Wisconsin's confidence strengthened, Nebraska's withered.
While composure was lost, the team mentality was not. Nebraska, often looking defeated, continued to hold each other up. The Huskers never stopped leading one another. At the beginning of the season, many asked if the team would remain united through adversity. Saturday proved that Nebraska is a family, win or lose. Composure can be rebuilt, but being a truly united group cannot. Cornhusker fans saw a team that is one unit regardless of a game's result.
4.) A "Blackout"
One of the best signs shown during ESPN's College GameDay read, "If Tom Osborne asks me to black out, I'm blacking out." Needless to say, fans took Osborne's request to "Pack Your Black" very seriously. Walking around Madison, Nebraska fans were easy to spot in their Blackshirts gear.
By kickoff, the Field House endzone of Camp Randall was virtually packed with black. Badger fans that came to sit in the sections were shocked by the turnout. "I feel like I'm in the wrong section." a Wisconsin fan remarked.
Regardless of the game's result, Nebraska fans did what they were asked to do – Show up in black. It was an impressive display, showing the Big Ten just how dedicated Husker fans are to their team.
5.) Another Missed Opportunity for a Big Win
Nebraska was poised to make a statement to both Wisconsin and the entire Big Ten by the end of the first quarter. Come the game's end, it was an entirely different story. The Cornhuskers not only lost, but they were defeated by a larger margin than most anyone had predicted. For Nebraska fans, it was a devastating moment.
The Huskers are still lacking their big win on a national stage. Over the past few years, teams such as USC, Texas, and Oklahoma have kept Nebraska from a signature victory. This year, it was Wisconsin's turn. While disappointing, it is just one game.
Nebraska has the rest of the season to turn things around. If the Huskers can continue to focus on themselves, they could very well see Wisconsin again in December. It may not be their first ever game in the Big Ten, but a win later in the year would result in something much bigger for Nebraska to hold on to.
Overall, Saturday was not what Nebraska fans were hoping for. The good news is that there is a lot of time left in the season. If the Huskers continue to focus on the next task at hand, fans may be pleasantly surprised with the end result of the 2011 season.
Follow Erin on Twitter: @helloerinmarie
Follow Husker Locker on Twitter: @huskerlocker
Like us on Facebook: Official Husker Locker Page

Permanent Link to this Blog Post