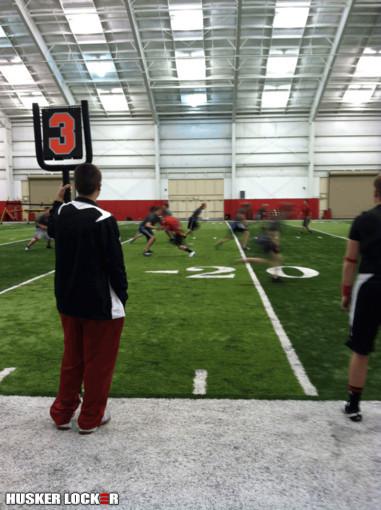 By Erin Sorensen
On a cold evening this past Monday, the Nebraska Equipment Managers and Football Video Students met for a battle of the ages – A flag football game that would later be named the "Snow Bowl." Football Video Coordinator and head coach of the video team Mike Nobler said that the game was "a long time coming." Playing two 20-minute halves on an 80-yard field, the time had come for the unsung heroes of Nebraska football to meet.
(Click for story soundtrack:)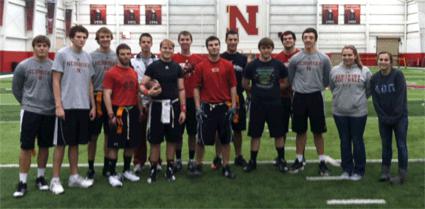 The equipment managers are no strangers to flag football matchups with fellow students in the athletic department. Just before Thanksgiving, the Equipment Managers beat the Athletic Trainers 35-14 in their annual "Turkey Bowl." Shortly before the 6 PM kickoff, those involved tweeted assumptions that the score of the Snow Bowl would be similar to that of its Thanksgiving cousin. The spread was set at 13.5 in the equipment managers' favor.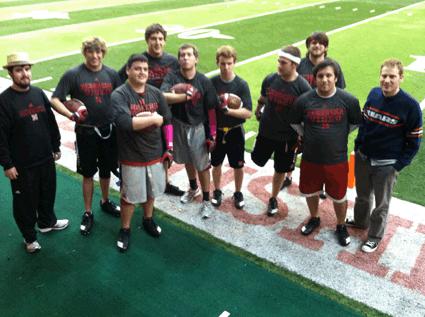 During the game's first drive, the video students went a quick three and out. After an impressive punt, the Equipment Managers quickly took the ball into the red zone. The Video Students made a big stand, stopping the Managers on the one-yard line. It was apparent the game would be much closer than anticipated.
The starting quarterback for the Students was Brandon Baratta, a dynamic player out of Omaha South High School in Omaha, Nebraska. Struggling to get the ball in the end zone, the Managers took control with a 39-yard pass, followed by a short 1-yard pass for a touchdown by starting quarterback Paul Belz, the head student Equipment Manager.
At 7-0, the video students were looking for a momentum swing and came up lucky as Brett Jamrog of the Managers' squad dropped a crucial pass. The drop preceded two major penalties before a punt that gave the Video Students excellent field position. They would later complete a game-tying pass, knotting the score at 7-7.
In a race to halftime, Equipment completed a long pass, only to have their quarterback sacked on the following play. Video got the ball back as Baratta threw a long touchdown pass to Andrew "Drew" Jensen. The score was 13-7 with 27.5 seconds to go in the half. Equipment answered with the blink of an eye thanks to a great catch by Tanner Dunbar, followed by a touchdown catch by Jordan Moody to make the score 14-13 at halftime.
Equipment got the ball to start the second half, only to have Video make a big sack and force a three and out. It seemed like the second half would be a defensive battle. The ball went back and forth many times until Equipment finally took a stand with multiple big drives and a touchdown toss to turn the score 20-13 in their favor.
Dan Rudolph stepped in at quarterback for Video and took advantage of red zone field position, eventually tying the game back up at 20-20. The deadlock wouldn't last long as Equipment would take advantage of a lateral which saw the score extend to 27-20.
With 1:24 left in the second half, Video switched to a no huddle offense. With the clock running, they found themselves in a long fourth down situation with about ten yards needed to extend the drive. After failing to convert on the final down, Equipment took to the victory formation and won the game by a 27-20 tally.
It was a hard-fought game and both sides were calling for a rematch sooner rather than later. Coach Nobler was pleased with the performance and both teams shook hands to finish the match.
Check back next week for exclusive video and photos of the contest.
Follow the NU equipment managers on Twitter: @nuequipment
Follow the NU video students on Twitter: @NEB_FB_VIDEO
Follow Erin on Twitter: @helloerinmarie
Follow Husker Locker on Twitter: @huskerlocker
Like us on Facebook: Official Husker Locker Page

Permanent Link to this Blog Post